What allows artists to see the world differently from everyone else and extract surreal, haunting beauty from their surroundings? Maybe it's genius. Maybe it's madness. Maybe it's the influence of mind-altering substances, such as drugs and alcohol. Whatever the answer may be, it's all irrelevant now. Those things are hereby obsolete. Creating mind-blowing works of visual art is now just a matter of downloading an app to a smartphone. In particular, there is a new, free video-editing app called Artisto that promises to "make your video a work of art."
Marketing hype aside, this thing actually is pretty neat. Using artificial intelligence, neural networks, and other industry buzzwords, Artisto takes plain, old, unspectacular smartphone footage and transforms it into otherworldly visual art through the use of incredibly clever, ever-shifting filters. "See the world through the eyes of Van Gogh, Dali, Picasso and other great artists," Artisto promises. Actually being any of those artists would be messy and complicated, as their biographies will no doubt attest. What this app does is allow people to create that sort of art without a lifetime of drama and turmoil. All the visual splendor, none of the headaches.
As writer Glen Tickle points out, this is not a wholly original concept. Artisto takes a lot of its inspiration from the photo-altering Prisma app and even uses "Prisma" as the name of one of its filters The twist is that Artisto does for moving images what Prisma does for still ones. The potential for this app could be enormous. Artisto's own hype says that it will allow users to "start carrying your own Hollywood right in your smartphone" and claims that this sort of technology has previously been used by animation studios like Disney, Pixar, and DreamWorks. That may be so, but what Artisto really evokes are the druggy, rotoscoped animated films of Richard Linklater, such as A Scanner Darkly and Waking Life. If Linklater ever wants to get back to that style, he should just download Artisto to his iPhone. He could have Waking Life 2 done in an afternoon.
[via Laughing Squid]
G/O Media may get a commission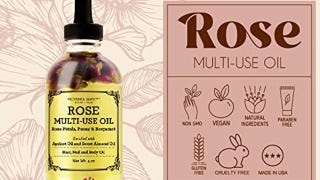 Provence Beauty Rose Multi-Use Oil