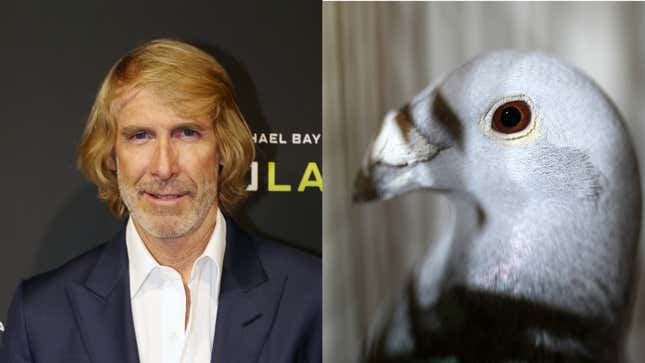 Director Michael Bay was forced to give exactly the sort of press statement you hope to never have to give today, declaring, for all the world to see, that he did not murder an Italian bird.
Dave Chappelle attacker will not face felony charges
This is per The Wrap, which reports on a statement that Bay made this afternoon in relation to allegations that he's been facing for fully 5 years now at this point, ever since the filming of his Netflix movie 6 Underground. While making the movie in Rome, the story goes, a dolly allegedly hit and killed a homing pigeon—which, like all pigeons, are apparently a protected species in Italy. A photographer supposedly took a picture of the aftermath and submitted it to the authorities, who've been after Bay ever since. (The Wrap notes that the government apparently offered to let Bay off with a small fine…but he refused to take any plea that involved pleading guilty to harming an animal.)
Here's a portion of Bay's statement:
I am a well-known animal lover and major animal activist. No animal involved in the production was injured or harmed. Or on any other production I've worked on in the past 30 years…We have clear video evidence, a multitude of witnesses, and safety officers that exonerates us from these claims. And disproves their one paparazzi photo — which gives a false story.
Bay and his legal team have apparently made at least three efforts to get the charges thrown out of the Italian courts, to no avail.
6 Underground was released back in 2018; it stars Ryan Reynolds as a billionaire who forms a squad of international vigilantes who travel the planet, righting wrongs, and absolutely not murdering any birds. The film carries a notification that "American Humane monitored some of the animal action. No animals were harmed in those scenes."