Former national security advisor Michael Flynn will plead guilty to one count of "willfully and knowingly" making "false, fictitious and fraudulent statements" to the FBI, CNN reports.
Although the retired general's lawyers previously claimed there were "unfounded allegations, outrageous claims of treason, and vicious innuendo directed against him," Flynn arrived in court Friday morning to make the plea deal. CNN obtained court documents that indicate the ousted Trump official is copping to lying to the FBI about his conversations with Russia's ambassador. These lies came after Flynn "misled Pence and then-chief of staff Reince Priebus about his conversations with then-Russian Ambassador to the US Sergey Kislyak in which they discussed US sanctions against Russia."
When asked to comment, the White House didn't have an official statement prepared (of course), but a source tells CNN this move was expected: "Poor judgment. But this was expected. Trump fired him for lying to (Vice President Mike Pence). Of course, he lied to the FBI, too." There's likely more disclosures to come, as Flynn's lawyer teased back in March that the retired general "certainly has a story to tell, and he very much wants to tell it, should the circumstances permit," and that he was willing to trade his testimony for immunity. That offer was rejected, but the single charge in Flynn's plea deal has many folks speculating that he's offered something in exchange for the reduced count.
The charge against Flynn is the first out of Robert Mueller's probe levied against someone who was a part of the Trump administration, which indicates "the special counsel's investigation is intensifying." But the former NSA member does have plenty of company in the "disgraced Trump cronies" group—there's also former campaign manager Paul Manafort, who's been charged with money laundering, and his deputy Rick Gates, who was also indicted last month. And let's not forget George Papadopoulos (no, not that one), who served as Trump's foreign policy advisor on the campaign trail, and has now pled guilty to making false statements to the FBI over his own contact with Russian officials.
When Flynn resigned in February—after being prompted by Trump for misleading the vice president—it was among the first shake-ups in the administration. The president has since fired acting attorney general Sally Yates, FBI director James Comey, maybe dumped Steve Bannon, pushed out chief of staff Reince Preibus, and gone through communications directors like tissue (or wives).
G/O Media may get a commission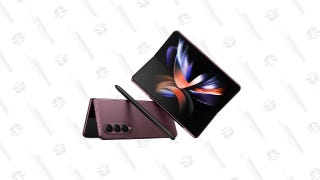 Save Up to $300
Galaxy Z Fold4
The nation now turns its eyes to Comey, who's testified that Trump asked him to drop the Flynn probe.
Update December 1, 10:22 a.m.
ABC News reports that in cooperating fully with the Mueller investigation, Flynn says he will testify that during the campaign, Trump told him to "make direct contact with Russia."