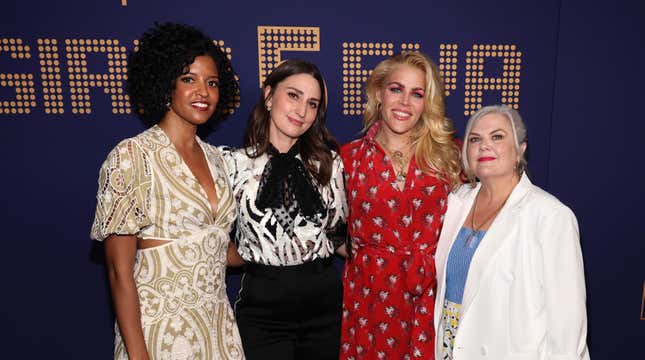 Anyone with taste knows that Girls5eva is an excellent comedy. Mile-a-minute jokes? Catchy, weird-as-hell original songs? Hilarious performances, including an elite standout from Emmy-nominated Renée Elise Goldsberry? Yeah, Girls5eva is the perfect little bizarre package. And, thankfully, we won't have to wait too long for its return. Series star Paula Pell confirmed to The A.V. Club that season three finished filming recently. Our watch may soon begin.
That time Tom Cruise tried to pull Seth Rogan and Judd Apatow into Scientology
Pell told us that the series wrapped just before the Writers Guild of Association went on strike to fight for a fair contract from The Association of Motion Picture and Television Producers (AMPTP). On May 23, Pell was at the WGA rally organized at 30 Rock, where she told The A.V. Club that if Girls5eva hadn't finished shooting, they would've stopped in support of the guild. "But we were blessed in our timing and could get it out," she added. The actor was at the rally with her co-star Busy Philipps, who took the stage to talk about why writers deserve to get paid what they're due. Pell helped write some of her speech, including a top-notch barrage of David Zaslav jokes.
"I work with incredible, strong women who never take the quiet way out, including Busy. We need to be loud and not afraid to speak up because it makes no sense that there's no money in residuals for writers when people [studio heads] who say that are getting more and more bonuses yearly. I was never good at math, but I know that much," Pell said.
Girls5eva, which also stars Sara Bareilles with Pell, Philipps, and Goldsberry, follows the titular '90s one-hit-wonder girl group reuniting in the present day to try and achieve their musical dreams again. However, they now have a different set of issues: families, marriage, age, social media influencers, and most importantly, writing their own songs this time around. The show is created by Unbreakable Kimmy Schmidt writer Meredith Scardino, with Tina Fey and Robert Carlock as the executive producers. (Fey cameos as a Dolly Parton apparition in a season one episode).
While the series ran on Peacock for two seasons, the NBCU streaming platform didn't know a good thing when they had it. In the fall of last year, they let go of several unique and creative original comedies (for some godforsaken reason). They didn't pick up the show for season three, but Netflix rescued and renewed it. Yes, it does mean we'll have to battle Netflix's password-sharing crackdown and rising prices to witness the upcoming episodes.
Girls5eva's ensemble includes Andrew Rannells, Ashley Park, Erika Christensen, Janine Brito, Daniel Breaker, and Jeremiah Craft. No word yet on when season three will premiere (presumably later this year), so we can see what the Girls5eva members have been doing on their nationwide tour. Until then, we'll listen to the album and theme song on repeat.