The screen in front of you is an ocean of tiny gleaming dots colored red, green, and blue. Maybe you already understand this on an intellectual level—you are reading The A.V. Club, after all—but the tangible reality of a red-green-blue display still inspires awe. This is what an iPhone 4 screen looks like under a microscope:
Practically any modern smartphone, computer display, or flat-screen TV would look about the same if you zoomed in close enough. At that scale, it seems impossible that those puny rectangles, surrounded by obtrusive voids of darkness, could produce a convincing picture. Yet the trick works. We love to stare at screens filled with these glowing jujubes—we cause traffic accidents because we're so busy admiring them.

Last Sunday's episode of AMC's PC-revolution drama, Halt And Catch Fire, is called "10Broad36." The title references an obscure networking standard that Joe McMillan, the show's Jobsian dreamer, intends to make the foundation of his new empire. Visually, though, the episode pays tribute to more familiar technology: RGB screens. The major story beats play out amid bold strokes of red, green, and blue, and just like on a computer screen, the intensity and juxtapositions of the individual colors heighten the drama of the overall image. The result is Halt's most striking episode yet.
Background
If you haven't seen Halt And Catch Fire, here's a quick primer on the story so far. (If you're a regular viewer, you can skip to the next section.) The show is an '80s period piece about technologists in Texas' "Silicon Prairie." The first season focused on a company that reverse-engineered the IBM PC to build its own, competing computer. That project was led by Joe, a charismatic, mercurial visionary who fled a career at IBM under mysterious circumstances. Engineer Gordon Clark oversaw the hardware development, hoping to recover from the humiliating failure of the Symphonic, a computer prototype he built with his wife, Donna. And a brilliant, immature programmer named Cameron Howe handled the software. She also had an ongoing affair with Joe that fell apart at the end of the season when Joe went AWOL.
G/O Media may get a commission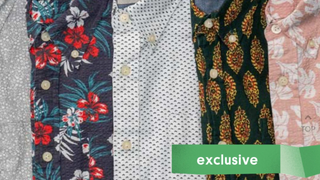 Grab three styles!
JACHS NY Summer Pack
In the second season (in progress), the PC company has dissolved, and Cameron runs an online gaming startup called Mutiny in partnership with Donna. Meanwhile, after enlisting Gordon to build a network infrastructure in an oil company's mainframe room, Joe schemes to launch a new venture selling time on the network to other companies—and his first customer is Mutiny, which desperately needs Joe's tech to keep growing. The characters are entangled in myriad ways beyond this, but those are the basics.
Red
Donna's color in "10Broad36" is red, a hue that amplifies her raw emotional state. We first see Donna in her kitchen, telling her mother that her recent pregnancy was miscarried. (In fact, Donna intends to have an abortion, which becomes obvious—in a general sense—as the dialogue goes on.) The red top not only matches actor Kerry Bishé's hair but, more to the point, it accentuates the pink stain of weariness in her eyes. The costume designers want to leave no doubt that Donna is on the verge of a breakdown.

For a while, Donna was the most sensible of Halt's computer geniuses, and the upshot is that for much of the series, her arcs have been dull and predictable. While Donna largely keeps an even keel in season one, the other main characters experience bombastic meltdowns on a routine basis. Gordon smashes the Symphonic. Joe torches a shipment of new PCs. Cameron throws some sort of tantrum in practically every episode.
Those three were allowed to indulge in self-destructive passion, but not season-one Donna. This divide shows up in the credit sequence, a flood of red that punctuates the opening scenes each week. We see Joe, Gordon, and Cameron through a monochromatic haze; it looks as if their fervor for the computer revolution threatens to rip them apart. Joe (Lee Pace) gazes forward, presumably into the future, envisioning his visionary vision. Gordon (Scoot McNairy), the builder, looks down in intense concentration. Cameron (Mackenzie Davis) achieves oneness with the electron. Tortured gods, all of them.

But when Kerry Bishé's name appears, Donna doesn't get the deity treatment. Instead, silhouettes of the Big Three crumble in the crimson winds of change. Donna, presumably, is somewhere else, being boring.

Not this season, though. Donna's decision to explore the uncertain potential of Mutiny was a break from her past of self-suppression, and the resulting turmoil rounds out the character with flawed humanity. "10Broad36" celebrates the new Donna, in a way, by breaking her. Donna's passion spills over in a tear-soaked rant directed at Joe. The background for her tirade is a wall of of red-hued concert posters blaring words like "D-DAY," "FEAR," "CLASH," and "BEAT" in all caps. Using red to underscore a character's inner turmoil is hardly an original use of color, but the show isn't going for subtlety or surprise here. The aim is intensity—to belatedly give Donna the tearing-at-the-seams moment she never got in the opening credits. As if there were any doubt, she's part of the Halt pantheon now.
Green
"10Broad36" isolates Gordon: He flies back to his hometown in California, where he tells his brother, Henry, that he's been diagnosed with a terminal brain illness; learns that Henry has an alcohol problem; has sex with Henry's high school girlfriend Jules; unloads his emotional baggage on Jules until she flees in disgust; and has a falling out with his brother. It's a busy little getaway for Gordon.

His color is green. Gordon's storyline opens with an establishing shot (above) where his cab putters down a road enveloped in green. That alone doesn't mean much as far as establishing a motif, but as "10Broad36" proceeds, director Larysa Kondracki obsessively associates Gordon with leafy tones. The lake he visits with Jules has a washed-out emerald tinge:
As does the baize of the pool table that opens his scene with Henry at the bar:

In the back of the truck, he slouches toward a forest-green cooler (and, notably, away from the red and blue on the other side of the frame):

My favorite example comes in the kitchen scene when Donna tells her mother about the "miscarriage." Donna says, "I was waiting for the right time to tell Gordon, but then it…" and as she trails off, the image cuts to a close-up of her hands fidgeting with a green-checked towel:

The green streaks set Gordon's story apart from the others, creating a color palette that feels distant from Donna's red, Joe's blue, and the sun-baked earth tones that otherwise dominate Halt. The chromatic isolation echoes and amplifies Gordon's isolation.

Green is the color of the wilderness where Gordon finds himself in "10Broad36"—or, to be more accurate, where he loses himself. He recognizes the exhausting yet exhilarating focus that grips Donna right now because he's lived the same mania himself, and he doesn't want to spoil her high. So, operating out of a mix of compassion and fear, he hides his brain condition from her.

But without any relief valve, the questions surrounding his uncertain future make him deliriously lonesome, such that he's literally groping for an emotional connection in the back of a pickup truck. This is Gordon's futile attempt to recreate the companionship he's sworn off at home. For his efforts, he ends up alone in the woods.
A variation on the green wilderness motif crops up in the episode's Mutiny storyline, too. After Joe promises to charge Mutiny lower prices if they port their technology to Unix, Mutiny whips up a Potemkin demo to trick Joe into thinking that they've done his bidding. They sit him down in front of what they claim is a Unix box, but under the hood, it's just a Commodore 64 running a fake "Unix" version of the Mutiny service. The ruse depends on Joe being ignorant enough not to tell the difference. We gauge his reaction by way of a special-effects shot from "inside" the computer screen. At first, it looks like he doesn't detect Mutiny's camouflage. His eyes wander the screen without focus, lost in the bright-green foliage of the new interface.

Moments later, though, Joe's visage hardens, and his eyes become precise. His line of sight tracks the cursor's deliberate swipes as he plays one game of chess after another, observing that the "human" players make the same moves every time. For a split second, Joe appears to gaze through the veil at us, the viewers. That's when we know he's not lost in Mutiny's wilderness at all. Rather, he can see the forest through the trees.

Blue
But blue, not green, is Joe's color. Throughout the pivotal negotiation scenes in "10Broad36," Joe bathes in a blue glow so intimidating that he seems to exude it himself. We first see it in Joe's initial negotiation with Mutiny. The crisp, chilly light reflects off a bank of IBM XT computers whose ominous presence bolsters Joe's bargaining position: The XTs represent the rickety, untenable plan B that Mutiny will be forced to use if Cameron and Donna can't cut a deal with Joe. And he's not budging.

Joe's hardline tack comes as a surprise because in an earlier scene, he appeared to show heartfelt affection for Mutiny, but now he's demanding a $5-per-hour network line rate that, in Donna's words, leaves Mutiny with "no room for error." What happened to the caring, sympathetic Joe? He reverted to a creature of startling coldness, a transformation underscored by the blue cast. In one angle, Joe is backed by a warm yellow tapestry, a contrast that makes him look even icier and inhuman.

The negotiation becomes a battle that pits Donna's volatile passion against Joe's self-interested chilliness. Red vs. blue. At the climax of their first meeting, a furious Donna stabs her finger at Joe as she insists on a lower rate: "It's four dollars, Joe! It's four dollars." The shot reverses, and Joe maintains his resolve, but his face is tight. His blue backdrop is pierced by the lights of the modems, which look like pairs of bright red eyes. It's as if we can feel the sharpness of Donna's gaze even when she's not on screen.

Donna and Joe's bargaining later resumes on Joe's home turf, a fluorescent fortress of solitude. A wide shot places Joe on the left, near the blue mainframes, and Donna on the right, by a row of 9-track tape machines. You can almost ignore the overwhelming blue tint long enough for the colors to seem balanced. This shot is how Donna sees the negotiation: as a conversation between two peers. Donna patiently pleads her case, telling Joe that if they can't come to a reasonable agreement, "we could scramble for months to try and find another network."

"Months in this business could crush us," she continues, but as she says it, the shot changes, and we glimpse the negotiation from Joe's point of view. He can see what Donna can't: She's already being crushed. Two monoliths of industrial blueness squeeze her into a sliver of the frame. Donna's cardigan, a nice touch of costume design that conveys the chill of the basement, also has the effect of narrowing her figure and amplifying the squeeze effect, as the sweater blends into the oppressive surroundings. Those bursts of red that splashed across the frame at Mutiny have been compressed into a sad little square of magenta.
But as the IBM nameplate on those mainframes remind us, Joe's blue aura carries a dark edge for him, too, as it signifies that his life is still defined by the Big Blue specter in his past. When IBM unveiled the PC that Joe helped to create—a machine that was capable and competitive but hardly revolutionary—the new product line jolted the company's flagging profits. The goliath was revived, and as a result, a bunch of smaller PC makers were squeezed out of the young market. IBM was a blue-chip name, and the little guys couldn't compete. So rather than start a revolution, Joe played a part in squelching one. That eats at him. He's a revolutionary at heart, attracted to technology for its power to incite change. In his post-IBM existence he's motivated, above all else, to atone for his past sins and wield technological progress on his own terms. To transform the world rather than perpetuate the status quo.
So if there's going to be a Mutiny, Joe wants to be in control. The basement negotiation concludes with a close-up of Donna as she agrees to implement Joe's suggestions, essentially granting him a limited (she hopes) domain over Mutiny's affairs. The red is still there, but in this composition it's matched by the deep blue in her eyes. Donna finally sees the world from Joe's point of view; it's the only way to survive.
Cameron plays a secondary role in the Donna-Joe theatrics of "10Broad36." She's caught between two people who, at various points in her young career, she has looked to for companionship and guidance. This turmoil is nicely illustrated when Cameron drives Donna to Planned Parenthood, with waves of blue and reddish-orange light washing across her face.

By the time they reach the clinic, though, the mottling of the light has ceased, replaced by a uniform reddish cast. Cameron resolves her inner conflict in the only way that makes sense. Whatever emotion and excitement Joe may have stirred in her, Donna is the one who has been loyal to Cameron, who has kept her best interests at heart. So of course Cameron is going to be on Team Red.

Her color match with Donna signals that these two women are aligned again, perhaps more powerfully than they ever were before. "Do you want me to come with you?" Cameron asks. Donna waves her off. But after a moment, Cameron goes along anyway. It's a poignant coda set up by powerful, confident visuals. Red-green-blue is a marvel on a microscopic level, but with "10Broad36," Halt And Catch Fire shows how potent those simple ingredients of color can be on a larger scale—a technological principle made humane.