Here's what's up in the world of TV for Wednesday, July 27. All times are Eastern.
Top picks
Steven Universe (Cartoon Network, 7 p.m.): More Steven Universe means it's time for a "Monster Reunion" and also time for a very vague synopsis: "An old friend returns." Eric Thurm is sure that whoever this "old friend" is, it'll all lead to him crying about Steven Universe. He'll write a review about the episode too, but just remember that it will be written through all of his tears.
Planet Of The Sharks (Syfy, 9 p.m.): Syfy's Sharknado Week continues with yet another "original" TV movie, Planet Of The Sharks. "In the near future, glacial melting has covered 98 percent of earth's landmass. Sharks have flourished and now dominate the planet, operating as one massive school led by a mutated alpha shark." This is what happens when people pay all this attention to shark-based pop culture. THIS IS WHAT HAPPENS.
CTRL+ALT+DEL. (Lifetime Movie Network, 11 p.m.): CTRL+ALT+DEL isn't the only part of this program's title; there's also "The Internet Made Me Do It [fka Love Hacked]." Whatever this is, it's probably the best thing to ever happen to Lifetime Movie Network. And possibly all of television.
G/O Media may get a commission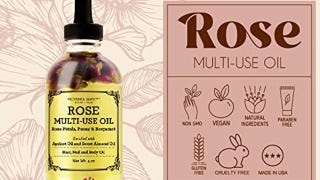 Provence Beauty Rose Multi-Use Oil
Premieres and finales
American Gothic (CBS, 9 p.m.): Here we go with another "special time" for an all-new episode of American Gothic. "The Hawthornes get publicly implicated in the SBK case and begin turning on one another. Elsewhere: Garrett coaxes Christina into a camping trip, but things take a dangerous turn." This is why you never say yes to camping, Christina. This is why.
Wayward Pines (Fox, 9 p.m.): Wayward Pines ends its second season with a "Bedtime Story." "As the Abbies descend upon the town, Theo is forced to make a decision that could seal humanity's fate." No, this bedtime story is not for the children.
Sing It On (Pop, 9 p.m.): It's an "Auditions & Karaoke Battle" as Sing It On returns for its second season of singing "it" on. "In the second-season opener, a team search for a beatboxer to replace the one they lost to rivals; and two competing teams have a karaoke battle to size each other up before the season officially begins." All right. Sure. This is definitely a real show. Next you're going to tell us Lip Sync Battle isn't just a virtual reality goof.
American Tarzan (Discovery Channel, 10 p.m.): American Tarzan's first season ends with "Witch's Hat," because, you know—that all checks out.
Black And White (A&E, 10:30 p.m.): "In the series premiere, comedians Christian Finnegan and Sherrod Small examine race relations and current affairs." Well, A&E made an interesting choice of airing such a sensitive-themed series right after Duck Dynasty and Wahlburgers, two shows that have probably never even heard the phrase "race relations." ("Current affairs" are obviously important to Wahlburgers—Mark Wahlberg has movie premieres, after all.) Also, hopefully this isn't just a Best Week Ever for race thing, because we're pretty sure no one wins.
Politics, yay?
Democratic National Convention (CSPAN, 4:30 p.m.)
PBS NewsHour & NPR Convention Coverage (PBS, 8 p.m.)
America's Choice 2016: Democratic National Convention (CNN, 9 p.m.)
Your Voice, Your Vote: The 2016 Democratic Convention (ABC, 10 p.m.)
Campaign 2016: Democratic Convention (CBS, 10 p.m.)
NBC News: 2016 Democratic Convention (NBC, 10 p.m.)
Real Time With Bill Maher: Convention Edition (HBO, 11 p.m.)
Regular coverage
Stranger Things (Netflix)
Mr. Robot (USA, 10 p.m.)
Streaming pick
The Craigslist Killer (Amazon Video/Crackle): You can't talk about technology and Lifetime movies without bringing up The Craigslist Killer. You just can't.