On Sunday night I will be seated with a laptop in front of my television and tuned into the 54th annual Grammy Awards. My job requires that I do this, plumbing my brain for supposedly smart and insightful observations about whether Adele's probable domination of the night's proceedings means more or less than her gaudy sales numbers from 2011. (My speculative verdict on this speculative scenario: Not really.) But even if I weren't being paid, I would watch. If you haven't seen the Grammys recently (or at all), I'm only slightly less surprised to hear myself saying this than you probably are. But it's true: The Grammys are worth watching.
Notice I didn't say, "The Grammys are worth using as a barometer for quality," or anything else pertaining to the actual awards. Yes, a reasonable person has every right to question the validity of an institution that believes The Bodyguard soundtrack is a better album than Automatic For The People. But getting upset about who wins or doesn't win a Grammy is beside the point, because the reason why the Grammys are worth watching has nothing to do with awards. Incredibly, the people who run the Grammys seem to believe this, too, and it's made the show a whole lot better.
Let's be honest: All awards shows are dubious exercises. But the Grammys are, historically, egregiously dubious. Not that this is entirely the fault of the Grammys; unlike the Oscars, Emmys, or Tonys—which pertain to art forms that require large amounts of money and manpower to pull off, dramatically reducing the number of potential candidates for awards—the Grammys attempt to bring hierarchical order to a field that's grown increasingly scattered over the past half-century. For every Songs In The Key Of Life, Thriller, or 21 that captures the imagination of critics, the music industry, and large swaths of the general public, there's the vast majority of albums and artists that enchant a narrow niche and befuddle everybody else. Imagine trying to round up 10,000 cats spread out over the terrain of Asia, getting a consortium of cat-lovers and pet-shop owners to agree on the hundred or so cutest and best-behaved, and herding them into an opulent Los Angeles auditorium, and you might have some sense of how impossible it is to properly recognize general musical excellence. (As well as how adorable an awards show for Asian cats would be.)
If you were to lay awards shows on a line and rank them in terms of the seriousness with which they're regarded by the public, the Oscars would be on one end and the Grammys would be on the other. People make it a point to see all of the films nominated for Best Picture, and enter into illegal inter-office betting rings in order to wager on who will win. Nobody does this with the Grammy nominees for Record Of The Year. Do you even know who's nominated for Record Of The Year? (Of course you don't. It's Adele, Bon Iver, Bruno Mars, Mumford & Sons, and Katy Perry.)
The cultural importance of the Oscars affects the telecast in two ways: 1) It helps ratings; 2) It hurts the show's watchability. A lot. Take away the snacks, the booze, and the snarky commentary on the Internet, and the Oscars are barely watchable. Over the course of an unforgiving, four-hour broadcast, there are a grand total of five Oscar categories that most people care about (all of the acting awards, and Best Picture), four categories most people sort of care about (Best Director, Best Original and Adapted Screenplay, and Best Song), and lots of other categories honoring good, even great work that nobody cares about at all. At least two hours of a typical Oscars show are tolerable only after several doses of taco dip and white wine.
G/O Media may get a commission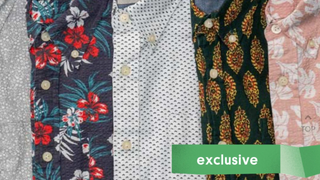 Grab three styles!
JACHS NY Summer Pack
The Grammys, meanwhile, are a lean, rapidly moving cavalcade of non-stop performances only occasionally broken up by awards. Extra emphasis on the word occasionally: It's not unusual for an hour to go by without a single award being given out, particularly in the early going. Most Grammys these days are handed out off-camera, and many categories were dropped altogether in a recent overhaul, including awards honoring Latin jazz, Hawaiian, and Native American music. That upset civil-rights groups, and not without good reason. But for the most part, streamlining the broadcast program has made the Grammys tighter and more entertaining.
After all, the purpose of any awards show should be to engage the public, particularly newcomers. This year's lineup includes lots of big names from every major pop-music genre, from hip-hop to rock to country: Rihanna, Coldplay, Bruce Springsteen, Katy Perry, Taylor Swift, Paul McCartney, Foo Fighters, Bruno Mars, Kelly Clarkson, Jason Aldean, and Nicki Minaj. That's as good of a snapshot of pop music circa 2012 as you'll find anywhere. You might not like many of those names—or even know who they are—but the Grammys do a surprisingly good job of presenting artists in an appealing format that's welcoming to casual listeners, oftentimes by pairing them up with more established performers. (Sometimes these collaborations are questionable, like putting the reunited Beach Boys with Foster The People and Maroon 5. But in that case I'm sort of hoping for a trainwreck.)
Even if you're already a music fan—or a music snob when it comes to mainstream tastes—the Grammys might surprise you. At least that's been my experience: I've taken numerous shots at the corny folk-pop act Mumford & Sons, in print and elsewhere, but even I couldn't deny its star-making performance of "The Cave" last year. I was similarly charmed by lightweight pop-R&B balladeer Bruno Mars, who was impressive performing his own "Grenade" as well as backing Janelle Monae on drums. Jesse Jackson might argue that the Grammys have taken a step back in recent months. But even with fewer categories, it's still the broadest, most diverse popular-music showcase that will air on television this year. That's why I'll watch Sunday, with or without the paycheck.