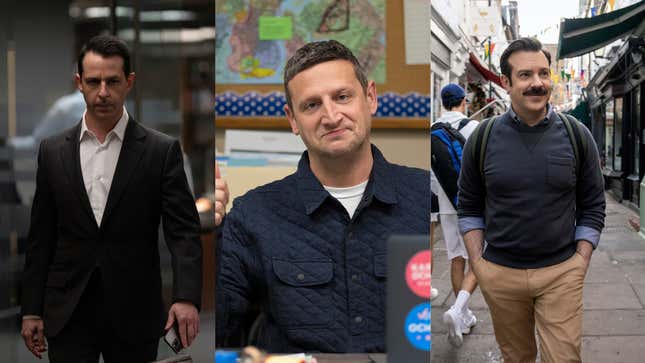 Welcome to What's On, our weekly picks of must-watch shows. Here's what you need to watch from Sunday, May 28, to Thursday, June 1. All times are Eastern. [Note: The weekend edition of What's On drops on Fridays.]

---
The biggies
Succession series finale (HBO, Sunday, 9 p.m.)
No one's ready for Succession to end, but here we are anyway. What will we do without the toxicity of the Roy family? How will we go on without being able to dissect every insult and provocative remark they make while casually dismantling media and democracy? We'll find out after the HBO drama airs its 90-minute series finale on May 28. The A.V. Club's final episode recap drops Monday morning.
---
I Think You Should Leave With Tim Robinson (Netflix, Tuesday, 3:01 a.m.)

Our long national nightmare is over because Tim Robinson and Zach Kanin's superb sketch comedy is back. I Think You Should Leave returns for season three with six episodes and multiple skits in which Robinson is sure to go all out with loud, screaming, meme-worthy eccentricity. Season three's guest stars include Will Forte, Ayo Edebiri, Fred Armisen, Patti Harrison, Sam Richardson, and Biff Wiff (of course). Let's see what can top Coffin Flop. Check out The A.V. Club's review on Tuesday.
---
Ted Lasso season-three finale (Apple TV+, Wednesday, 12:01 a.m.)
Apple TV+ remains suspiciously quiet about whether, as rumored, Ted Lasso is permanently ending after this week's episode. So we'll call it a season three finale and not a series ender for now. After 12 long (literally) outings, Ted Lasso wraps up its ongoing run with all signs pointing to Ted (Jason Sudeikis) leaving London and moving back to Kansas to be with his teenage son. But will Coach Beard (Brendan Hunt) go with him? Is Nate Shelley (Nick Mohammed) taking over Richmond A.F.C. after a public fallout with them? And what's going on with Roy (Brett Goldstein) and Keeley's (Juno Temple) relationship? Hopefully, "So Long, Farewell" will provide some answers. Look for The A.V. Club's recap on Wednesday.
---
Hidden gems
Reality (HBO, Monday, 10:05 p.m.)
One of Sydney Sweeney's many projects is seeing the light of day. The Euphoria star leads Tina Satter's Reality alongside Marchánt Davis and Josh Hamilton. Sweeney plays Reality Winner, a real-life yoga instructor and Air Force vet who returns from running errands to find two FBI agents at her home. She spends the next two hours being questioned about her work and if she leaked a classified document about Russian interference in the 2016 U.S. election. Reality's tense dialogue is taken directly from FBI transcripts.

---
Drag Me To Dinner (Hulu, Tuesday, 12:01 a.m.)
Neil Patrick Harris, Haneefah Wood, and Bianca del Toro are the judges of the fourth-wall-breaking reality series Drag Me To Dinner. Murray Hill hosts the show where two teams of successful drag queens go head-to-head to throw the most glamorous dinner party and be crowned champion. Each episode will have a different theme, with teams focusing on food, drinks, decor, entertainment, and overall mood.
---
More good stuff
The Rising (The CW, Monday, 8 p.m.)
The CW decided to get rid of the fun vibe that made the brand famous, so now they're relying on international shows for summer audiences. First up is the British drama The Rising. It centers on Neve Kelly (Clara Ruugard), a young girl who discovers she's been murdered. Determined to find her killer, she uses her supernatural abilities and begins an investigation. In doing so, she uncovers buried secrets that force her to re-examine everything about her life and the people she cared about.
---
Barons (The CW, Monday, 9 p.m.)
The CW goes Down Under for its other international summer series, airing the U.S. premiere of Australian drama Barons. Set in two timelines, it tells the tale of the personal and professional rivalries of surfboard companies Billabong and Quiksilver as they build their empires.
---
Can't miss recaps
Succession (HBO, Sunday, 9 p.m., series finale)
Barry (HBO, Sunday, 10 p.m., series finale)
Somebody Somewhere (HBO, Sunday, 10:30 p.m., two-part season two finale)
Ted Lasso (Apple TV+, Wednesday, 3:01 a.m., season three finale)
Nancy Drew (The CW, Wednesday, 8 p.m., season four premiere)
Top Chef (Bravo, Thursday, 9 p.m.)
---
Arriving now
Vanderpump Rules (Bravo, Wednesday, 9 p.m., reunion special part two)

---
Ending soon
The White House Plumbers (HBO, Monday, 9 p.m., season one finale)
Saint X (Hulu, Wednesday, 12:01 a.m., season one finale)
Dave (FXX, Wednesday, 10 p.m., season three finale)
Grease: Rise Of The Pink Ladies (Paramount+, Thursday, 3:01 a.m., season one finale)