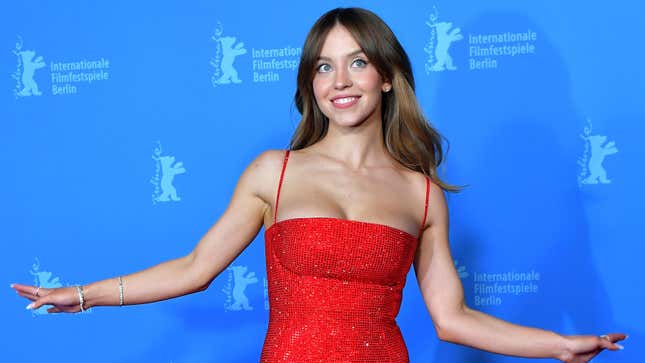 Despite all that time trapped on the floor of a tub, Sydney Sweeney is a very busy lady. Aside from that hit television show where said tub resides, she's also a burgeoning movie star with some 10 projects in the works. Today, she adds another: Sweeney is joining Julianne Moore for Echo Valley, a thriller about "how far a mother will go to save her child," Variety reports. Echo Valley comes from Brad Ingelsby, the creator of Mare Of Easttown, and will once again combine a mare and murder. This time it's a literal mare because Julianne Moore plays a horse trainer on a secluded farm.
A Quiet Place: Part II's Millicent Simmonds thinks she'd be a goner if aliens attacked
As for Sweeney, her role is unclear. Though, that's kind of her vibe these days. The actor has more than 10 projects in development, including a third season of the mega-hit Euphoria, which is currently delayed by Sam Levinson reportedly and desperately squeezing more sexism into The Idol. So we don't know when the next time Sweeney will tell the Euphoria-creator that her character doesn't need to be naked for every scene. Still, she's apparently playing the lead in Barbarella, appearing in Madame Web, and a grab bag of what appear to be titles for vague, heretofore unmade projects, including something called The Caretaker, The Players Table, The Registration, and Reality. How's she going to have time to star in Immaculate when she also has "Untitled Rom-Com" and Americana reportedly coming soon?
Obviously, Sweeney is an in-demand actor, and part of staying in-demand is agreeing to projects that may never see the light of day. She's also someone who's spoken at length about how job security, even for those at presumably the top of the mountain, is very shaky. Unlike our usual targets (those dastardly nepo babies), Sweeney was not born into the business and, like many of her peers, has to hock garbage on Instagram to prepare for having a child one day. The lack of a middle class in America hits everyone, even a breakout star on two of HBO's biggest hits.

Still, as happy as we are to see Ms. Sweeney working and, hopefully, making ends meet, we'd like to see the actual work sometime.