Every year offers music both good and bad, but some years have a special pull. In My Favorite Music Year, A.V. Club music writers choose the years that speak to them most deeply, however fresh in memory or far in the past.
"The golden age of comic books is 12," goes a quote widely attributed to comics historian Don Thompson. That's one of truest pieces of criticism I've ever heard. No matter how much our tastes deepen and grow more sophisticated over the years, the first cuts still cut deepest. I was 16 in 1989. I had a subscription to Rolling Stone, videotapes of 120 Minutes, and all the CDs a part-time job at Taco Bell would let me buy. 1989 was my musical golden age, whatever value the year had for others.
And it certainly did have value. The apex year of British rave culture, 1989 was known as the Summer Of Love in the U.K. (So was 1988. It was a long summer and the drugs took a long time to wear off.) It was also a stone-classic year for hip-hop. (1989 the number of another summer? Absolutely not.) I heard some of that at the time, but didn't catch much until years later. In 1989, I already had a lot of catching up to do. As the only child of older parents who still spoke with disgust about watching the Beatles on Ed Sullivan, I didn't have that many people pointing me toward good music. So I took it upon myself to find it. I'd already developed an appreciation for a few bands, first Talking Heads, then U2, then R.E.M., all edgy-enough by the standards of suburban Ohio. But I was just grasping at whatever came my way. I needed a compass.
That came first in the form of Rolling Stone. By 1989, it really had no claims on being the voice of the underground. (That summer it gave a whole cover over to Ghostbusters 2.) But it was a publication that took music seriously, as seriously as the film critics I was already starting to follow. When each new issue arrived, I'd turn first to the reviews and made it a point to investigate any well-reviewed album that sounded appealing, if only to give it a spin at the listening station of CD Connection, a local chain of music stores. Looking back at old issues on the digital Rolling Stone archive released a couple of years ago is like seeing the framework of my taste being formed. I knew little of Lou Reed when the February 23 issue (with Sam Kinison screaming from the cover) arrived. I'd heard the Cowboy Junkies sing "Sweet Jane" and knew of the Velvet Underground because R.E.M. cited it as an influence. But the four-star review of Reed's new album, New York, intrigued me. I picked it up and its profane poetry spoke to me. So it went throughout the year: Elvis Costello's Spike, XTC's Oranges & Lemons, Pixies' Doolittle, The Cure's Disintegration, Tom Petty's Full Moon Fever, Prince's Batman soundtrack, Neil Young's Freedom, Camper Van Beethoven's Key Lime Pie. I bought them all and dug in, and even if they weren't always the act's best albums—some were, some most assuredly were not—they still offered entry into types of music I'd never considered more.
The second guide came from 120 Minutes, MTV's alternative rock block, which I'd record each Sunday night and watch, either alone or with likeminded friends. Recently I found an online archive of 120 Minutes playlists and I think this is where my personal take on 1989 and the year's larger musical meaning converge. The show from June 4, 1989, for instance, includes new songs from Morrissey, Bob Mould, R.E.M., and the Cure. Adjacent episodes featured B-52s, The Pogues, The Sugarcubes, The Replacements, Robyn Hitchcock, and so on.
G/O Media may get a commission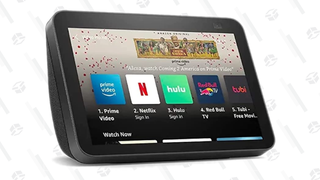 These are the heavy hitters. I'm skipping past reliable second-tier acts like The Primitives, Hoodoo Gurus, The Smithereens, The Godfathers, and more, all of which could be heard frequently on my third guide: the late, lamented Oxford, Ohio radio station WOXY. If Rolling Stone and 120 Minutes provided a mainstream-filtered glimpse at the underground, WOXY went deeper. A true independent station, its playlist stretched back to punk and post-punk and had a big-tent approach, playing virtually anything off the well-trod musical path. And in 1989, seemingly every song the station played suggested new possibilities and new avenues to explore. (I could pick WOXY up on the car radio until I drove into the suburb I called home, where it faded. If I were making that up, it would be a too-on-the-nose metaphor.) 1989 was a high-water year for what was then called college rock or alternative rock, before that came to mean something else, and I'm pretty sure that's not just nostalgia talking.
It was also close to the end of something, even if I didn't know it then. An ahead-of-the-curve friend of mine was already singing the praises of a band called Soundgarden, and in a couple of years, Nirvana would come and sweep away all the jangle and quirk that soundtracked my favorite music year with a sheet of distortion. I liked that too, but never as much. I never considered it a fair trade.
One last note about 1989: You can't go back to the past, but you can revisit it. And, as the years went by, I started to realize how much I had missed the first time around 1989, particularly in regards to hip-hop. At the time, I also rejected acts I came to love, like Morrissey, for stupid reasons, not the least being they were on the list of acts mocked on the Dead Milkmen's sneering single "Instant Club Hit (You'll Dance To Anything)." ("You'll dance to anything by Book Of Love / You'll dance to anything by The Smiths / You'll dance to anything by Depeche Commode.") Turns out the Dead Milkmen didn't always know what they were talking about.
So, consider the list below the product of someone dazzled by 1989 at the time and given years to reflect on what the year had to offer.
KEITH PHIPPS' TOP ALBUMS OF 1989
1. Beastie Boys, Paul's Boutique
Like most everyone else, I slept on this album in 1989. The Beastie Boys, you'll have to remember, simply weren't cool that year. For most of the public, myself included, they were the brats of Licensed To Ill and always would be. Holy shit, were we wrong. Paul's Boutique melds a mind-bending sampling tapestry assembled by the Dust Brothers to rhymes that had moved on from Ill's antics. Consider "Egg Man": The beat creates a sense of funky dread by combining Bernard Herrmann's music from Psycho with Curtis Mayfield's Super Fly theme, while the lyrics consider the folly of racism and the meaning of life while detailing a night spent throwing eggs and dropping references to Dolemite and Yosemite Sam. How? Why? Years later, the album remains a borderline miraculous achievement.
2. Tom Petty, Full Moon Fever
After touring behind the not-so-great 1987 Tom Petty And The Heartbreakers album Let Me Up (I've Had Enough), Tom Petty was fed up and burned out. So he wrote a bunch of songs with ex-ELO frontman Jeff Lynne that tapped into their mutual love for Beatles-esque melodies and Byrds-inspired jangle and recorded a solo effort that happened to be the best album of his career. (True, most of the Heartbreakers ended up participating anyway, and guitarist Mike Campbell played on every track.) The results sound timeless and unforced, the work of a great songwriter given the room and support he needed to work at the top of his craft.
3. Pixies, Doolittle
So many acts have borrowed from the Pixies—Nirvana most openly—that it's hard to stress how distinctive and unnervingly compelling the band sounded the first time around. Doolittle was the group's breakthrough both in terms of finding a wider audience and in clarifying its vision of tight pop songs based around the dark themes rattling around in frontman Black Francis' head.
4. De La Soul, 3 Feet High And Rising
The other sampling masterpiece of 1989 came from the Long Island hip-hop trio of De La Soul who, working with producer Prince Paul, stitched together a Day-Glo world from scraps and spare parts taken from sources both expected (Funkaedelic, Ohio Players) and otherwise (Liberace, Steve Miller Band). It would be a classic even if the group never rapped a syllable, but the group's inviting, offbeat rhymes—which touched on everything from drug addictions to wry accounts of teenage sexual awkwardness—pushed hip-hop in unexpected directions.
5. The Cure, Disintegration
The Cure's most sustained album, Disintegration establishes a dark mood and forbidding atmosphere from its first note and doesn't let up until the end. Though it contains one of frontman Robert Smith's most openhearted songs—the hit "Lovesong"—the album's largely a balancing act between Smith's fragile vocals, the sense of gloom threatening to envelop him, and moments of light that make the darkness that much more pronounced.
Also
In the U.K., 1989 had a Madchester soundtrack, and no band defined that intoxicating sound better than The Stone Roses and their self-titled debut. Burning out after one endlessly delayed follow-up, the group didn't have a second act, but how many other groups can claim even one perfect album? On the other hand, maybe the Stone Roses could have taken a page from Neil Young, who just kept working year after year through good albums and bad and produced the great Freedom in 1989. Mixing acoustic and electric songs, the album picks up more or less where Rust Never Sleeps left off, as if the whole iffy decade before it had never happened. Bob Dylan managed a similar trick with the great, if perennially overlooked Oh Mercy, an inspired collaboration with producer Daniel Lanois.
Speaking of comebacks, The B-52s staged a memorable, if fleeting one, with Cosmic Thing. It's best known for the inescapable (and kind of annoying) hit "Love Shack," but its pleasures go deeper. The B-52s managed only one more album before going on a long hiatus. In general, 1989 was a winding-down year for many bands, even if they didn't know it at the time. New Order closed out the '80s with Technique, which anticipated the decade to come; but, after releasing one more album, the group would largely sit that decade out. Many other acts repeated that pattern, including 10,000 Maniacs, Kate Bush, XTC, Galaxie 500, and The Replacements, who made a next-to-last grab for acceptance with the pretty good Don't Tell A Soul. It's as if they put one toe in the '90s and determined it had no place for them. They might have been right. Finally, no list of 1989 greats would be complete without Jungle Brothers' Done By The Forces Of Nature, Chris Isaak's Heart Shaped World, Daniel Lanois' Acadie, The Jesus And Mary Chain's Automatic, or Robyn Hitchcock And The Egyptians' Queen Elvis.
Early Warnings
1989 also saw the release of Nine Inch Nails' debut, Pretty Hate Machine, though it would take a while for most people to notice. Yo La Tengo's short third album, President Yo La Tengo, provided a preview of what '90s indie rock would sound like. And while Nevermind provided Nirvana with its breakthrough, contrarians have long made a case for Bleach, and listening to it now, it seems like they might be on to something. This was the sound to come, but that's the story for another year.
Runner-up
So many great years to choose from, but when I see that 1972 saw the release of Stevie Wonder's Talking Book and Music Of My Mind, The Rolling Stones' Exile On Main St., Curtis Mayfield's Super Fly, Big Star's #1 Record, Paul Simon's solo debut, Aretha Franklin's Young, Gifted And Black and Amazing Grace, Neil Young's Harvest, Nick Drake's Pink Moon, Dr. John's Gumbo, Randy Newman's Sail Away, Roxy Music's self-titled debut, David Bowie's Ziggy Stardust, T. Rex's The Slider, Van Morrison's Saint Dominic's Preview, Harry Nilsson's Son Of Schmilsson, Rod Stewart's Never A Dull Moment, The O'Jays' Back Stabbers, Miles Davis' On The Corner, Steely Dan's Can't Buy A Thrill, Joni Mitchell's For The Roses, Lou Reed's Transformer, Neu!'s first album, Townes Van Zandt's High, Low And In Between, War's The World Is A Ghetto, and Al Green's Let's Stay Together and I'm Still In Love With You (whew), many of which I consider some of my favorite albums ever, I wonder if I should just tear this column up and start all over again.