The oral history of just about every punk rock act formed between 1976 and 1980 begins with a common anecdote: So-and-so schmo saw such-and-such band, and realized, "Hey, I could do that." What exactly did they think they could do? That changes from story to story. For some it was, "We can make music even though we don't know how to play our instruments." For others, "We can get on a stage even though we're not rock stars." But for the members of British quartet Wire, punk offered something even more attractive: a built-in audience with a taste for the unusual.
It'd be a stretch to say that Wire was the first art-punk band, given that much of the New York proto-punk scene (such as Patti Smith and Television) had ties to the art world, and a lot of the arty musicians that inspired Wire (such as Roxy Music and Neu) were skating on the edge of punk years before the Ramones or the Sex Pistols. But at a time in rock 'n' roll when "art" meant something either aggressively avant-garde or pretentiously progressive, Wire offered an attractive combination of the experimental and the accessible. Even at its inception, when the band was redefining what a song could be by writing and recording minute-long vignettes, the music usually had actual melodies and riffs—or, at the least, interesting sounds that could pass for a hook.
Though its roster has stayed fairly stable from 1976 to now, Wire has had three distinct incarnations. The first era, which ended with the band breaking up in 1980, is the most influential. With 1977's Pink Flag, 1978's Chairs Missing, and 1979's 154, Wire bridged the gap between the first wave of U.K. punk and the post-punk, techno-pop, and New Wave that followed. Conceived in art school by guitarists Colin Newman and Bruce Gilbert—joined at the start by bassist/designer Graham Lewis and drummer Robert "Gotobed" Grey—the first Wire thought in terms of structure and design, recording songs with tight rhythmic patterns and a layered hum of guitars and synthesizers. Pink Flag drew immediate international attention with its grabby concept: 21 songs in 35 minutes, influenced by advertising jingles as much as by highbrow composers. The two albums that followed proved that Wire was more than just a gimmick, and that the foursome could be just as enjoyably offbeat at more conventional lengths.
When Wire returned in 1985, it ostensibly ignored all that had come before and started over, trying to be the dotty companion to alt-dance bands like New Order and Depeche Mode that it had once been to punk acts like The Damned and The Buzzcocks. The new Wire got more airplay, thanks to the rise of college radio in the U.S. and the willingness of MTV to take chances on music that had some crossover potential. But while the second phase of Wire lasted twice as long as the first, its strongest creative output was limited to between 1986 and 1989. The band called it quits again in 1992, shortly after Grey left the band (but not before recording one album without him, credited to "Wir.")
Around 1999, a fully reformed Wire started rehearsing its '70s material again, playing the songs in vigorous new arrangements that also called back to the sonic fullness and dance consciousness of the '80s. This third version of the band toured with the old songs and then recorded new ones, fusing its original punk energy with a refined sense of groove. Gilbert only lasted with this Wire through one LP—2003's excellent Send—but the remaining three original members have soldiered on, enjoying the adulation of new and old fans in concert while producing new music that's largely lived up to the standard of its best work.
G/O Media may get a commission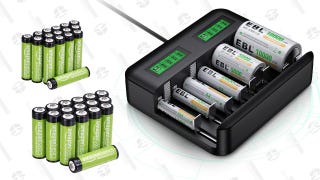 What connects all three Wires is a rare ability to be odd—with lyrics that read like torn-up scraps of free verse, interspersed with laser-focused rants—without coming off as aloof. In every configuration and approach, Wire has fit its own need to explore into a larger mission to be a viable pop-rock band, performing for real people.
Because Pink Flag is an unparalleled masterpiece full of classic songs that still get covered and/or ripped off, and because those songs are so short, the album dominates the playlist below (though to avoid repetition, some of those songs have been combined into a single entry). Otherwise, in terms of actual minutes, this hour of music is fairly evenly divided between all three Wires, aiming to illustrate what the four guys who recorded the pretty dance-pop song "Kidney Bingos" have in common with the four who recorded the raging "12XU."
1. "Field Day For The Sundays" (1977)
2. "Three Girl Rhumba" (1977)
The brevity of Pink Flag's songs helped Wire stand out from U.K. punk's Class Of '77, but the album has endured because of how much the band packs into each minute of music. After the droning, abstract opener "Reuters"—with its relatively leisurely three-minute running-time—Pink Flag really kicks into gear with tracks two and three, "Field Day For The Sundays" and "Three Girl Rhumba," which are also two of the shortest and catchiest numbers on the entire record. "Field Day" is 28 snappy seconds of abstract poetry and bouncy rhythms, with a brief, grinding bridge that makes it feel like a full composition and not a fragment. The 83 seconds of "Rhumba," meanwhile, build off a buzzsaw riff so funky that it's become a touchstone for punk acts with one foot in the club scene—including Elastica, who had to pay a hefty fee after it copied the song's hook for its massive 1994 hit "Connection."
3. "In The Art Of Stopping" (2002)
Wire resumed touring and recording in the 2000s, reintroducing itself with a pair of 2002 EPs, Read & Burn 01 and Read & Burn 02 (the highlights of which were later collected on the 2003 LP Send, with a few new songs). The first Read & Burn puckishly opens with "In The Art Of Stopping," the title of which seems to reference how adroitly Wire has managed its various hiatuses and comebacks. More importantly, the song establishes what would become the dominant sound of Wire's third era: a fusion of its early punk aggression with its mid-period immersion in electronics.
4. "Another The Letter" (1978)
For Wire's second album Chairs Missing, the band leans less on the ostentatiously short, which makes tracks like the brief, eruptive "Another The Letter" all the more exciting. With its noodling synthesizer, stunted guitar riff, and breathless vocal, the song keeps the Pink Flag concept relevant within Wire's rapidly changing style.
5. "Come Back In Two Halves" (1988)
After reinventing itself as a electronics-heavy pop-rock band in the mid-'80s, Wire began to subtly experiment within the genre with 1988's A Bell Is A Cup…Until It Is Struck. "Come Back In Two Halves" represents a rewarding compromise between the danceability of '80s Wire and the rougher textures and mysterious aura of the '70s version.
6. "Map Ref. 41 Degrees N 93 Degrees W" (1979)
Before My Bloody Valentine went on an extended break in the mid-'90s, the band contributed a cover of this atypically crisp, uptempo 154 song to a Wire tribute album. It's a brilliant match of performer and cover, as MBV's thicker guitars and wispier vocals reveal both the thinly veiled angst and sugary melodic core of early Wire. The wide-ranging influence of those first three albums is attributable to their under-heralded eclecticism, which could appeal to punks, avant-funksters, and prog-minded classic-rock buffs alike. Songs like "Map Ref" help explain how Wire ended up on Capitol/EMI's Harvest Records, whose most popular acts prior to the punk/New Wave era were Deep Purple and Pink Floyd.
7. "Mannequin" (1977)
An art-school background didn't keep Wire from embracing punk's snotty attitude, as evidenced by this song-length put-down of some stuck-up "waste of space." But a sensitive side did allow these four guys to undercut the snarl of "Mannequin" with some cooing background vocals, a snappy coda of "la la las," and one of the sweetest melodies on all of Pink Flag.
8. "In Manchester" (2015)
Wire's most recent album bears the title Wire, which is always a bold move for a venerable rock band—to imply that its latest music is the first that really defines who it is. But whether a song like "In Manchester" exemplifies the true Wire, it's a fine piece of music, retaining the concision and elliptical lyrics of classic Wire while making good use of new guitarist Matthew Simms to provide depth and atmosphere. If there's one thing the band picked up from its at-times divisive middle period, it was the ability to complement intricate pattern-making with a sense of openness, and "In Manchester" shows off both skills.
9. "Ahead" (1987)
The Ideal Copy—the first full-length LP after Wire's first hiatus—caught longtime fans by surprise with how committed it was to synthesizers and club beats, applied to tracks more radio-friendly than anything the band had attempted before. But Wire's take on dance-pop remained fairly idiosyncratic, and hard to fault when it resulted in songs like "Ahead," a busy, energetic bit of art-disco with an aspirational bent. The chorus, "I remember making the body surge," matches music that pushes up and out, with melodic lines that keep rising.
10. "Adapt" (2011)
The more forceful Wire of the Read & Burn EPs mellowed a bit after Gilbert left. Over the past few albums, the remaining members have brought in more moments of stark beauty that broke through occasionally on the first few. Red Barked Tree's "Adapt" borrows back from '90s shoegaze acts what they took from '70s Wire, producing a dreamy song that sounds like a 21st-century version of what the band was up to before it broke up the first time.
11. "Outdoor Miner" (1978)
Pink Flag had better reviews than sales, so for the follow-up, Wire made a more overt move toward mass appeal, while holding on to the essence of the band. Chairs Missing's most successful stab at a pop single is this peppy cut, as lyrically inscrutable as ever (though lines like "no blind spots in leopard's eyes" and "an outdoor life for a silverfish" are fun to sing), but also has the pleasant jangle of mid-'60s British psychedelia.
12. "In Vivo" (1989)
Wire had its biggest hit in 1989 with the self-descriptive "Eardrum Buzz," from the under-baked live/remix LP It's Beginning To And Back Again. But the single "In Vivo"—appended to the IBTABA CD—is the song that should've broken through. Every bit as musically ingratiating as "Eardrum Buzz," "In Vivo" has the advantage of a richer arrangement and more ominous lyrics, exploring the tension between sunny shades of futurism and premonitions of dystopia.
13. "On Returning" (1979)
The first Wire compilation (released in 1989) took its name from this complex 154 track, which is at once one of the poppiest and darkest songs from the original Wire's most challenging studio album. Underneath the layers of electronic scrape that became increasingly prevalent on the band's albums in the late '70s, "On Returning" presents a fairly direct rock 'n' roll song, with a steady build and a strong sense of urgency. From the anxious vocals to the high, one-note washes of synthesizer, this sounds like the last dispatch from the frontlines of some coming war.
14. "12XU" (1977)
15. "Mr. Suit" (1977)
16. "Sand In My Joints" (1978)
Wire's first three albums juggle hard-to-copy experiments with simple, readily repeatable bashers, which easily lend themselves to cover versions. Pink Flag's stomping "12XU" (most famously covered by Minor Threat) and "Mr. Suit" (done by a lot of folks, most notably New Bomb Turks) will still be getting crowds worked into a frenzy decades from now. The Chairs Missing song "Sand In My Joints," meanwhile, demonstrates how Wire evolved even in its flat-out rock numbers. What sounds initially like a 100-miles-an-hour punk exercise gradually adds different guitar lines and changes, picking up momentum without ever changing tempo.
17. "Spent" (2002)
Around the same time that Wire came back in the 2000s, a wave of similarly noisy and edgy veteran alt-rockers (such as Mission Of Burma and Dinosaur Jr.) returned too, and recorded albums just as accomplished as their earlier landmarks. Few of these old-timers came up with anything as muscular and abrasive as Wire's "Spent," easily the rowdiest number in the band's repertoire. For nearly five full minutes of serrated guitars, feedback, and shouting, "Spent" never flags in intensity, though it does get easier to take as it adds more instruments, fleshing out from a scary skeleton to a friendlier monster.
18. "Adore Your Island" (2013)
Wire's 2013 album Change Becomes Us consists of reworked versions of songs that the band had attempted and abandoned at the end of its first stage. The meeting of the minds between musicians with a nearly 25-year age difference results in some fantastic juxtapositions. "Adore Your Island" makes a fine standard-bearer for the entire project, lurching between majestic power chords and near-thrash: like the sound of bratty punks continually shoving aside old men who are trying to take a triumphant final bow.
19. "Kidney Bingos" (1988)
The paradox of mid-period Wire—an unabashed pop band with curious impulses—is fully represented on one of its loveliest, most hummable songs. On the surface, "Kidney Bingos" couldn't be more mainstream, with its clean and modern (for 1988) production and its gentle lyricism. But it's still a song called "Kidney Bingos," with all the alien qualities in the words and arrangement that the title implies. Some older Wire fans who weren't on-board with its second phase missed that while the form was softer, the content remained prickly.
20. "Drill" (1986)
Third-stage Wire came back from the void with a pair of unexpectedly raw EPs, which repeated the approach of second-stage Wire, who reemerged in 1986 with the four-song Snakedrill, sounding like an entirely new band. Nodding to the burgeoning industrial music scene, Wire recorded a song—"Drill"—that became just as influential in its way as Pink Flag, paving the way for the pummeling, stripped-down techno that would be increasingly popular in dance clubs over the next few years. Broken down to its core components, "Drill" is a reimagining of some of the more propulsive, minimalist early Wire tracks, like "Another The Letter." But where the Wire of old worked in short bursts, "Drill" went long—especially in concert, where the band sometimes turned it into an endurance test, seeing how long they could get an audience to stick with the repetitive bass hook, pounding beat, and monotone chants of "drill drill drill" and "dugga dugga dugga."
21. "Ex Lion Tamer" (1977)
22. "Fragile" (1977)
During Wire's mid-'80s comeback, the band chose not to perform its old songs in concert, instead hiring Wire tribute act The Ex-Lion Tamers to open the show by playing Pink Flag in order. That's a testament both to the durability of that album and to the place one of its best tracks holds in the band's oeuvre. The most straight-ahead rock song on the debut LP, "Ex Lion Tamer" features a slashing riff and the kind of conventional verse/chorus structure that makes the rest of the record seem all the more purposefully radical. And just as Wire's experimental side is defined by its "normal" songs, so its fist-pumping rock 'n' roll side wouldn't be as effective without songs like Pink Flag's "Fragile," which is so light and likable that it gives the anger context. Right from the start, Wire compressed multitudes into minutes.
Total time: 59:50