The "classic TV series reboot" is an established and inescapable factor of the television landscape these days, with executives and writers eagerly hoovering up whatever lingering traces of lasting sentiment or nostalgia might be associated with a given, ostensibly moribund property. At this point, there have now been enough of these returns to the ol' content well that a pretty wide spectrum in quality has emerged, from the "Did you really think this was going to work?" confusion of the Murphy Brown revival, to the genuine genius of Netflix's sadly slain reboot of Norman Lear's One Day At A Time.
To date, though, the reboot machine has tended to spit out one of two flavors of televisual simulacra: Either continuations of long-dead shows with the original casts intact, or completely updated remakes. Now ABC—in association with Lear and late night star/huge sitcom dork Jimmy Kimmel—is aiming for something a little different: A one-night, live recreation of a couple of Lear's most beloved shows, All In The Family and The Jeffersons, filmed in front of a studio audience.
That would already make the as-yet untitled event a fascinating curiosity—especially if Kimmel and Lear end up bringing some of those old '70s scripts, unchanged, to 2019 TV screens. But it's all made just a little more excitingly surreal by the sheer number of talented actors they've roped in for this little experiment: Woody Harrelson as Archie Bunker, Marisa Tomei as his wife Edith, Wanda Sykes as Louise Jefferson, and Jamie Foxx as George. That's two Oscar winners and a bunch of Emmys right there, and that's before we even move into the supporting cast: Ellie Kemper as Gloria Bunker, One Day At A Time's Justina Machado as the Jefferson's maid, Florence, and co-executive producer Will Ferrell as their neighbor, Tom. (No word yet on who'll be playing "Meathead" Mike Stivic, but we've got our fingers crossed that they'll really blow our minds by bringing in Rob Reiner's dad Carl to play the part.)
If that wasn't enough, Lear and Kimmel have also recruited sitcom vet James Burrows (Cheers, Taxi, NewsRadio, Will & Grace, etc.) to direct the 90-minute special, which will air live on ABC on May 22.
G/O Media may get a commission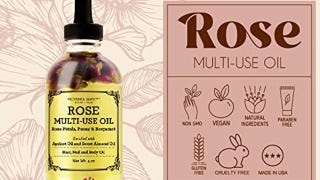 Provence Beauty Rose Multi-Use Oil