Those of you with DVRs, be thankful:  for a double-elimination, the Idol producers squandered an opportunity to make it much more than a ho-hum elimination night.
First, the group performance. It probably wouldn't have seemed so bad if we hadn't gotten an in-depth look at Paula Abdul choreographing the number, which actually gave me high-ish hopes for it. I like seeing Paula come out from behind the judges table and I especially like seeing her dance, since that's what she's really all about—when will she be a guest judge on So You Think You Can Dance? She taught the top seven singers moves to "Shake Your Body" (not a disco song and not a ton of disco moves in the performance, either). The contestants were back to lipsynching, in a bad way. The whole thing was just cheap, from the costumes to the way parts of the lyrics were put up onscreen behind them: even the font was cheesy. Adam and Matt were the best dancers of the group, in case you were wondering. After they performed the singers presented Paula with a bouquet of flowers as big as she was and the theme of the night was revealed: people wearing clothes perhaps a wee bit racy for their stage in life.
The Ford commercials are always bad, but sometimes bad in a way that is, well, not quite good, but…well, funny-bad. Not tonight's. Set to "I'm Good, I'm Gone" we saw how terrible the Idol contestants would be at other jobs, proving their best career goal is singing at open mic nights. I'm not sure how this shows you what's good about a Ford—they're nice to live in if your only job is singing at open mic night?
Anyway, after this nonsense, Lil was brought down on the stage but not given a stool: after being told she was one of the most "courageous" contestants (what?) Ryan just told her she was eliminated. Oh well. She sang "I'm Every Woman" again, better than last night, but certainly not "brilliant," as Paula said.
G/O Media may get a commission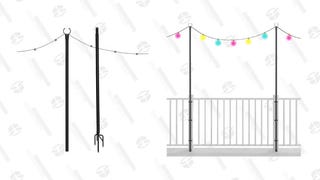 Up To 49% Off
Holiday Styling String Light Poles
In honor of disco night, we were treated to a medley of disco songs by the actual artists. First, Freda Payne sang "Band of Gold," once again a song I never considered a disco tune. For a 66-year-old lady she looked beautiful but she would have looked more incredible had she worn a bra or something. Her singing was all right but not exactly crisp: I caught Paula holding a finger to one of her ears. Then Thelma Houston sang "Don't Leave Me This Way," looking and sounding a bit more solid than Payne but once again, not quite dressing her age. She looked like a richer version of that Big Bird lady who tried out for Idol last season. She introduced KC, minus the Sunshine Band, and it just seemed like the opposite of everything Simon ever wants to see on this show. This was cruise-line fare: KC seemed uncertain, dated in his shirt and dangling earring and his backup dancers seemed a little beleaguered. I don't know if this medley would have gone better with different musicians or if disco is just not a genre where the performers can age gracefully. I'm happy these people made this music but the whole thing felt quite off.
After that unpleasantness we found that Kris and Adam were safe. Before finding out Danny was safe, Ryan asked Simon what "clumsy" meant, and Simon retorted, "You know what being clumsy's all about, Ryan." After Ryan tried to clarify that he meant in terms of Danny Gokey's performances, Simon said, "You're being facetious, go back to the contestants." Damn, girl.
Anoop got sent to the stools, AKA his home, and then between Matt and Allison, Allison got sent down. I'm not sure why there was only a bottom two and not three but I was pissed that Allison was down there instead of Matt.
Before we found out who got sent home, David Archuleta sang "Touch My Hand," a song only slightly groovier than its treacly title. It seemed to have borrowed a sound from "No One" by Alicia Keys. It was pleasant, a little dull but David seems to be way past the "Who, me?" overly-modest vibe he gave last season. He danced a little bit and seemed to possess more stage presence, quite comfortable with Seacresty onstage patter, advising Anoop and Allison that you can still have a good career even if you don't win Idol. He was likable and safe.
Finally, we learned that the road ended tonight for Anoop. Good for him: I think it was his time but he had a good run and he seems like a classy guy—and his parents are very cute. It's a shame he had to go out on "Dim All The Lights" because I think we'd all rather see him do Bobby Brown one more time. It was nice of him and Lil especially to give thanks to the vocal coaches on their way out.
But since Allison got less votes than Matt, do we think that means she'll be gone before him? We'll find out.
Grade: B-
Stray observations:
—It just occurred to me that Ryan must introduce the show, run up the flight of stairs, and then walk down it as he's introduced. That's necessary.
—Ryan wishes us a happy Earth Day and then advised us that the show was running on "green power." Yeah, aren't we all.
—It looks like Paula got that diamond star ring back from Tatiana Del Toro.