In an effort to both serve our readers and help support The A.V. Club, we are going to post daily links to deals and interesting items that we find over on Amazon. If you use these links to click through and buy something—not just the thing you clicked—on Amazon, we will see a portion of that income. You don't have to do that if you don't want to, but if you do, know that we appreciate it.
HugOne uses tiny mattress sensors to help you sleep better. It syncs with Amazon's Echo to track your sleep, wake you up gradually, and make sure you're living with the healthiest in-home temperature, humidity, and air quality. You can also connect hugOne to any smart lightbulbs you have, which will then wake you up naturally with slowly increasing light. In other words, it's like sleep's version of Big Brother, but in a way that actually sounds refreshing.
G/O Media may get a commission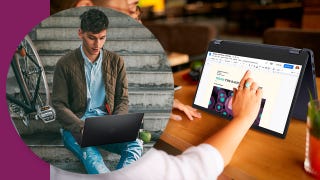 Ends August 15
Best Buy Anniversary Sale 2022
Ends August 15
Best Buy has a number of different promotions happening all for its Anniversary Sales Event. Laptops, tablets, TVs, you names it. Whether you're heading back to school or just trying to fill your home with some new tech, there is something here on sale that you've likely been waiting for.
If you've always wanted a deer head on your wall but just can't tolerate those beady glass eyes staring down at you, Amazon's got the perfect alternative. This 21st century version of taxidermy is both functional and lovely, providing a nice soft light source to any room via either a cord or a switch.
Let's face it: If zombies ever rise, we're all going to need a drink. That's the premise behind this set from Chateau Diana winery, which matches two bottles of zombie-themed wine with a T-shirt and some tips for surviving the zombie apocalypse. At just $30, it seems like a bargain.
Black Swan ($3.99 to rent, $4.99 to own)
Natalie Portman shines in Black Swan, a movie about a ballerina who's in the midst of a mental breakdown.
Fjallraven's backpacks have long been considered status symbols among some of the world's coolest people, and now, for just about $60, you can count yourself one of the crowd.
Black Sails (free to watch with a Starz subscription, or $9.99 per season)
Catch up on Starz's popular pirate series by either ponying up for each season or, if you're an Amazon Prime member, throwing down $8.99 a month to subscribe to the cable channel via the website.
In this game, each player gets to be a werewolf, seer, troublemaker, or some other kind of special creature.