After a handful of promising indie releases, Built To Spill signed to a major label and released its two best albums back-to-back: 1997's progressive Perfect From Now On and 1999's more pop-minded Keep It Like A Secret. Since then, Built To Spill's singer-songwriter-guitarist Doug Martsch and an evolving lineup have taken longer and longer between records, and whenever they reemerge, it's with a set of songs that split the difference between sprawling jams and compact, catchy rock 'n' roll. Built To Spill appears to be out of the business of making classic albums that muscle its way into the mainstream. But Martsch and company still have an appealing sound—a little rootsy, a little arty, and often stormy—and they exercise a remarkable level of quality control.
Untethered Moon, the band's first album in six years, wastes no time in reaffirming what Built To Spill does. The six-minute "All Our Songs" spends its first third establishing a swiftly shuffling rhythm and dense layers of distorted guitars—some tightly riffing, some spitting out abstract patterns—over which Martsch's voice creates its own winding melody, like a conversation that keeps shifting focus. Once the core concept is in place, it's time to play. Martsch's lyrics meander through some unusually personal rumination on his long career, while the different instruments get noisier, jostling for position as the song picks up speed and races to the finish.
This is classic Built To Spill: a track that takes its time, goes through changes, and rewards those who love waves of feedback and competitive strumming. What's new on Untethered Moon is a fresh rhythm section, with drummer Steve Gere and bassist Jason Albertini replacing long-timers Scott Plouf and Brett Nelson. The shake-up seems to have energized Martsch, who forgoes the more "produced" sound of 2009's There Is No Enemy for something looser and more rattling.
There's still some hooky pop-rock on Untethered Moon, especially in the album's front half, which has the loping, booming "Living Zoo," the twangy "On The Way," and one of Built To Spill's simplest, catchiest songs, "Never Be The Same." But the band has become a popular concert attraction over the past decade, and the new record seems designed to feed the setlist. If there's a model for Untethered Moon, it's "So," a dynamic anthem with just a few sing-along verses that leaves plenty of space for Martsch and his compadres to squall at length on stage.
G/O Media may get a commission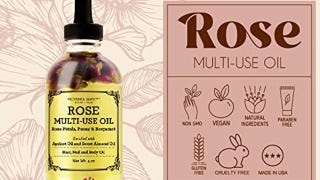 Provence Beauty Rose Multi-Use Oil
The 1990s are long gone, as is the idea that a band equally inspired by Neil Young and Pavement could break big. But there's something reassuring and even inspiring about how Built To Spill has survived by understanding its strengths and working its niche. Untethered Moon isn't the next coming of Perfect From Now On or Keep It Like A Secret, but fans aren't likely to complain when they get to the eight-minute album closer "When I'm Blind," a glorious mess of sputtering guitar that resolves into a triumphant finish, like the ultimate underdog story.