Earlier this week, reports began to circulate that Californication's impending sixth season will focus on Broadway adapting one of Hank's novels. Some of the snap reactions have wondered aloud if Showtime's black dramedy will suddenly become an X-rated Smash. If the gossip proves accurate, it's more likely that Tom Kapinos and his team will use the story as a chance to take a jab at Rock Of Ages, American Idiot, and other "edgy" contemporary musicals. And, chances are, Hank's discomfort with the whole operation will rival Larry David's resistance toward The Producers on Curb Your Enthusiasm.
That is, assuming Hank's alive for a sixth season. The show's taken these kinds of risks before. Just last year, Hank nearly drowned in Stu's wading pool before Karen's boyfriend, Ben, dragged him out. And let us not forget the numerous instances in which it appeared Hank would either drink himself to death or push someone just far enough over the edge with anger and spite. It all falls in line with recurring messages about heaven, hell, spirituality, and godlessness that have orbited Hank since day one, alternately instructing and misdirecting him.
"Hell Ain't A Bad Place to Be" (a title alluding, more than likely, to AC/DC's 1977 track of the same name) starts with one of Mr. Moody's hallucinatory nightmare about the precipice of afterlife. Lew Ashby (Callum Keith Rennie) is back from the grave, pouring Hank a whiskey from behind the bar at some seedy dive that brings to mind True Blood's gothic Fantasia. We get a bit of sermonizing from Ashby and much-needed wish-fulfillment when Samurai storms the joint and blasts a giant hole in Tyler's head. Good times.
That should have been a hint. Ditto for Hank barely escaping Samurai's bullet himself, thanks to Charlie's sudden and long-overdue display of masculine courage. The near-misses were only escalating, and prepared as Hank is the entire episode with a dose of admirable truth or earnest sentiment, the final attempt on his life takes him—and us—by surprise.
G/O Media may get a commission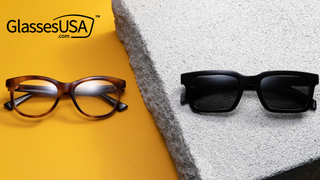 60% off frames
GlassesUSA.com Back to School Sales
When his emotionally volatile ex, Carrie (a returning Natalie Zea, in a pretty thankless role), shows up in Hank's living room yet again (don't he and Charlie, or anyone on TV, ever lock doors?), it's trouble. An inquiry into whether Hank really loved her regresses into wanting to fuck, which eventually shrinks to a conciliatory drink. The suggestion is that Hank might relapse into Carrie's vagina, but it's pretty dreadfully obvious that she drugged him. The scene lacks suspense, but dies wring out its weight in anger at the creative choice and sympathy for Hank's fate. As cliffhangers go, it's overwhelming and unforgettable, but also sneaky and a bit unfair to the show's loyal audience. It's also perfectly in sync with season six's peculiar habit of unraveling an episode roughly 20 minutes in. Only problem is, for all those curveballs, the scripts have rarely been content to actually settle into the strike zone. Although, as Karen might observe, that's a perfect metaphor for Hank himself.
There's more to discuss beyond mortality alone. Everything that builds up to the bravura standoff with Samurai on the set of Santa Monica Cop sets the table just right: Bates has a terrific, cynical exit to stage right, bottle of liquor in hand and a future of reckless adventure ahead; Hank and Karen rip off the Band-Aid and hop back in the sack, and it's hard not to admire a couple who still feel that kind of passion for each other; Becca is being stupid Becca and accepting Tyler's marriage proposal, but at least Hank vomits at the news; and Charlie slowly reclaims possession of his balls by coming clean with Marcy about Stu and Lizzie and heading off to confront them.
Samurai's meltdown over Tyler and Kali creates an opportunity for one last bro-down between Sam and Hank, one of the most charismatic TV odd couples in recent memory. Sam's final look of exasperation at Hank's urban slang is like watching two different life forms speak a shared language before heading off to their separate planets. RZA's such an unpredictable character in real life and on screen that when Sam finally loses his shit after Hank confesses to his affair with Kali, the rapper/producer/actor generates five minutes of kinetic tension purely on his own.
As for whether all that gets sewn up too speedily after Charlie lives up to his word and takes a bullet for Hank (nice callback there)—that's the other glaring weak spot in "Hell Ain't A Bad Place." No one seems in a hurry to press charges or even apprehend Samurai:  Hank is barely phased by the attempt on his life, Marcy playfully slaps Charlie on his injured arm, and RZA instantly transforms into a gentle giant. Most confounding of all is that Kali takes Sam back as if she were a damsel in distress, wooed by his violent outburst when those very same instincts once repulsed her. Meagan Good and her Californication alter ego, along with Becca, really saw their characters' substance and strength diminish as the season wore on, which is a shame.
Alas, that uneven pacing and tidy series of happy endings are meant to serve the ensuing, actual coup de grâce between Hank and Carrie. On the one hand, our guard is certainly down, as is Hank's. On the other, her arrival and homicidal intentions are more than a blindside—they nearly turn a great but flawed finale into a total car wreck. It doesn't mean we won't rubberneck when Californication returns, or speculate on whether Hank or just his novel are Broadway bound, but we also could have done without all the theatrics.
Stray observations:
Led Zeppelin and The Beatles (or at least a cover of The Beatles), eh? Talk about breaking things down to basic yin and yang.
No one has ever made Hank quite as uncomfortable as Bates, who assures him, that if they ever slept together, "Let me tell you something kitten, it would rock your fucking world."
Hank wants "two tickets to paradise" for he and Karen. See, you can get your Eddie Money for nothing.
I miss Hank and Becca's walks.
Stuart's first word is "blowjob." One of the next words out of Marcy's mouth is… "blowjob."
Sam at his most cartoonishly funny filming Santa Monica Cop: "You're welcome, bitch."
Love Hank's middle finger to the weaselly director.
They really cheated us on the payoff between Hank and Sam, didn't they?
So, is Hank dead? Couldn't we possibly see him lord over next season omnisciently from the afterlife or through some other narrative loophole? If not, and if he survives, is it all the more frustrating to be manipulated with these quasi-cliffhangers? And will he just somehow get blamed for everything even if he does live to tell about it? Eager for your thoughts.
In general, thanks for all your spirited participation and comments. It's been awesome, and I hope we reconvene in this space next season.