Here's what's up in the world of TV for Friday, January 22, and Saturday, January 23. All times are Eastern.
Top pick
Chelsea Does (Netflix, 3:01 a.m., Saturday): After signing her big deal with Netflix, Chelsea Lately star Chelsea Handler drops this, her four-part docuseries where Handler takes on topics such as marriage, racism, drugs, and technology in the signature Handler manner. In her pre-air TV Review LaToya Ferguson has this (among much more) to say:
The format and length of Chelsea Does differs from Handler's previous work, but a good portion of the new series feels like the out-of-studio bits on Chelsea Lately, just stretched for time. For fans of Chelsea Lately and Chelsea Handler, that's great news. For those who don't care for either, it's a lot to ask—even if the show has a lot to offer.
Love her, hate her, or just think she's Elizabeth Banks' meaner sister, Handler's coming for you.
Also noted
Mad Dogs (Amazon, 3:01 a.m., Friday): Amazon's newest original series sees a quartet of middle-aged buddies (Steve Zahn, Romany Malco, Ben Chaplin, and Mchael Imperioli) flying down to Belize to visit shady college pal Billy Zane at his palatial villa. Things to do not go well, as this adaptation of the British black comedy-thriller series of the same name examines how successfully the ugly Americans cope with the unexpected. (Again—not well.) When assigned his pre-air TV Review, Dennis Perkins said, well, as long as it's better than the last Amazon series he reviewed. We looked at the floor and started whistling.
G/O Media may get a commission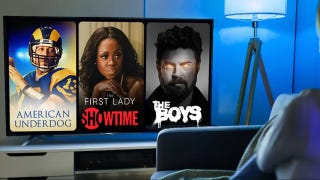 UNDER $1
99¢ Prime Video Channels
Reign (CW, 8 p.m., Friday): After last week's descent into the suds, this historical soap seeks to rise again, as Mary fights her attraction to Gideon and Elizabeth wrestles with the inherent pitfalls of, well, reigning. Genevieve Valentine nimbly continues to chart the show's uneven path through romance and politics, as evidenced in this delicious passage from last week's review:
My issue with any of this is not its soapiness; if one has an issue with soapiness, one has probably not made it to the third season of Reign. And "Our Undoing" found the show's sweet spot by leaning in and having everything happening all the time. But it becomes hard to get invested in these story lines when their speed is matched by a sense of the careening arbitrary in the characters. The fit Don Carlos pitches at the wedding means nothing. He was never even a two-dimensional character; that would have required another dimension. He was a dutiful prince, then a romantic who showed up at the wrong time, then he was a naughty punchline, then a living reminder of Mary's mistake, then a moustache-twirling villain lusting for a throne, then a thwarted megalomaniac straight out of a Jem cartoon. He's been in France for three episodes.
Childrens Hospital (Adult Swim, 11 p.m., Friday): After Rob Corddry's Blake took over the hospital and fired everyone in last year's season finale, the doctors go to work at the clown-less hospital across town while Blake immediately goes bad with the help of his evil brother, Sir Tinklebutton. LaToya Ferguson is back to sort through the deliciously comic nonsense, some 12 minutes at a time. (The episodes are that long. LaToya's reviews take a lot longer.)

Black Sails (Starz, 9 p.m., Saturday): Yarrrr! The third season of this pirate saga begins now, as the ever-sunburnt Captain Flint (Toby Stephens) continues to navigate the West Indies and the plot difficulties inherent in being a prequel to Treasure Island. Sure, the A.V. Club stopped covering this show after the first season, but at least it's lasted two years longer than Crossbones. Plus, now Blackbeard (Ray Stevenson) is involved!

Beowulf (Esquire, 10 p.m., Saturday): Pretty bold of Esquire to air this adaptation of the ancient epic poem in the original Old English. Here's a transcript of Saturday's premiere:
ac ymb ane niht eft gefremede

morðbeala mare, ond no mearn fore,

fæhðe ond fyrene; wæs to fæst on þam.

Þa wæs eaðfynde þe him elles hwær

gerumlicor ræste sohte,

bed æfter burum, ða him gebeacnod wæs,

gesægd soðlice sweotolan tacne

healðegnes hete
No, just kidding, it stars William Hurt, Joanne Whalley, and a hunky British guy (Kieran Bew). In his pre-air TV Review, Dan Caffrey calls it, not unkindly, "an unapologetic sword-and-sorcery fantasy."
Saturday Night Live (NBC, 11:30 p.m., Saturday): The long and usually disastrous history of SNL bringing in hosts from the world of sport continues, as recently (and brutally) dethroned MMA champion and aspiring actor Ronda Rousey takes the 8H stage. Will she be a pleasant surprise like those brief portions of episodes hosted by Peyton Manning, Joe Montana and Walter Payton were, or are we looking at another Deion Sanders or Nancy Kerrigan situation? Musical guest Selena Gomez is on hand, no doubt trying to act intimidating so she'll fit in. We heard she made Pete Davidson flinch just a little bit, anyway.
If we get anything close to this one, it's a win for Rousey
Elsewhere in TV Club
This week's AVQ&A sees your favorite AV Clubbers giving an "I loved it, except for…" to the lousy characters who wreck up an otherwise great show every time they show up. Then Alex McCown brings us another installment of Expert Witness, where some poor sucker describes what it's like to be sent home on the very first episode of The Bachelor. Ouch. After that, Mike D'Angelo brings us another of his Scenic Routes features, this time looking at a lovely scene in the late Alan Rickman's ghostly romantic comedy Truly, Madly, Deeply. Mike would also like 2016 to cut the shit with killing off all the coolest people. Thanks a bunch, 2016. And, keeping on the movie theme, keep an eye out for dispatches from A.A. Dowd, our man at the Sundance Film Festival throughout the weekend. He went to Utah for you, people.
What else is on
Mad Max: Fury Road (HBO, 8 p.m., Friday): Here's your chance to determine if the post-Oscar nominations backlash means it's overrated. (It's not.)
MasterChef Junior (Fox, 8 p.m., Friday): The top four li'l cooks compete to make the perfect soufflé, and to find the perfect cut of pork. Things go great in the first part, then everyone gets the giggles every time Gordon Ramsay says "pork."

Undercover Boss (CBS, 8 p.m., Friday): The head of a hospitality company dresses in peasant clothes and walks among the masses of his vassals. It'll probably go better than it did for Harry, since the CEO had editing approval, most likely.
Great Performances At The Met: Il Trovatore (PBS, 9 p.m., Friday): The tenth season kicks off with Verdi's opera, so break out your capes and discreet spyglasses, Verdi-acs.

Drunk Stoned Brilliant Dead: The Story of the National Lampoon (Showtime & History, 9 p.m., Friday): Before it itself became a punchline for chumming the direct-to-DVD market with titles like National Lampoon's Dorm Daze, National Lampoon's Pucked, National Lampoon's Bag Boy, and the like, the organization was one of the most influential institutions in American comedy. People like Michael O'Donoghue, John Belushi, Harold Ramis, Doug Kenney, John Hughes, Bill Murray, and others were instrumental in the success of Saturday Night Live, Animal House, Vacation, Ghostbusters, and Caddyshack, for God's sake. So this documentary about the boisterous, chaotic birth, life, and decline of the Lampoon is a must-watch for fans of funny things and making people angry.
Hell's Kitchen (Fox, 9 p.m., Friday): "The teams have 20 minutes to make the most shrimp dumplings during a distraction-filled challenge." Just a guess, but some of those distractions may take the form of a red-faced Scotsman spittle-screaming in their ears.
Hawaii Five-O (CBS, 9 p.m., Friday): Grover heads to Chicago to get some answers about a friend's heinous crime, immediately realizes Chicago in January and Hawaii in January are very different things, freezes solid, shatters, dies.
Avengers: Age Of Ultron (Starz, 9 p.m., Friday): Joss Whedon's superhero sequel might seem a little overstuffed, but it's still pretty fun. And at least it's not the upcoming Captain America: Civil War, which looks like it's just going to be one long superhero dogpile.
Blue Bloods (CBS, 10 p.m., Friday): A retired cop shoots some people, leaving Tom Selleck's Frank to clean up his mess, presumably while shaking his fist and yelling, "You'd better run! You were always a loose cannon! You do not get results! Looooose cannonnnnn!"
Unforgettable (A&E, 10 p.m., Friday): TV Guide forgot to list a synopsis for this episode. Poppy Montgomery's detective—who, if you recall, never forgets anything—just shakes her head sadly. You've disappointed Poppy Montgomery, TV Guide.
The Rap Game (Lifetime, 10 p.m., Friday): Aspiring rappers.
Crash Test With Rob Huebel And Paul Scheer (Comedy Central, 11 p.m., Friday): Prolific funnymen Huebel and Scheer pile a comedy audience onto a bus and drive them around Los Angeles, where comedy pals like Natasha Leggero, Rob Corddry, Thomas Lennon, Ben Garant, Jack McBrayer, Aubrey Plaza, and their Human Giant partner Aziz Ansari do strange things to entertain them.
See?
Mythbusters (Discovery, 8 p.m., Saturday): The guys recreate online food experiments, including cannon-fired shrimp, and the infamous tomato smoothie. Wait, that did say "cannon-fired shrimp," right?
Toni Braxton: Unbreak My Heart (Lifetime, 8 p.m., Saturday): Songstress Toni Braxton produces this biopic about Toni Braxton and all the ways that being Toni Braxton has not been the easiest thing in the world. Honestly, she does seem like just the right person for the job.
Unleashing Mr. Darcy (Hallmark, 9 p.m., Saturday): [Scene: The Hallmark writers room] "They need to fall in love somewhere new! Quick, someone give me something—lightning round, go!" "Um… bookstore?" "Dammit, we have five original Hallmark romances set in bookstores alone—and one in a bookmobile! You're fired! Next!" "Well, he's a ski instructor, and she delivers homemade cupcakes to the ski lodge, and…" "Don't you remember the original Hallmark movie Love Icing? Get the hell out of here. You—new guy. Wow me." "Um, well…" "NOW." "[Blurting in panic] Dog show!?!"
A woman falls in love with a dog show judge in this Hallmark original movie.
Tremors 5: Bloodlines (Syfy, 9 p.m., Saturday): Sure, Fred Ward and Kevin Bacon jumped off this particular ship a long, long time ago, but those tunnel-digging worm-monsters still have to contend with Tremors alum Michael Gross this time out. And Gross has brought Jamie Kennedy along with him! So, watch your hydrostatic skeletons, worn-monsters!
Austin City Limits (PBS, 11 p.m., Saturday): African singer-songwriter Angélique Kidjo sings selections from her new album. If we only get "Wombo Lombo" alone…
And now… sport
Men's College Basketball: Rhode Island At Georgetown (ESPN2, 7 p.m., Friday)
NBA Basketball: Heat At Raptors (ESPN, 8 p.m., Friday)
Australian Open: Third Round (ESPN2, 9 p.m., Friday)
NBA Basketball: Pacers At Warriors (ESPN, 10:30 p.m., Friday)
College Football All-Star Game: NFLPA Collegiate Bowl (ESPN2, 6 p.m., Saturday)
Figure Skating: U.S. Championships (NBC, 8 p.m., Saturday)
Premier Boxing Champions: Danny Garcia Vs. Robert Guerrero (Fox, 8 p.m., Saturday)
NBA Basketball: Cavaliers At Bulls (ABC, 8:30 p.m., Saturday)
Men's College Basketball: Arizona At California (ESPN, 8:40 p.m., Saturday)
In case you missed it
Portlandia: Portlandia returns, as a typically odd music festival comes to Portland (or does it)? Les Chappell is back on reviewing duties—that we know for sure.