No one could have anticipated where things would end up when Barack Obama was first spotted with a backwards hat on. Many of us were still clutching our roiling stomachs and coming to terms with the notion of a President Donald Trump, while Barack and Michelle were out on vacation in plastic chairs, probably drinking day beers and napping when the mood hit. Branson then confirmed those suspicions when he released an elaborately edited video of him and Obama engaging in some sort of kitesurfing competition. Progenitor of "dad jeans" Barack Obama was now forging a new image—that of a cool dad on permanent vacation, because fuck America, he doesn't have to deal with our shit anymore.
And now this.
G/O Media may get a commission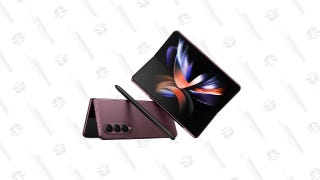 Save Up to $300
Galaxy Z Fold4
Yes, it appears that backwards-hat dad and kitesurfing-dad was just a precursor to leather-jacket dad, not to mention "pants that fit" dad. He was ramping up to this moment. Post-presidency Barack Obama is a refutation of the nerdy swag that characterized his presidency, as if the jump shots and tastefully curated Spotify playlists were mere precursors to the reveal of leather-jacket dad, sauntering confidently to his limo.
There is only one place to go from leather-jacket dad, and it is unfortunately not public organizing.
[via Twitter Moments]