Calling Devendra Banhart's music freak folk is both lazy and condescending. But damn if that dude's not freaky and folky. On his eighth album, and first since 2009's What Will We Be, the singer-songwriter (formerly based in Los Angeles, now in New York) sings in Spanish, pens a song to a 12th-century mystic/saint, and drifts through his usual mix of fuzzy psychedelia and pot-soaked Americana.
At times, Mala expands Banhart's sonic template in less organic ways, adding pinches of electronic spice here, recording on an old-school hip-hop tape machine there. It's not an uncomplicated listen (Banhart's records never are), but Mala breezes through its 14 songs with relative unfussiness. Many of Banhart's past mannerisms—like his vocal tics and the occasional Manson Family campfire sing-along vibe—still crop up from time to time, but his music has never been so easy to digest.
Going back to his 2005 breakthrough album—the sprawling Cripple Crow, which aimed for Sgt. Pepper's Lonely Hearts Club Band-style grandeur but settled for backwoods Nick Drake moodiness instead—Banhart is at his best when he falls short of his ambitions. 2007's Smokey Rolls Down Thunder Canyon included collaborations with a Black Crowe, a Stroke, and Amores Perros star Gael García Bernal. The music could never live up to all that.
Things aren't nearly as crowded or convoluted on Mala, which sometimes reads like a valentine to Banhart's Serbian artist fiancée, when it isn't stringing together lines like, "I held the rose, you held your nose, but that's fine." Soft acoustic shuffles, finger-plucked ballads, and semi-whispered songs with titles like "Your Fine Petting Duck" dominate Mala, but the album's best tracks infiltrate Banhart's comfort zone and leave behind scattered bits of art-pop among the folky fog. "Für Hildegard Von Bingen," the song about the vision-seeing saint, skitters along a clicking electro beat; "Never Seen Such Good Things" sounds like a mid-'60s British pop single pulled from a concept album about space travel, spirituality, or both; and "Mi Negrita" nods to Banhart's upbringing in Venezuela.
But like Banhart's other albums, Mala loses focus. It's like he starts with a head full of grand ideas but his interest wanes about halfway through them. (Three songs barely make it to the minute-and-a-half mark.) Still, there's plenty of laid-back cool in Mala's grooves, and even a bit of '70s Eurodisco flash at one point. It's a freaky situation all around.
G/O Media may get a commission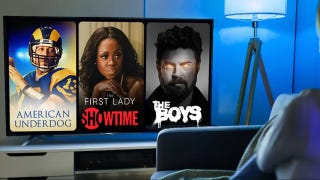 UNDER $1
99¢ Prime Video Channels