February is the home of Valentine's Day, which makes it the unofficial month of both love and misery. It doesn't seem like Hulu's new content offerings for February were specifically selected with those things in mind, but we can still view them through those lenses. That way, it might help you decide what to watch when you're suffering from one of those feelings next month.
On February 14, Love Day itself, Hulu will add the second half of The Mindy Project season five, with the complete series of Golden Girls coming the day before. Both of those things are pretty love-related, as are February 1's Shakespeare In Love, February 3's I Love You Phillip Morris, and even February 11's Kampai! For The Love Of Sake (we assume). Then there are the less-obvious love-related picks, like the premiere of NBC's Taken series (he loves saving his daughter from being taken), The Machinist (Christian Bale loves destroying his body for a movie), and There Will Be Blood (that guy really loved his son).
As for misery, those of you without people to care for can drown your sorrows with classics like The Running Man, The Care Bears Movie, Black Hawk Down, the complete Boondocks series, and Hoosiers. Who needs love when you've got Gene Hackman and Indiana basketball?
You can see the full list of titles coming to and leaving from Hulu next month below.
Available February 1
The Only Way Is Essex: Complete Season 17
Addicted To Love (1997)
The American President (1995)
Black Hawk Down (2001)
Care Bears Movie (1985)
Chocolat (2000)
City Of Angels (1998)
Dead Heat (2002)
Drop Zone (1994)
Dying Laughing (2016)
Escape From Alcatraz (1979)
Failure To Launch (2006)
The Firm (1993)
Forces Of Nature (1999)
Forget Paris (1995)
The Fountain (2006)
Frankie & Johnny (1991)
From Dusk Till Dawn (1996)
Girl, Interrupted (1999)
Hoosiers (1986)
How To Eat Fried Worms (2006)
Hubble (2010)
I Went Down (1998)
Judgement Day (1999)
Kiss The Bride (2004)
The Machinist (2004)
Olympic Pride, American Prejudice (2016)
Payback (1999)
Pretty In Pink (1986)
Rent (2005)
Revolutionary Road (2008)
Rob Roy (1995)
The Running Man (1987)
Sabrina (1954)
Sabrina (1995)
Shakespeare In Love (1998)
Soapdish (1991)
There Will Be Blood (2007)
The Station Agent (2003)
Untamed Heart (1993)
Wild Bill (1995)
G/O Media may get a commission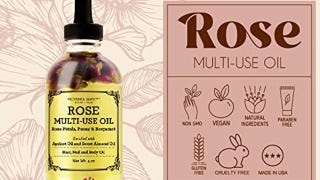 Provence Beauty Rose Multi-Use Oil
Available February 3
I Love You Phillip Morris (2009)
The Dog (2013)
Available February 4
Murder In The First: Complete Season 3
Margin Call (2011)
Available February 6
24: Legacy: Series Premiere
The Incredible Dr. Pol: Season 10 Premiere
Hostile Boarder (2016)
The Look Of Love (2013)
Restored Me (2016)
Available February 7
APB: Series Premiere
Gender Revolution: A Journey With Katie Couric: Special
Available February 8
Devious Maids: Complete Season 4
Lawless Oceans: Complete Season 1
UnREAL: Complete Season 2
Available February 10
MasterChef Junior: Season 5 Premiere
Available February 11
Kampai! For The Love of Sake (2015)
Available February 12
Outback Wrangler: Season 2 Premiere
K.C. Undercover: Complete Season 2
Puppy Days: Complete Season 1
Snake City: Season 3 Premiere
Available February 13
Golden Girls: Complete Series
Available February 14
The Mindy Project: Season 5B Premiere
Available February 15
American Teen (2008)
Available February 18
The Boondocks: Complete Series
Available February 20
As Cool As I Am (2013)
Available February 28
Taken: Series Premiere
The Voice: Season 12 Premiere
When We Rise: Series Premiere
Leaving February 28
Groundhog Day (1993)
Good Advice (2002)
Bratz: The Movie (2007)
This Is Spinal Tap (1984)
Autumn In New York (2000)
Desperately Seeking Susan (1985)
Vampires Kiss (1989)
No Country For Old Men (2007)
Pulp Fiction (1994)
Reservoir Dogs (1992)
Indecent Proposal (1993)
Rosemary's Baby (1968)
Rounders (1998)
All Dogs Go To Heaven (1989)
All Dogs Go To Heaven 2 (1996)