Here's what's up in the world of TV for Friday, September 16 and Saturday, September 17. All times are Eastern.
Top picks
High Maintenance (HBO, 11 p.m., Friday): HBO's newest original series, created by husband-and-wife team Ben Sinclair and Katja Blichfeld, follows bike-riding weed delivery guy Sinclair (known only as "The Guy") as he weaves around New York, delivering his wares to an eclectic collection of customers, and presumably saying spacey and amusing things. Based on a popular webseries, which The A.V. Club really dug, the show is described by Sinclair as a combination of Party Down and Six Feet Under. Sure, that sounds like slamming two random shows together, but if High Maintenance can pull that improbable combination off, it'll be [stoner lingo meaning "cool" we're not hip enough to get away with].
Premieres and finales
Fleabag (Amazon, 3:01 a.m., Friday): In her pre-air review of this British import, Lisa Weidenfeld calls it "another entry into the growing canon of really wonderful comedies that also make you want to cry." So get ready for some delightful emotional whiplash as Amazon brings you this series starring show creator Phoebe Waller-Bridge as an eccentrically chipper woman whose unpredictable antics and fourth-wall-breaking asides conceal a whole lot of pain that the show only gradually socks you with.
G/O Media may get a commission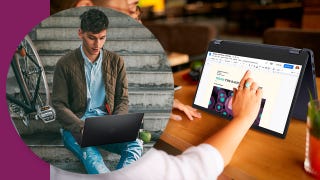 Ends August 15
Best Buy Anniversary Sale 2022
Ends August 15
Best Buy has a number of different promotions happening all for its Anniversary Sales Event. Laptops, tablets, TVs, you names it. Whether you're heading back to school or just trying to fill your home with some new tech, there is something here on sale that you've likely been waiting for.
Arq (Netflix, 3:01 a.m., Friday): TV superheroes Robbie Amell (Firestorm) and Rachael Taylor (Hellcat, probably) team up without superpowers in this movie debuting on Netflix. [Assumes Don LaFontaine voice.] In a world running out of energy, a young couple has invented a power source that could save humanity. But then some guys with guns break into their lab, and there's a whole time-travel element and so forth. Coming soon!
Cedric The Entertainer: Live From The Ville (Netflix, 3:01 a.m., Friday): A new stand-up special for you. The 'Ville: Nash. The Entertainer: Cedric.
The White Helmets (Netflix, 3:01 a.m., Friday): The trailer for this Netflix documentary begins with the line, "There are hundreds of bombs dropped in Syria every day," a fact that makes the heroism of the trainee first responders featured here that much more, well, heroic. As they desperately try to save lives in the strife-shattered Syrian city of Aleppo (c'mon, Gary Johnson), the rescuers often become the need-to-be-rescued, making the titular headgear pretty much de rigueur. (We would say "a no-brainer," but, no.)
Z Nation (Syfy, 8 & 9 p.m., Friday): If you like your zombie action a lot less grim 'n' gritty and lot more completely, unimaginably, gleefully goofy, tune in as Z Nation returns with this two-hour third-season premiere. We'd try to summarize what the hell's going on in this show, but let's just try to guess from the promo pictures, like this one:
Penn & Teller: Fool Us (The CW, 9 p.m., Friday): According to the description of this third-season finale, "Penn and Teller try to fool Penn and Teller." We know they're good at magic and fooling people and all, but… unless they're using some sort of "forget-me-nows."
Dark Matter (Syfy, 10 p.m., Friday): The title of the second-season finale is "But First, We Save The Galaxy," suggesting that the once- and sometimes-amnesic space crew is starting the whole shebang up all over again.
The Beatles: Eight Days A Week—The Touring Years (Hulu, 3:01 a.m., Saturday): Hulu kicks off its documentary division by reeling in heavy hitter director Ron Howard—and the surviving Beatles, sure—for this chronicle of that period where the Beatles played live and no one could hear a note because of all the screaming. The screaming, people—what was with all the screaming? In his review, Alex McCown-Levy says Howard's made an enjoyable movie out of a lot of old footage and interviews—and the screaming.
School Of Rock (Nickelodeon, 9 p.m., Saturday): The second-season premiere of the necessarily Jack Black-less adaptation of the Jack Black film kicks off tonight.

Regular coverage
Narcos (Netflix, Friday)
Streaming pick
"James Ellison Funeral," Party Down (Hulu): High Maintenance combines Party Down and Six Feet Under? Well, in this episode, the gang from Party Down catering works a funeral and Ron Donald smokes a joint while trapped in a coffin. Your move, High Maintenance.