No longer will the Winchester brothers save people or hunt things, for CW's insanely long-running Supernatural will come to an end following its 15th season, which is set to air next year.
Stars Jared Padalecki, Jensen Ackles, and Misha Collins took to Instagram with the announcement. "We just told the crew that even though we're very excited to be moving into our 15th season, it will be our last," Ackles said. "15 years of a show that has certainly changed my life, I know it's changed these two guys' lives, and we just wanted you to here from us that though we're excited about next year, it will be the finale."
Paladecki added, "We've cried some tears and we'll cry some more, but we're grateful and we're going to work all that emotion into next season."
Eric Kripke's monster-of-the-week show, which debuted in 2005, follows two hunky brothers, Sam and Dean Winchester, as they spar with the paranormal from the front seat of their 1967 Chevy Impala. A cornerstone of The CW, the show has developed a massive fanbase, spawning Supernatural fan conventions and an abundance of creepily incestual fan fiction. It was renewed for a 20-episode 15th season in January.
Watch the two-part announcement below.

G/O Media may get a commission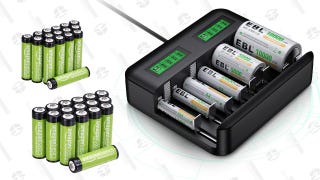 Supernatural helped turn The CW into the teen-leaning juggernaut that it now is. Shows like Riverdale, Supergirl, and Legends Of Tomorrow currently call it home, and a huge slate of upcoming projects include a Lost Boys reboot and spin-offs of both Riverdale and Jane The Virgin. The loss of the Winchesters will be palpable, but The CW is going to be just fine.