Today The Wrap intercepted an internal e-mail from a Paramount executive laying out the studio's upcoming movie slate, then posted it for all the Internet to see and make preemptive judgment calls based solely on someone's dashed-off loglines—which the studio has already deemed "not official." Hey, let's all do that now!
First, the non-surprises: Young Adult, World War Z, another Star Trek, another Zoolander, another G.I. Joe, another Jack Ryan movie, another Men In Black, another Teenage Mutant Ninja Turtles, Hansel And Gretel—we've either discussed these projects before or were expecting them already due to the sequel-necessitating success of their predecessors.
Second, the non-surprises that we had hoped would just go away of their own accord if we pretended they didn't exist: Baywatch: The Movie. A draft is due soon! Also, What Men Want, a well-timed remake/sequel of the Mel Gibson romantic comedy with Cameron Diaz in the lead. That's going to be a fun press junket.
Now, the original ideas that sound promising based solely on the creative talent involved: J.J. Abrams and Lost director Jack Bender are reteaming on 7 Minutes In Heaven, which takes the old party make-out game and gives it some sort of horrific, probably-a-conspiracy-or-something twist. Sacha Baron Cohen's The Dictator—in which he plays dual roles as both a goat herder and a deposed foreign leader—nabbed a landmark $20 million deal after the studio actually convinced him by sending live goats to his agent's office, hence the sobriquet "Sascha [sic] goat movie." Au Revoir, Crazy European Chick, whose "prom date is a secret assassin" premise could be fun in the hands of Josh Schwartz, seeing as it already sounds like a blend of Gossip Girl and Chuck.  Triple Frontier finds Hurt Locker director Kathryn Bigelow doing another tense political thriller, this time about organized crime in South America—and any movie that could possibly include Sean Penn, Christian Bale, Javier Bardem, and Will Smith has to be worth at least a look, right? And finally, David Chase's "rock 'n' roll coming-of-age drama" The Twilight Zones sounds good, because he made The Sopranos, full stop.
G/O Media may get a commission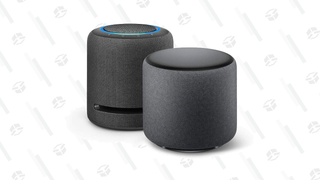 25% off - Prime Exclusive
Echo Studio + Echo Sub Bundle
Here, a brief pause for a project that feels like it's already been released and is maybe even playing on TNT right now, but since we never got around to seeing it in theaters, it's probably not worth catching: The Associate, with Tony Scott (possibly) directing Shia LeBeouf in another John Grisham adaptation. Except this one is set on a Mars colony populated solely by busty, sex-starved women who turn out to be cannibals. Or probably not.
Then, the ideas that force us to make the snap judgment that they sound kinda terrible, based solely on their title, plotline, potential cast, or some combination of the three: Seth Rogen and Barbra Streisand, together at last in My Mother's Curse! Dunderheads, pitched as "Ocean's 11-year-old" with no further explanation required! Melissa Stack's I Want To ______ Your Sister, about "the lengths a big brother will go to protect his sister from guys just like him," and whose title just begs for a game of smartassed Mad Libs! (You'd like to mentor my sister?! No way, Jose!) Untitled African Safari, from the screenwriter of The In-Laws and Imagine That, about a family who gets lost in Africa while on safari. Why is this not already attached to Kevin James?
And finally, the ideas that reveal the Hollywood magic factory to be little more than a bleak industrial foundry, efficiently churning out idea-widgets according to prefabricated molds and the demands of corporate synergy: Hasbro Factory, a film whose sole purpose seems to be to maximize the shared profits from the studio's recent development deal with Hasbro, and whose lone inspiration is the dispiriting pitch, "Night At A [sic] Museum in a toy factory." Paramount is currently hearing "takes from writers," all of whom used to have dreams once upon a time.