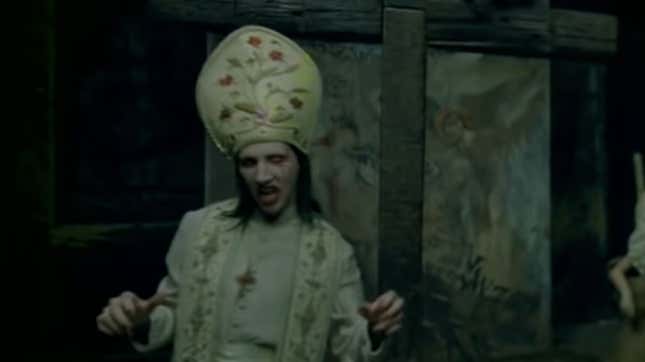 As the title might suggest, Paolo Sorrentino's The Young Pope wasn't your old man's pope. Jude Law's Pope Pius XIII was a bit of a bad boy, and, now that we know he returns, at least in some capacity, for spin-off The New Pope, we can assume that things will stay decidedly unholy. Helping in that regard, it appears, is Satan-baiting shock-rocker Marilyn Manson, who Variety reports has been cast in the series.
It's unclear what role Manson will play, but, if we're judging by the photo shared by HBO, it looks like it'll be...Marilyn Manson? News of his casting comes with the announcement that Sharon Stone will also appear in the upcoming season. See her below, posing alongside John Malkovich's new pope.
As Variety notes, Manson is a big fan of the series, thus making this the second time that the musician's willed himself onto an HBO show of which he's a huge fan. He's also previously appeared in recurring roles on Sons Of Anarchy and Salem and, interestingly, played a hitman named Pope in the 2017 film Let Me Make You A Martyr.
Manson and Stone join not only Malkovich and Law, but a handful of new cast members that include Henry Goodman (Agents Of S.H.I.E.L.D.), Ulrich Thomsen (Counterpart), and Massimo Ghini (Tea With Mussolini). A premiere date remains elusive, but scandalous on-set photos of Law's Lenny sure don't.