After four years of anticipation, multiple shifted release dates, and a lot of pre-release drama, Nicki Minaj's Queen was released to the world last week. Despite a trio of glossy singles, one of which includes convicted sex offender 6ix9ine, the record landed in the number two spot on Billboard's chart, behind Travis Scott's weird and excellent Astroworld, which held the top spot for the second week in a row.
However, as Minaj revealed on Twitter over the weekend, actually she has the #1 album in America. Also, she's laughing.

As it turns out, a foul conspiracy between Scott, his girlfriend Kylie Jenner, Billboard, and Spotify has artificially wrenched the top spot from Minaj's rightful grasp. Don't worry, though: She has been in touch with Billboard, who are aware of their incorrectness, and also with Travis Scott, who is aware that he does not have the #1 album in America despite the fact that he has the #1 album in America.
G/O Media may get a commission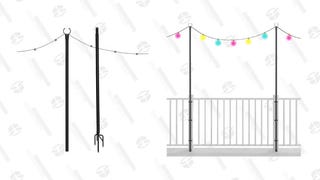 Up To 49% Off
Holiday Styling String Light Poles
The basic gist is that Minaj thinks Kylie Jenner promoting Travis Scott's tour package—which comes bundled with the album sale—shouldn't count toward the Billboard ranking. This is a pretty common promotional technique that Minaj also used on Queen, but, additionally, she thinks Spotify is mad at her for premiering her album on Apple Radio. As she notes, Spotify has not similarly punished Drake for his long-standing collaboration with Apple Music.
Anyway, look, none of this really matters, because Minaj is not mad about it. Actually, she's laughing!
Loosen up, everyone!