In 2016, Noname made waves when she debuted with Telefone, a vivid, soulful collection of jazz-rap establishing her voice among friends and fellow Chicago MCs like Chance The Rapper and Saba. On her sophomore LP, Room 25, she further proves that her songs aren't just memorable, but necessary. Room 25 opens to the breezy licks of guitar and piano of "Self," with Noname—real name Fatimah Nyeema Warner—delving headfirst into an array of metafictive yet immersive musings on the many ways her audience might interact with her LP, and preparing her audience for all that lies ahead. A foreword of sorts, "Self" is a reminder of Noname's skill as a lyricist and her political and artistic perspectives as a woman shaped equally by her connection to the African diaspora and her nation's failures. Here, there is no division between the mind and the body or the past and the present. When Noname lightheartedly confronts her audience with "And y'all still thought a bitch couldn't rap, huh? Maybe this yo' answer for that," it's clear that her poetics aren't merely ornamental—they're a declaration.
And it's impossible to misinterpret Noname's message. The hypnotically rhythmic and satisfyingly brazen "Blaxploitation"—which opens with an impassioned dialogue from 1975's Dolemite and ends with a clip from The Spook That Sat By The Door—confronts the hypocrisy of American politics and the weight of racism's legacy in an unblinking, fluid fashion. Much like the era that birthed iconic heroes like Cleopatra Jones, Sweet Sweetback, Foxy Brown, and Dan Freeman, the song reckons with white supremacy and its roots without a shred of hesitation. It's a timely commentary on colonialism and what it feels like to be a Black American, and a worthy successor to anthems like Syl Johnson's reflective "Is It Because I'm Black" and Elaine Brown's urgent "Seize The Time."
Pulling no punches, "Prayer Song" arrives next, its swell of snare and chorus of background vocals enhancing Noname's hymn-like exploration of Black consciousness in "the land of the noose." Holy like Aretha Franklin's "Spirit In The Dark" and Solange's "F.U.B.U.," "Prayer Song" isn't just a plea, it's a testament, and Noname conveys the communal necessity of call-and-response each time she utters "Hallelujah" and "Amen, amen." Elsewhere, the mesmerizing instrumentation of "Window" brings to mind the glory of Diana Ross and Minnie Riperton, making Noname's fervent confessions feel deeply, enlighteningly universal.
Noname's evolution and personal growth since Telefone is evident throughout Room 25, but particularly on "Don't Forget About Me," which extends the introspection of "Forever" and many of the questions she began to grapple with on "Casket Pretty." Backed by smooth yet stirring R&B melodics, Noname meditates on life, death, and the longevity of love, seeming to take comfort in the temporal limitations of being human. When she sings, "I know my body's fragile, know it's made from clay / But if I have to go, I pray my soul is still eternal / And my momma don't forget about me," the track becomes a sort of memento mori, highlighting the redemptive potential of mortality.
Equally gripping and swoon-worthy, "Regal" and "Montego Bae" showcase the breadth of Noname's vocal prowess and the dynamic energy of her diction. Wrestling simultaneously with the impact and glory of cultural innovators like Oprah and Toni Morrison and the lure of sensuality and consumerism, she reminds her audience that to be human is to be many things at once: "So he gon' fuck me like I'm Oprah, classy bitch only use a coaster / Now I'm swimmin' in the money with a ducky too / Reading Toni Morrison in a nigga canoe / 'Cause a bitch really 'bout her freedom 'cause a bitch suckin' dick in the new Adidas / And yes and yes, I'm problematic too."
G/O Media may get a commission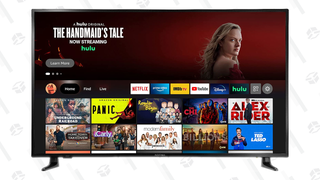 38% Off
Insignia 50" 4K UHD Smart TV
Throughout "Ace," which features frequent collaborators Smino and Saba, Noname struggles with wanting to be heard and understood ("I'm just writing my darkest secrets like, 'Wait and just hear me out' / Saying vegan food is delicious like, 'Wait and just hear me out'"), while "Part Of Me" explores the inevitable uncertainty of change and the way proximity and time can impact our relationship to the moments and spaces that define who we are (influenced, no doubt, by the rapper's recent move to California). The bluesy "With You" builds to an impassioned, pensive commentary on intimacy and human desire that urges listeners to confront the inconsistencies between how they're treated and how they want to be treated. It's an unconventional love song that feels like a parable for lovers prone to abandon their personal needs and boundaries in the name of love, and it's a perfect preface to the album's final track, "No Name." Uplifting, yet far from naïve, "No Name" honors life's duplicity with neither callousness nor sheer optimism. Like an unexpected gift or an embrace from a loved one, Room 25's final moments are an affirmation, reminding all who are willing to listen that, "Your song, your truth, your light is proof / And love is still here, too."
From beginning to end, Room 25 is a testimony to the power of telling your story and the hope that can be found in doing so without apology. Like hearing the chorus of an old spiritual or having a long conversation with a close friend, each song is intimate in a restorative way. An unquestionable balm for uncertain times like these, this album announces Noname's lyrical coming-of-age.