Blow-Up (1967)
Festival acclaim isn't always a perfect barometer for a filmmaker's importance; plenty of flashes-in-the-pan get feted on their way to obscurity. All the same, anyone seeking evidence of the big impact Michelangelo Antonioni made on world cinema in the 1960s can start with an unprecedented achievement: Over a six-year stretch, the Italian "slow-cinema" master—whose minimally plotted mood pieces helped reshape the boundaries of narrative moviemaking—won the top prize at Cannes, Berlin, and Venice, the three most prestigious film festivals in the world. Robert Altman and Henri-Georges Clouzot are the only other directors to pull off that hat trick, and even they didn't win a Golden Lion, a Golden Bear, and a Palme D'Or in the same decade.

Echo Kellum on "Grand Crew," "The Rehearsal," and more
Actually, neither did Antonioni, technically speaking: His win at Cannes, in 1967, came during the 10-year window in which the festival was arbitrarily calling its top award the Grand Prix instead of the Palme D'Or. Among the so-called Big Three, Cannes probably holds the strongest track record for prizewinners, but that wasn't necessarily true in the '50s or '60s, when Berlin and Venice were both making generally hipper selections. 1967 wasn't the French fest's proudest year: Besides programming a slate of not-exactly-timeless titles, the programmers suffered a couple of rather embarrassing failures of nerve—announcing Andy Warhol's Chelsea Girls, only to chicken out and cancel the screening over a few seconds of male nudity, and censoring Joseph Strick's adaptation of Ulysses without his permission. These were the kind of cowardly moves that inspired French critics of the era to take big potshots at the festival, at least when they weren't winning awards there.
In '67, Cannes desperately needed some cool, and it got it from Blow-Up, the film that clinched Antonioni's festival three-peat. (He won at Berlin in '61 for the wounding marriage drama La Notte and at Venice in '64 for his first color production, Red Desert.) The title refers to the process of enlarging a photograph. But in many ways, it could also describe the explosive impact of Antonioni's English-language debut. Set in the London of the late '60s, where a mod fashion photographer discovers something sinister in between the lines of his charmed life, Blow-Up blew up a career that was already rapidly expanding. It would make $20 million in America (or about $120 million in today's money), drawing unheard-of crowds for a deliberately paced art film. It made a pinup star out of its largely unknown lead, David Hemmings, and earned Antonioni two Oscar nominations, for Director and Original Screenplay. And it contributed to the death of the Production Code, finding a way around that increasingly archaic censorship system and showing that a movie could make big bucks without its seal of approval. (The MPAA would start issuing voluntary ratings in 1968.)
G/O Media may get a commission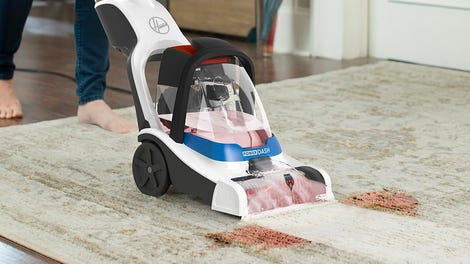 26% Off
Hoover PowerDash Pet Compact Carpet Cleaner
Blow-Up was explicit and edgy and modern—a new kind of smash. Opening in December of 1966, it beat Bonnie And Clyde and The Graduate to American theaters, meaning that this British film from an Italian director helped spur the wave of New Hollywood triumphs that arrived over the next decade. (Certainly, nudity would become more commonplace in American film after the casual bare flesh of Blow-Up.) The movie was already a sensation in the States and elsewhere by the time it screened at Cannes. Did the wave of acclaim and excitement it rode in on all but assure its victory? Or was the jury, led by fellow Italian filmmaker Alessandro Blasetti, simply responding to the same elements that made the movie a worldwide hit: its parade of half- and undressed models; its periodic blares of diegetic jazz and rock (including an appearance by The Yardbirds, back when both Jimmy Page and Jeff Beck were still in the band); its vision of a hopping, hedonistic London, as glimpsed through the camera lens of a coolly amoral lensman traversing its streets in a Rolls convertible?
Antonioni, cowriter Tonino Guerra, and English dialogue author Edward Bond loosely adapted Blow-Up from a short story by Julio Cortázar. But the main character, smooth shutterbug Thomas, is modeled on David Bailey, the famous celebrity photographer whose work helped inspire the term Swinging London. Hemmings, rocking a Beatles mop, plays Thomas as a smug narcissist, bounding dispassionately from one photo shoot to the next, blurring the lines separating his camera subjects and his sexual conquests (some of his behavior looks downright predatory from the vantage point of today), and generally ignoring anything meaningful that crosses his path (like an anti-war protest he maneuvers around in traffic, one of the signs landing in his backseat and then just as quickly flying out). At the same time, there's an eccentric edge to this star-making performance that keeps Thomas from looking only like an empty playboy, like a mere creep. He's also an obsessed artist, frequently disappearing into his craft, and Hemmings supplies him with a nervous, nerdish energy—not to mention an odd slapstick streak, as when he practically skips down a flight of stairs or comically lunges for a ringing telephone in the spacious studio where much of the film takes place.

Because of its setting, language, and popularity, Blow-Up is often cited as a big turning point in Antonioni's career, what Time called a "screeching change of creative direction." The late director himself considered it an outlier, explaining that his earlier films—particularly the four he made with Monica Vitti in the '60s—dealt with the relationships between people, whereas this one explored one between a man and the very reality he exists within. But Blow-Up still fits snugly into his long line of philosophical anti-dramas, of films about rich, bored people chaffing against the emptiness of their lives. The film's London may be more colorful and festive than the foreboding Mediterranean cliffs of L'avventura (1960)—which lost the Palme to Federico Fellini's La Dolce Vita, a spiritual cousin to Blow-Up—but Antonioni shoots the locations in similar ways, filming his characters against expanses of empty space. And besides the caravan of hard-partying mimes whose joyrides bookend the film, no one here looks any happier than the wealthy sad-sacks of the director's so-called "alienation trilogy." (Look at the crowd at the Yardbirds show: a sea of blank faces.)

Of course, there is a genre-movie component, arriving to disrupt the uneventful languor, the scenes of beautiful people lounging around in luxurious spaces, airing their ennui. About midway through Blow-Up, Thomas heads to a park to get some new material for a collection he's putting together, and ends up snapping a few shots of a man and a woman, embracing in the distance. The woman, played by a young Vanessa Redgrave, pleads with Thomas for the photographs (she never discloses her reasons, but we initially assume they're propriety related), and even tracks him down to his studio, where the two engage in a lengthy, seductive negotiation, before Thomas slips her the wrong roll and sends her on her way. It's what happens next that tilts Blow-Up into darker territory: The photographer develops his pictures, enlarges them, and seems to discover what looks like evidence of an assassination attempt.
It's a great scene, brilliantly shot and cut to sync the audience's procedural fascination to the character's. Antonioni doesn't spell out what we're seeing, instead letting the puzzle pieces fall together in close to real time, as Thomas traces sight lines, discovers secrets embedded in the frame, and—rather like a moviemaker—assembles the individual images into a meaningful whole. There's a thrill not just in seeing the mystery reveal itself—in leaning close ourselves, in studying the frame as he does—but also in watching a professional skillfully, even joyfully perform his craft.

One could argue that this was where the the paranoid '70s thriller begins, four years ahead of schedule. There are direct offspring: Both Francis Ford Coppola's The Conversation—which would win the Palme D'Or seven years later—and Brian De Palma's Blow Out would pay tribute to Antonioni's movie, reconfiguring its accidental-observer scenario by making the witness a sound recorder instead of a photographer. More generally, though, Blow-Up seemed to anticipate the conspiratorial anxiety of the decade to come, and how pop culture would start to reflect it. The Zapruder film wouldn't be broadcast publicly for another few years, but Antonioni taps into the very vein of distrust that first inspired people to start poring over that footage frame by frame, searching for answers that can't be ascertained, no matter how hard you look.
But Blow-Up never really goes full thriller. As in L'avventura, which perversely abandons its missing-person plot, Antonioni introduces a mystery he has no real intention of solving: Though Thomas' suspicions are eventually confirmed, we never learn who the target was, why someone was trying to kill him, who that mysterious someone is, and what role Redgrave's character played in the plot. (In fact, after leaving Thomas' studio, Redgrave never reappears.) Ronan O'Casey, who plays the targeted man, actually wrote a letter to Roger Ebert, explaining that the script did explain the murder plot, but Antonioni went vastly over budget and never filmed those scenes. That could well be true, but the end product squares pretty neatly with Antonioni's habit of subverting dramatic expectations. In L'avventura, he used an unsolved mystery to probe the indifference of his characters, for whom even the disappearance of a lover and friend holds no real emotional consequence. Blow-Up, by contrast, uses an unresolved suspense plot to suggest that awakenings—of moral conscience or perspective—can arrive too late, and that they don't always take. (The enigmatic final scene has inspired multiple interpretations, but I've always read it as a sad embrace of the unreal—a retreat back into the illusions of everyday life, after a frightening eyeful of the truth.)
Ultimately, Blow-Up is about as deliberately confounding as any of Antonioni's movies, which makes its box-office success all the more bewildering, at least from a contemporary perspective: Ah, to have been alive when people came out in droves to see a nearly plotless European art drama with long, wordless stretches and an inconclusive, anticlimactic ending. That Blow-Up once looked like the height of hipness is a testament to changing tastes or maybe just to the timeless cosmetic appeal of cool cars, attractive twentysomethings, and vibrant British fashion. But if the film endures today, it's less as a snapshot of its particular time, place, and counterculture than something more disquieting: an existential nightmare about the impossibility of really seeing things as they are. Come for the swinging '60s party, stay for the post-'60s hangover.
Did it deserve to win? Cannes got cool points for Blow-Up, but it also crowned an instant classic—though half-a-century after he took the festival circuit by storm, Antonioni's patient portraits of aristocratic malaise are still something of an acquired taste. (Translation: They bore the shit out of some people.) Again, this was not one of Cannes' flagship years; few of the selections of its competition lineup have since enjoyed dedicated fan-bases or glowing reputations. Of the few titles I've seen, only Mouchette, maybe the most crushingly sad drama Robert Bresson ever directed, is in the same league as the winner.
Up next: Under The Sun Of Satan