Every day, Watch This offers staff recommendations inspired by a new movie coming out that week. This week: With Sundance running all week, we look back at some of the festival's best prizewinners.

The Station Agent (2003)

When The A.V. Club interviewed Peter Dinklage in 2007, the actor claimed his first starring role wound up convincing a lot of people that it was at least partially autobiographical. Given the lead character's misanthropic tendencies, people confusing Dinklage for his character probably made for some awkward real-life social interactions.
The Station Agent follows Finbar McBride (Dinklage), a train fanatic and isolate who moves into a former station depot in rural New Jersey after his only friend and employer dies. Despite barely speaking (and often in single-word declaratives when he does), Fin is slowly drawn into an unsteady friendship with the nearby food-truck proprietor Joe Oramas (Bobby Cannavale) and a local artist Olivia Harris (Patricia Clarkson). Each of these people are broken in their own way—Cannavale's upbeat, motormouthed goofball is unabashedly desperate for real friendship, Clarkson's fragile loner has been undone by the grief of losing her only son—yet by the end of the film, Fin and his compatriots seem to have reached a tentative peace with their quiet lives.
There's not much story to speak of, and the film could easily have slipped into a mawkish character study of overcoming pain through the power of human connection. Thankfully, first-time writer-director Thomas McCarthy (who would go on to coax an Oscar-nominated performance out of Richard Jenkins in The Visitor) wisely lets the three powerhouse actors do most of the heavy lifting. His minimalist script has some familiar beats, and a few bland plot contrivances, but overall it creates an evocative world and tone, full of minor pleasures and unhurried moments.
G/O Media may get a commission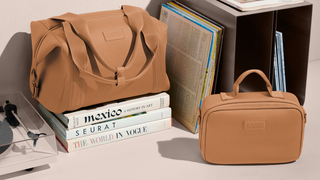 15% off
Dagne Dover Travel Kits
Dinklage digs into his role with gusto, turning Fin into a hermit whose silence speaks volumes. He embodies his quiet protagonist with a world-weariness that continually hints at the anger and pain buried beneath his tight façade of affectless inscrutability. His rejection of a world that has consistently treated his dwarfism as an amusing novelty makes his burgeoning friendships all the more touching for their rare moments of intimacy. When Fin loses control at one point, drunkenly silencing a full bar when he stands on his stool and calls out, "Here I am! Take a look. Take a look," the anger and resentment ooze from the screen. It's a rare moment of openness in a film that makes empathetic poetry out of emotional barriers.
Availability: The Station Agent is available on DVD, obtainable from Netflix or your local video store/library, or to rent or purchase from the major digital services. It is also currently streaming on Netflix.