RuPaul is emphasizing brains over beauty this season, and she throws the queens a curveball with this week's political challenge, forcing the girls to prepare for a mock presidential debate. It doesn't relate directly to drag, but like the magazine challenge, it puts the queens outside of their comfort zone and shows how they approach problems differently. Some of the girls take the challenge seriously, using the show as a platform for real political discussion between drag queens. Some go the joke route, avoiding the politics and aiming for maximum entertainment value. There are success and failures in both camps, but the bottom two queens end up being the ones that don't fully commit.
The main challenge has little to do with drag, but the mini-challenge makes up for it as the girls decorate platforms shoes inspired by different Absolut cocktails. "Vodka guru" (read: spokesman) Jeffrey Moran returns to the series to judge the queens' shoes, quickly getting on my shitlist by picking Phi Phi's fruit-garnish shoes. Like everything Phi Phi does, the pair is just too much, and her mini-challenge win gives her an ego trip that rivals the late, great Willam Belli. Ever wonder how bad Willam would have looked without his wit? Gaze upon Phi Phi O'Hara, who loves camera whoring but has a lousy sense of humor.
Journalist/activist/all-around-cool-guy Dan Savage joins Ru to check out the progress of the queens' campaigns, and he's not an easy judge to please. Latrice wants improved health care for people living with HIV and AIDS, but Dan wants to know what she plans to cut to pay for that. Cuts? Latrice didn't think that far ahead. Dan points out that Phi Phi's "ki ki with Phi Phi" slogan could easily be misunderstood for "kai kai with Phi Phi,"  but that's probably fine for Phi Phi because slutty is kinda her thing.
With two pink Hostess Sno Balls on a brown wig, Chad Michaels becomes Lady Pimp Michaels, a piece of retro white trash that doesn't really care about politics in any way. When Chad is asked what policy she'd instate as president, she tells Ru and Dan about mandatory rhythm lessons for school kids. Chad is dedicated to not discussing any real issues, always shifting the focus to herself and her ability to take on a fully realized character. Chad and Dida's reluctance to bring their political views to a challenge that is all about politics is baffling, but Chad understands that she still has to bring something.
G/O Media may get a commission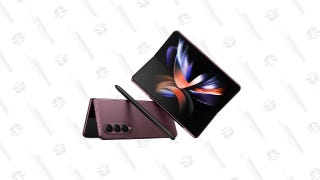 Save Up to $300
Galaxy Z Fold4
Dida is clueless this entire episode, showing none of the charisma that characterized her earlier performances. She says she doesn't want to bring up politics because it's a personal topic that can easily cause confrontation, but that seems like an easy way to hide ignorance. Dan calls her out on her vague campaign, and she never manages to form anything more than the outline of an idea for her character.
It seems like this season is building to a Sharon Needles win, and she completely dominates the challenge this week. She plays to the camera in a way that is endearing, using Dan Savage's appearance to incorporate her bullied past into the show without making it seem forced. At the debate, Sharon shows up with a strong, clearly defined character that is confident in her political views and passionate in her speech. After getting ripped by Michelle for her contacts last week, Sharon goes for clean-cut glamour in the debate, and Michelle gets the chance to finally see Sharon without a speck of spooky. She's aggressive, gorgeous, and hilarious, and shines when put up against the other four, who all stumble in their own ways.
The judges end up being fans of Lady Pimp Michaels, but I think Chad's funky schtick is pretty difficult to watch. The entire debate is one of the most awkward things Drag Race has attempted, with Dida and Phi Phi making sure there's never a moment when the viewer isn't anxious or uncomfortable. Dida has no idea what she's doing and is a bundle of nerves; at one point she advocates drag queen/dog marriage. The previews were hyping up Phi Phi's "the help" comment addressed toward Dida and Latrice, and yeah, it's totally tasteless. Phi Phi's racist Southern character stands out for being the candidate who is easiest to hate, and while she's happy to be getting the attention, I'm not sure Phi Phi understands what kind of attention it is. Her closing statement consists of handing out stickers and throwing confetti, flashy but empty gestures from a flashy but empty performer.
The queens are asked to bring their finest inauguration wear to the runway, and Chad makes up for her goofy debate showing with a stunning white-and-emerald gown inspired by the first ladies of the '50s and '60s. It's another character, and Michelle reminds her that she's still waiting to see what Chad Michaels truly looks like, but I'd rather see a beautiful, polished character rather than another generic queen. You can tell that Phi Phi thinks she did great in the challenge because she's wearing a dress that would be impossible to lip sync in, and while she looks great from the neck down, her face and hair are a little too Milan by way of Willam. Michelle and Ru give her flak for her "help" comment, but Santino is totally falling for Phi Phi's act and loves it. It's another reason to replace Santino with Kelly Osbourne.
Introducing the judges to the 2112 president of the United States, Sharon takes to the stage in a dress made out of pantyhose and a giant platinum blonde wig. She cleverly finds a way to incorporate her aesthetic into her story by telling the judges that it will be 100 years before the U.S. sees a drag-queen president, and her fashion is thinking ahead. Jeffrey Moran continues to be worthless by telling Sharon that she shouldn't go for shock value all the time, a criticism that Sharon has heard so much she's probably become completely numb to it. She rightly wins this challenge, making it her third victory and placing her even closer to the title of America's Next Drag Superstar.
Dida's stuck with her poor Ke$ha wig because it's one of her few pieces with any noticeable volume, but it's completely mismatched with her little black dress. The hair introduces a trash factor that's inappropriate for an inauguration, but Dida also doesn't have anything else to wear, so she might as well be confident in her decision. It's sad that the first time Dida speaks with any conviction this episode is when she's defending her butt-ugly wig, and she deserves to be in the bottom two. Dida is joined by Latrice Royale, whose low energy at the debate and bra-strap on the runway outweigh Phi Phi's racist jokes in offending the judges.
The two tackle an old-school lip sync to "I've Got To Use My Imagination" by Gladys Knight, and it's a challenge made for Latrice. Dida tries to recreate the high energy of her "Everlasting Love" lip sync, but Latrice is dedicating herself to the words and taking the girls to church. It's a lot like last week, with Dida playing the frantic Phi Phi to Latrice's more collected, sturdier Sharon, and we finally see how that would have turned out if Willam hadn't been disqualified. Latrice is safe, and after Dida sashays away, RuPaul leaves us with the twist we all knew was coming: Next week, one of the queens is coming back. Who do you want see return? I know someone is dying to see Alisa Summers one more time!
Stray observations:
The only word Phi Phi hears in the She-Mail is "stripper pole." Of course.
Sharon and RuPaul sure do love playing around with the word "Navajo."
I'm not feeling Ru's rainbow beach blanket runway dress, and her wig's looking sloppier than usual. Did her wardrobe crew take a week off or something?
Is that a star tattoo or sticker under Michelle's breasts?
"I had all the accessories I needed to convey the plight of the American Indians. Though I wish I had some poker chips. "
"I enjoy being down on a pole."
"Give us 22 minutes, and we'll give you an erection for the election."
"I just want to say: America, don't be a drag." (Throws confetti.) "Oooh. I mean, be a drag! Howdeeeeeeeeeee. I won!"
"Now that's what I call a war chest."
"Or was it just trying to court… the white people?"
"I love vodka. And I have responsibly enjoyed your company many a night."
"No. Mo. Hos."
"I agree with RuPaul. I love Gallagher."