James Bond films have always played loose with continuity, but that hasn't stopped a sense of history from creeping into them. 2006's Casino Royale was supposed to mark a fresh start, with a new, 21st-century-ready Bond in the form of Daniel Craig, plus a back-to-basics approach to big-screen spycraft. Apart from (smartly) keeping Judi Dench on as Bond's boss M, it did just that, but the haunted look in Craig's eyes and the mournful undertones of both that film and its successor, Quantum Of Solace, suggested the toll taken on those who toil in the fields of espionage too long. Helmed by American Beauty and Revolutionary Road director Sam Mendes—an unusual but effective choice—and arriving 50 years after Dr. No, Skyfall turns up the volume of those undertones, making Bond's tortured history a major theme, finding a fragile humanity beneath the character's usually unshakable exterior of the sort not seen since George Lazenby broke down in tears at the end of On Her Majesty's Secret Service.
Skyfall doesn't forget it has to be an exciting spy film above all, but from its first scene, it ratchets up the drama in ways that have little to do with action. Stumbling into a mission gone wrong into Turkey, Bond finds a badly wounded agent. He wants to stay and help, but M tells him to pursue the enemy instead. After pausing, briefly but noticeably, he does what he's told. Then, at the end of one of the most breathless opening sequences in the series, another agent (Naomie Harris) does what M tells her to do, leaving Bond in a position where others can assume he's dead. He isn't, because that would make for a short movie. But he isn't entirely himself either, and when he's drawn out of retirement by the actions of Javier Bardem—playing an embittered ex-agent who doubles as a dark reflection of what Bond might have, and might still, become—he isn't the same man anymore.
The series has explored the idea of sending Bond off the grid before, even as recently as Pierce Brosnan's last cinematic take on the role, in 2002's Die Another Day. But it's never before taken him this far away from what we've come to recognize as James Bond. And Craig commits to the idea, playing Bond for much of the film as a man almost too battered to do his job. He's given a fitting antagonist in Bardem, whose character has turned his skills toward nihilistic ends. A sociopath who could have long conversations with Hannibal Lecter and Heath Ledger's Joker (with a sexual ambiguity that would make him seem like an old-fashioned evil-queen character, if the script didn't let Craig defuse that possibility with one line), he's a terrifying opponent in a series that's offered up more than a few stock madmen.
The script, credited to the veteran Bond team of Neal Purvis and Robert Wade and Gladiator writer John Logan, seems keenly aware of the series' history, often zigging where past films have zagged, particularly in a finale that bears no resemblance to past films' traditional world-in-peril climaxes. But it's also reverent of the films' history, drawing on elements of the character's past both on film and in Ian Fleming's novels. (Bérénice Marlohe plays a woman with a dark sexual past and a pure heart who seems torn from the pages of a book Fleming never wrote.) It's just as committed to taking the series places it's never been before. That includes a daring approach to visuals, and a plot that reveals pieces of Bond's past never spoken of before, while stopping short of a true origin story.
G/O Media may get a commission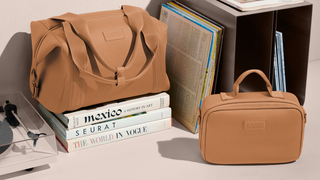 15% off
Dagne Dover Travel Kits
Whatever its other flaws, Mendes' Road To Perdition doubled as a textbook of striking cinematography. There, as with American Beauty, he worked with the late Conrad Hall. Here, as with Revolutionary Road and Jarhead, he collaborates with Roger Deakins, the Coens' go-to director of photography. The film looks striking from the beginning, then gets more daringly expressionistic as it goes along, building toward a gripping, lyrical final sequence. The Bond films have always struggled to balance the expectations of a genre they created, and the need to innovate to suit new political and cinematic climates. Skyfall more than rises to the challenge, setting a new standard for modern Bond films while keeping an eye on the past—and considering the damage 50 years of restlessness, gunplay, and double lives must take on the soul.
For thoughts on, and a place to discuss, plot details not talked about in this review, visit Skyfall's Spoiler Space.