Every day, Watch This offers staff recommendations inspired by a new movie coming out that week. This month: The A.V. Club atones for its sins of omission, recommending the best movies of the year that we didn't review.
Honeymoon (2014)
There's a reason why filmmakers keep remaking Invasion Of The Body Snatchers, and it's that the movie's central phobia—a concern that the people around you aren't who they say they are—can be applied to all manner of stories, environments, and situations. As irrational fears go, it's damn near universal. Honeymoon, an indie horror film by first-time director Leigh Janiak, isn't actually a remake of Don Siegel's 1956 sci-fi classic, nor is it an adaptation of the Jack Finney source material. The movie operates, instead, like a spiritual descendant of Body Snatchers, using a familiar pod-person scenario to address a common anxiety—namely, that your spouse and soul mate, the person you've promised to spend the rest of your life with, is actually a complete stranger.
Primarily a two-hander, Honeymoon begins with newlyweds Paul (Harry Treadaway) and Bea (Rose Leslie, who plays Ygritte on Game Of Thrones) en route to a secluded woodland cabin, where they'll chase their nuptials with a week of quality R&R. The two actors build an authentically affectionate rapport across just a handful of scenes; they seem like two unique individuals who are genuinely in love, not like a genre movie's generic conception of a young couple. That makes what follows especially unsettling: After an ambiguous nocturnal visit from… something, Bea begins exhibiting unnatural behavior—standing naked in the woods, forgetting how to perform normal household tasks, mangling basic turns of phrase. Even when not acting outright loony, she just seems different, in a way that's hard to articulate but impossible to shrug off.

As a horror movie, Honeymoon is stark, simple, and supremely creepy, privileging the generation of general unease over the overt threat of danger. (To bring it back to Body Snatchers, it essentially stretches the dread-infused first act of Philip Kaufman's masterful 1978 version to feature length.) But the film is even more effective as a metaphorical, nightmare take on ailing relationships. Janiak has managed to build a thriller around that almost invisible moment when two people begin to drift apart, physically and emotionally, for reasons neither immediately understands. How well do you know that person lying next to you at night? For those who have ever nursed suspicions that the answer is "not enough," Honeymoon will inspire chills much more bone-deep than the ones provoked by, say, some poltergeist flinging around chairs.
G/O Media may get a commission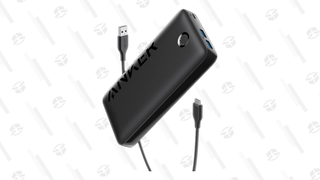 20% Off
Anker 335 Power Bank
Availability: Honeymoon is available on Blu-ray and DVD, which can be obtained from Netflix or your local video store/library, or to rent or purchase from the major digital services.