The stage hog in Shane O'Neill has made Screamin' Cyn Cyn And The Pons' endearingly smart-assed punk rock a popular live spectacle, but since "everyone in the Pons has so much more of a life" than he does, it also needs further exercise under the name Shane Shane. In this solo project, O'Neill indulges his love for early-'90s dance music, making his own beats at home and singing and rapping while donning a series of cutout headdresses that correspond to the songs' themes. A cartoonish sun cutout pairs with "A New Day," a blatant and hysterical parody of The Lion King's opening song, and "Dairy Queen"—in which he celebrates a new boyfriend with lines like "my dick is not Mother Teresa anymore"—features his face in a posterboard ice-cream cone. Just like a Pons show, a Shane Shane show calls for O'Neill to dress up, so he fashions his own stage wear, including tank tops that show off his gut and Spandex shorts with the name "SHANE" colorfully emblazoned down the legs. Before Shane Shane's show this Thursday at the Project Lodge with Koo Koo Kanga Roo, O'Neill spoke with The A.V. Club about how he puts together the essential accessories for his sets.
Shorts
The A.V. Club: Why is your name so central to the clothes you wear onstage?
Shane O'Neill: With the Pons, I always envisioned it being this effeminate glam vision that wasn't really about gender or sexuality, just more amorphous and theatrical, which horrifies people. [Pons guitarist-vocalist] Cynthia [Burnson] says people ask "What's Shane Shane like?" And she'll say, "Well, believe it or not, it's like the Pons but gayer." "Oh my god!" I love getting dressed up for shows. I don't think I could be comfortable playing shows if I didn't change into something beforehand. It's a ritual. It's like armor. I knew I wanted something that was mas—that showed the form of my body as being that of a male's, not necessarily masculine, but that was still really gay and ridiculous. That's why I like a lot of short shorts and athletic wear, because I think it's funny to begin with, plus it's easy to sew. I was able to take T-shirts and make them into tank tops really easily. As for why it mostly involves my name, I do it specifically because I thought there would be better graphic possibilities. I'm not that graphically minded, and I'm also not good at drawing. I can write my name like anyone can, so it's an easy template to work with. Repetition and making patterns is the easy way to go about doing it. Plus, my name has an A in the middle of it, so it can be made into a pink triangle really easily.
Shirts
AVC: The shirts definitely show off your gut.
SO: First of all, it's just funny. It's just funny to be inappropriately dressed for things. The chief thing I want to achieve at all my shows is for everyone to dance and laugh and have a good time, but it's important to me that you see fat people taking off their clothes more than you usually do. It's important to me to have people see my gut.
AVC: Does this tie into the Beth Ditto mentality, where she's insisting that people call her "fat" instead of "chubby," and insists on being comfortable with it?
SO: It's a hard thing. Like a lot of my politics, I sort of fall to the left of center but to the right of the extreme left. You have the hardcore fat-acceptance people who are just like, "There's absolutely nothing wrong with being as fat as you want, there's absolutely no health risks, nothing to it!" I don't quite fall to that extreme, but saying someone's fat isn't an insult. It's a tricky line to tread. When I refer to myself as being fat, I'm not saying "I'm punk-rock, fuck you, fat is awesome!" Nor am I being self-effacing. It's just the fact of the matter, that I'm fat. That's not a good or bad thing, it's just what my body is. It's sort of like being gay: It's not good or bad. Jeffrey Dahmer was gay, and so was Harvey Milk. Beth Ditto is fat, but so was Star Jones.
Head cutouts
AVC: You have a headdress that's just the word "FAG" in big letters. Are you confronting people with that word like you're confronting them with "fat"?
SO: That song ["Fags"], particularly, is because I was listening to DJ Funk in my car, "Ho's In The House '99," and it's like, "All you ho's down South, take my balls in your mouth / All you ho's out West, take my dick between you chest / All you ho's up North, you can suck it back and forth / All you ho's out east, take my dick into your teeth." The liberal-arts person inside me is like, "Boy, it's pretty fucked up that I'm here in my car and I'm listening to this black dance music and re-appropriating all this misogyny, is that really OK?" But when I look back at high school, all my friends who loved that song were all white girls. I think it had more to do with just the fact that it was funny and repetitive and a good song to dance to. Well, I can feel free to use the word "fag" as freely as I want to, and write a funny, danceable song that I would hope would appeal to people who weren't just fags, although I sure hope fags like it too, and people could all laugh and party about it together. It is confrontational, in the sense that you should be able to use the word "fag" and have it not be an insult. I don't know if it's worked or not.
Beats
SO: It's all just my drum machine and a couple of synthesizers and GarageBand. It's all pretty rudimentary. I haven't been able to use effects correctly yet, so I'm just using the effects that are built into GarageBand. I play the cello a few times. It's all me—me, me, me! I've never used any of GarageBand's built-in instruments, but I love the different vocal effects: "Epic Diva" was the first one that I used. "Stadium Rock," "Deep R&B Vocal."
AVC: It's today's equivalent of buying a cheap keyboard and finding out what the people at Yamaha think a banjo sounds like.
SO: Yeah, exactly. That's been part of the fun of doing it, just learning how to operate GarageBand. It's been a process of recording things and putting them on my iPod and trying to make them sound better.
G/O Media may get a commission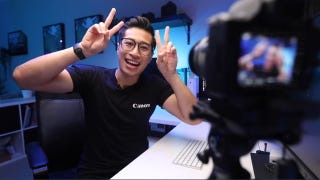 Up to 33% off
Canon Camera National Promotion
Webcam kits, lenses, & more
Since many of us adopted working from home, we've become accustomed to the crappy video quality output of our laptops' built-in webcams. Present yourself professionally with the help of a professional quality camera. Dress to impress now means set dressing and picture definition. Canon has made it easy to take your EOS camera and convert it to a webcam with the help of a variety of kits.
AVC: You have this demo CD that you give away, but it seems like you see the live show as the actual package here. Do you want to do any actual recording for Shane Shane?
SO: I would love to eventually. The thing is that at this point, I just like performing live more than recording. It seems to me that the idea of trying to get someone to pay for something or even put something together as an album right now, I think it would have to be a level of quality that I'm not at right now. I think the T-shirts I make are really awesome, because I design them and screen-print them by hand. But as far as the music, I would feel bad about charging something for it. It would be great to do an album down the line, but I think I would have to have a better recording and have a more cohesive package, well, made packaging, something with screenprinting or something clever.
AVC: What else would you like to incorporate into Shane Shane, visually or otherwise?
SO: Well, my original concept was that I would have a control board on my body, which I still would like to do sometime. At my fingertips, have access to change lights and fog and other effects. The way I did it was really rudimentary and a super-big failure. I got clamp lights and a strobe light. It seemed like a good idea. I had those buttons you use to turn on and off lamps, and I had buttons on the strobe light itself, and the cords wrapped around me so I could change the lights. I tried that three or four times and the lights always just shattered, and it was a disaster. What I'm working on right now but is still down the line is the sky-dancers that you see outside of used-car lots and stuff? A bunch of those, but have them specifically per song. I've done some research and talked to people who made them. You need parachute material, and then you need to get the fans that you use to dry paint, really high-powered fans. I'd love to have a set where each song could have its own special air-dancer thing.
AVC: Are these the "wacky waving inflatable arm flailing tube man" things from the Family Guy episode?
SO: Yes! Exactly! It's impossible for me to look at them without laughing. Other than that, I would love to have a show where I could do costume changes between each song.
AVC: Shane Shane songs are more personal than Pons songs. Are the theatrics a way to get people more comfortable with it?
SO: No. I think that's just how I interact with the rest of my life. There are so many songs I've written that are just straightforward, emotional, this is how I'm feeling, plaintive things. Thank god my best friends are in the Pons, because they won't talk about how awful those songs were. If I could write just heartfelt, plaintive songs, I would, but I think the way that I tend to interact with people about any issue if from a goofier or oblique angle, getting in from the sides. It's not that I approach it like, "It's more palatable to people if I'm all crazy about being gay," it's just an extension of my personality and how I communicate otherwise.
AVC: You've done Shane Shane shows on stages and on the floor among people. Which do you think works better?
SO: I really prefer being on the floor. First of all, I'm not one of the people that's always like, "break down the third wall!" it's irritating sometimes if you're just going to see a show, and a magician comes into the crowd and he's like, "Oh, you, mister, let me pull a quarter out of your ear!" "Please leave me alone." First of all, there's something to be said for decorum. I just want to watch the show. I don't want you pulling me onstage and making me do the Macarena. The whole thing that I want is for people to be dancing and jumping around and having a good time. There's something sort of embarrassing about being all alone up there on a stage. It just doesn't feel big enough to warrant that.