Here's what's up in the world of TV for Monday, April 4. All times are Eastern.
Top picks
The Powerpuff Girls (Cartoon Network, 6 p.m.): This could be good. This could be good. This could be good. Sorry, we just needed to get through our little mantra before we could talk about this, the "all-new, reimagined" (and without Craig McCracken) version of The Powerpuff Girls. Blossom, Bubbles, and Buttercup are back! And they're back with two back-to-back episodes, so there are now two official possibilities to either wow us all or disappoint everyone right out the gate. Sure, kids might like it regardless, but since when have we ever cared about them here? Cartoons are for adults! We mean, just go back and look at the soundtrack for the original series. That's not for kids.
Either way, we're still wondering when the Rowdyruff Boys will get their moment in the sun. Will Kevin Johnson's pre-air review answer that question?

WWE Monday Night RAW (USA, 8 p.m.): And now for a live-action cartoon—WWE Monday Night RAW. WrestleMania was last night, which means it's now time for the best part of main roster WWE programming: The RAW after WrestleMania. (Unless you gave up hope after said WrestleMania.) Who will return? Who will debut? Who will be booed out of the building? LaToya Ferguson is just armchair booking, but she's going to answer the following to those questions: Derrick Bateman, Adam Cole (baybay), and Roman Reigns. What? She has to include some realism in her predictions.
Wander Over Yonder (Disney XD, 8:30 p.m.): Wander Over Yonder, we're officially relying on you to make everything more chill during our night of otherwise unchill cartoons. In "The Party Poopers," "Wander fights a massive case of the giggles while trying to impress a race of beings with unusual faces." A "massive" case of the giggles. Even Wander Over Yonder can't be chill tonight, Kevin Johnson. Mondays are tough, y'all.
Premieres and finales
11.22.63 (Hulu, midnight): In the 11.22.63 season finale, it's "The Day in Question." (You know, November 22, 1963. It's kind of a big deal.) So, how are things going for James Franco's Jake Epping? Well… "The past pulls out every weapon it has to keep Jake from reaching Dealey Plaza in time to save Kennedy. If he fails, it could mean death for Jake or others close to him - and if he succeeds, it could create a world in which he loses everything he's ever known. What is the cost of doing the right thing?" So not great, huh, Allison Shoemaker?
G/O Media may get a commission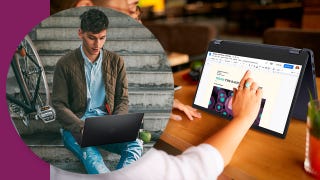 Ends August 15
Best Buy Anniversary Sale 2022
Ends August 15
Best Buy has a number of different promotions happening all for its Anniversary Sales Event. Laptops, tablets, TVs, you names it. Whether you're heading back to school or just trying to fill your home with some new tech, there is something here on sale that you've likely been waiting for.
Vanderpump Rules (Bravo, 8 p.m.): In theory, the third part of a reality show reunion (or any reunion!) would be the official finale. But we can make no real promises on this one, so… Fingers crossed!

Love & Hip Hop: Atlanta (VH1, 8 p.m.): The fifth season premiere of Love & Hip Hop: Atlanta may not be a cartoon (technically), but it's also living an unchill life. "Joseline Hernandez and Mimi Faust try to put their differences aside, K. Michelle is back in the ATL, and Lil Scrappy is a bachelor again." Is it possible to get Lil Scrappy on The Bachelor as the bachelor? Oh, only in a world where VH1 Celebreality still exists? Okay.
Cake Wars (Food Network, 9 p.m.): Cake Wars' second season finale is going "Alice In Wonderland," "for a prize worth $10,000 and the chance for their creations to be featured at a 65th anniversary celebration of the classic Disney animated film." But also for cake, right?
Regular coverage
RuPaul's Drag Race (Logo, 9 p.m.)
The Magicians (Syfy, 9 p.m.)
Better Call Saul (AMC, 10 p.m.)
Streaming pick
Dexter's Laboratory, "Last But Not Beast" (Hulu): Go, Dexter's family, go!