Before The Walkmen announced an "extreme hiatus" last year, the New York City-based outfit was six solid albums deep, and had long staked a claim as one of the most consistently great bands of the past decade. The indie-rock mainstay's last three, 2008's You & Me, 2010's Lisbon, and 2012's Heaven found the band at its peak, with songs like "In The New Year," "Angela Surf City," and "Heaven" marking that impressive streak. While The Walkmen parted ways at the top of their game, three of its members wasted no time embarking on their solo careers.
Frontman Hamilton Leithauser's debut, Black Hours, is the second of these solo offerings, along with multi-instrumentalist Walter Martin's We're All Young Together and bassist and organist Peter Matthew Bauer's forthcoming Liberation! While Martin gears his breezy folk tunes toward children and Bauer sticks to his indie-rock roots, Leithauser takes a different direction. Using The Walkmen's predilection for vintage arrangements, he goes back even further with a jaunty collection of songs that pay tribute to crooners like Frank Sinatra without feeling dated.
Black Hours opens with the sauntering piano-based number "5 AM." With its lilting string compositions, ambling keys courtesy of The Walkmen's Paul Maroon, and Leithauser belting "Do you ever wonder why I sing these love songs?" it feels more at home in a dimly lit jazz lounge than the beer-soaked dives of Leithauser's past. "The Silent Orchestra" and the slow burning "St. Mary's County" continue the jazzy motif, with subtle backing vocals from Dirty Projectors' Amber Coffman highlighting the former and a lovely combination of piano, strings, and horns anchoring the latter.
With its long list of collaborators, Black Hours is more of a family affair than purely a solo album. Along with Maroon and Coffman, Leithauser recruits Vampire Weekend's Rostam Batmanglij (who co-wrote two tracks and produced the record), Fleet Foxes' Morgan Henderson, The Shins' Richard Swift, as well as his pre-Walkmen bandmate Hugh McIntosh of The Recoys, and more. Though Leithauser's forceful wail deservedly commands the lion's share of attention, the guests are welcome additions.
G/O Media may get a commission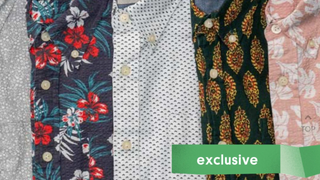 Grab three styles!
JACHS NY Summer Pack
For instance, Maroon's warm but piercing guitar tones on standouts "Self Pity" and "I Don't Need Anyone" fondly recall The Walkmen. Batmanglij's pop-minded contributions on singles like the fist-pumping "Alexandra" and the twangy "I Retired," with its doo-wop-indebted second half, help craft some of the most accessible tracks of Leithauser's career. Leithauser, for his part, deftly boasts his stellar range and apt songwriting on "I Retired," where he yelps, "No one knows what I was fighting for / And I don't even know myself anymore." It's a notable departure from his anthemic "Remember, remember!" chants on "Heaven."
Though Leithauser, now a father of two, keeps growing up and growing away from the pent-up aggression he displayed on The Walkmen's career-making single, "The Rat," his songs haven't suffered. In the hands of a less capable frontman and songwriter, Black Hours could have turned out as a cheesy attempt at '50s pastiche. Instead, it's a lively, confident, and charming first effort.