President Donald Trump announced today that he was declaring April to be National Sexual Assault Awareness And Prevention Month. That's the same Donald Trump who's currently Commander In Chief of a military about which he once said this:
Trump declared that April would be intended as a reminder that "Women, children, and men have inherent dignity that should never be violated." Trump, for the record, has been accused of violating said inherent dignity against 16 separate women, all of whom he has done everything in his power to silence and discredit.
"As we recognize National Sexual Assault Awareness and Prevention Month, we are reminded that we all share the responsibility to reduce and ultimately end sexual violence," Trump's statement continues, counter to his past assertions that concepts like consent don't apply to famous men, who can do whatever they want to women. "They'll let you."

Trump's plans for April involve working with various cabinet departments on sexual assault prevention initiatives; these include "supporting victims, preventing future abuse, and prosecuting offenders to the full extent of the law." The statement doesn't mention whether those efforts will extend to stopping rich and powerful men from abusing legal loopholes in order to avoid facing the consequences of sexually harassing women.
"Recent research has demonstrated the effectiveness of changing social norms that accept or allow indifference to sexual violence," the statement continues. "This can be done by engaging young people to step in and provide peer leadership against condoning violence, and by mobilizing men and boys as allies in preventing sexual and relationship violence." Donald Trump wrote these things, from the Oval Office, as part of his decades-long efforts to ensure young American men know exactly what happens to men who treat the women around them like their personal property.
G/O Media may get a commission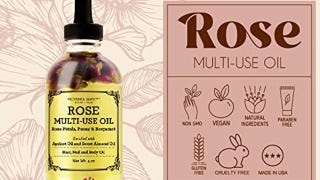 Provence Beauty Rose Multi-Use Oil