Melrose Place was a shallow, frothy, fun nighttime soap opera for viewers who wanted unchallenging yet enthralling entertainment. Those same fans should love The Unauthorized Melrose Place, which offers more of the same, a few decades after the initial show's success. Although the backstory of Melrose offered a bit of a soap opera in and of itself.
90210 creator Darren Star tried for a grownup version of that show with the first few episodes of Melrose, with a streamlined, straight-laced issue-of-the-week. Jane has a miscarriage! Allison struggles with her scruples at work! According to TUMPS (that's a fun acronym), Star himself thought up the first chink in the lame armor, suggesting that the show's young marrieds fall off their pedestal by having Michael cheat on Jane with Kimberly. But still the show's ratings slowly slid downward, until Spelling pulled out his secret weapon Heather Locklear, along with little spitfire Sydney to shake things up on Melrose. It went from a boring drama to an off-the-walls soap with catfights in the pool, explosions, and best of all, wig-pulling.
To depict the show's transformation, just as with last week's similar Beverly Hills 90210 send-up, a lot depends on the actors hired to play the Melrose players. Some of these impressions are downright inspired: Thomas Calabro's smirk, Grant Show's voice, Laura Leighton's hesitancy, Daphne Zuniga's eyerolls, Heather Locklear's general badassery. The Andrew Shue and Josie Bissett characters are a bit too generic, and with 12 cast members depicted over these few seasons of the show, it gets difficult to keep all the blondes and beefcake straight. But the vast majority of the actors here do an admirable effort of portraying actual characters we've seen on screen.
Dan Castellaneta and Adam Korson reprise their behind-the-scenes roles as Aaron Spelling and Darren Star from the 90210 movie. So as with the Beverly Hills movie, a lot points to Aaron Spelling's genius at tweaking an audience and Star's eventual descent into the dark, trashy side. Imagine Spelling as the Emperor and Star as Anakin. Locklear was indeed the shot in the arm the show needed, and she revitalized it when she arrived in episode 21. But it's enlightening to see the behind-the-scenes moments: film actor Daphne Zuniga having trouble on the set of a TV show, how stars angle for the best spot on a magazine cover, and most importantly, Melrose Place's lost chance to make television history with the first romantic male-on-male kiss. Throughout this effort, the looming, Lurch-like network honcho is played as the villain throwing a roadblock in all the show's funtimes, and Fox is blamed for chickening out for cutting the scene short, postponing TV's first all-guy kiss until 2000 with Dawson's Creek.
G/O Media may get a commission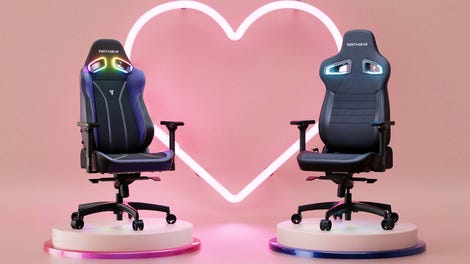 Up to $150 off
Vertagear Gaming Chairs
An instance like that is inherently much more interesting than the on-set hookups, which at this point are such a big part of the show's legacy, it's not that dynamic to watch them unfold. (Although apparently tongue-kissing goes out the window after co-stars break up, good to know.) TUMPS also tries to offer some dishy backstory to make the show worth your viewing time, but the way the show weaves these nuggets of information in is rather clunky, holding up head shots of other people who auditioned like Paul Rudd, Matthew Perry, Jason Bateman, and Courteney Cox. There are actual, visual thought balloons depicting Spelling and Star's two different approaches to some of the characters, an effect that seems more suited for a Hudson Brothers-like '70s sketch show. When the original Billy is cast, there are so many references to his washboard abs (literally three in about five minutes), we know he is bound to balloon up and lose his job in short order. Or the wince-inducing way the Grant Show character casually drops the news that he had to give up Thelma And Louise to some unknown guy named Brad Pitt. While Melrose was the farthest thing from subtle, it would have been nice to get through this movie without the "sudden success" montage, complete with dancing down the apartment stairs. And jokes about Kate Moss, Billy Ray Cyrus, and The Meat Puppets exist solely to remind the viewer that they're in the '90s.
Cheesy but also true-to-life: The show cuts away to '90s kids in overalls and backwards baseball caps group-watching the show, squealing at all the appropriate moments (and really, Kimberly pulling off her wig remains the pivotal moment in Melrose history, if not that entire decade of television). The show helped kick off the socialized phenomena of group-watching: Some bars even held Melrose nights when the show aired, with posters touring the tag line, "Mondays are a bitch."
Spelling pulls Star away from his earnestness with an "ends justify the means' approach: He couldn't have made And The Band Played On, a movie about the AIDS epidemic, without first doing Charlie's Angels, a show that starred three braless women. At one point, Spelling bitches at his protégée: "If you say anything about politics, religion, or the plight of the homeless, I swear to God…" But for all of Star's whining about the issues here, his followup series like Central Park West were hardly Mensa material, and he again focused on fun over than the issues in Sex And The City and his newest enjoyable show Younger.
Although Star and Spelling never worked together again, for these two shows, they knew what audiences wanted. And twentysomethings who tired of the high-school and college antics of Kelly and Dylan found much more to enjoy in Melrose Place, especially as the show went further and further off the rails. (Remember when Jane and Sydney buried that guy alive and he tracked them down? Current soaps like Nashville or Empire are downright tame in comparison.) The Unauthorized Melrose Place Story does a good job of continuing that give-the-audience-what they want promise, with enough backstory inside info to make it a glee-filled watch, just like the show that spawned it. What makes all that over-the-top soapy stuff such a viewer magnet is clearly for greater minds than ours to figure out.