Up To Speed debuts tomorrow on Hulu.
Richard Linklater has always been an eclectic filmmaker, but it still comes as something of surprise to learn that his latest project, Up To Speed, finds him helming a direct-to-Hulu travel show. Maybe it shouldn't be so surprising, though. Several of his films—Slacker; the Ethan Hawke-Julie Delpy duets Before Sunrise and Before Sunset—act as almost accidental travelogues as they follow their eccentric, motormouthed characters through Austin, Vienna, and Paris, respectively.
On the subject of eccentric motormouths: One of Linklater's least-known films is 2003's Live From Shiva's Dance Floor, a post-9/11 collaboration with Timothy "Speed" Levitch, the unconventional tour guide profiled in the 1998 documentary The Cruise. In Linklater's short, the shaggy-haired, hyper-caffeinated Levitch tours the area around Ground Zero and reveals his master plan for the World Trade Center memorial: a "joy park" and grazing ground for the American buffalo. Unsurprisingly, this idea failed to gain much traction with the city fathers, but it clearly made an impact on Linklater. In a way, Up To Speed is a traveling version of Live From Shiva's Dance Floor, focusing on the overlooked landmarks, historical figures, and cultural remnants of a different destination each week.
The first episode takes us to San Francisco, which Levitch describes as "America's other Washington D.C." (It sort of makes sense when he explains it.) Lombard Street, Haight-Ashbury, Alcatraz, and the Golden Gate Bridge are not on the itinerary, but the House of Falling Furniture (an abandoned building with couches, clocks, lamps, and phones dangling from its windows) and "the Liberace of fire hydrants" (a gold-painted hydrant that helped save the city after the 1906 earthquake) are star attractions.
Even when Levitch leads his tour group to a more conventional attraction, such as the Bay Bridge, his spiel takes a quirky, circuitous route. The guide uses the bridge as an excuse to expound on the life of Joshua Abraham Norton, one of the great nonconformist figures from San Francisco's past. A South African immigrant, Norton declared himself "Emperor of These United States" and made a number of absurd proclamations, but he was also an early booster of the notion of a bridge connecting San Francisco and Oakland. He was a Slacker character before his time, and thus the perfect subject for Up To Speed.
With his stream-of-consciousness patter, fondness for overreaching metaphor, and Pee-wee Herman-meets-Grover from Sesame Street voice, Levitch is definitely an acquired taste. Equal parts tour guide and slam poet, he's given to pronouncements like "For best results, maintain a continual state of un-aiming yourself" and "Let arbitrary be your co-pilot." Your mileage may vary, but a little of that sort of thing goes a long way with me.
G/O Media may get a commission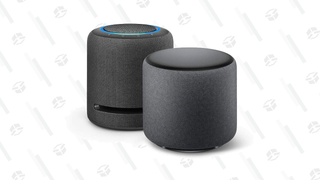 25% off - Prime Exclusive
Echo Studio + Echo Sub Bundle
Up To Speed also tends to get a bit too cutesy at times. Levitch gets into conversations with inanimate objects, such as the aforementioned fire hydrant, and the objects talk back to him with a little help from voiceover actors. I don't know whether this was Linklater's idea or Levitch's, but this gimmick is neither enlightening nor especially funny.
Still, if you can tolerate Levitch's more oblique flights of fancy, the show works well enough as an alternative guide to some very familiar places. An upcoming episode set in New York features visits to the subway grating that blew up Marilyn Monroe's dress in The Seven Year Itch (only to be replaced by a Hollywood soundstage grating in the final cut), as well as the site of the "Great Theater Massacre of 1982," which spelled the end of the seedy Times Square when four venerable performance halls were razed in favor of a shiny new Marriott. Just do yourself a favor and shut down your browser before the end credits, during which Levitch sings his own compositions in eardrum-soiling fashion.

Stray observations:
Linklater has explained in interviews that he went to Hulu with the show because he didn't feel it fit on any particular cable network. (In an interview with the Los Angeles Times, he describes the show as "too comedic to be on History. Too history-oriented for Comedy Central.") Linklater might also be cable-shy because his previous attempt at launching a series, $5.15/Hr., never made it past the pilot stage at HBO; one executive vetoed it because he thought the network's target demographic wouldn't be interested in minimum-wage workers. The deadpan, character-driven pilot was mumblecore before there was a word for it, and might have met a better fate in the post-Girls world.
Another fine San Francisco attraction: Parking Space Park, a mobile green space requiring only a sheet of Astroturf, a few chairs, and some change for the meter.
Levitch makes an interesting case in favor of the 1989 Loma Prieta earthquake. Sure it killed more than 50 people, left thousands homeless, and interrupted the World Series, but at least it led to the Embarcadero Freeway being torn down. Maybe nature knows best.