It was only three days into 2017 when Wendy's started owning people on the internet. First came Thuggy-D, a troll who doubted the fact that the chain never freezes its beef and then got owned so hard by the fast-food giant that he deleted his account. (They later made up.) Aglow with the success that comes with a successful online owning, Wendy's then launched a full hardass campaign, including a Super Bowl spot designed around shit talk.
Last month, we received a press release from Wendy's letting us know about this tweet:
That this came straight from its PR department suggested that owning other brands online had become a full part of Wendy's brand playbook, replacing, um, "place that serves chili" or whatever. But Wendy's is not just throwing stones at the fast-food hegemony of McDonald's—last week it went after poor, earnest Hardee's, too:
G/O Media may get a commission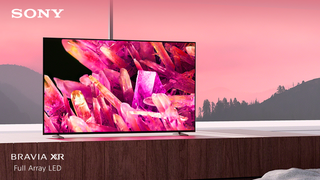 $400 off
Sony 55 Inch 4K Ultra HD TV X90K Series
It's nice to see a company have some fun within the preexisting ecology of a platform rather than earnestly fomenting hashtags and asking "fans" to "join the conversation." That preexisting ecology on Twitter just happens to be "owning motherfuckers for laughs and retweets." Even their interactions with fans are getting sardonic. It takes a certain smartass sensibility to demand someone get 18 million retweets for free nuggets; a more traditional social strategy would be to ignore the person or give them some sort of feasible goal. All of which is to say that we are only a few short weeks away from Wendy's full-on adoption of "weird Twitter" misspellings, over-usage of commas, fictitious outrages, and droll self-loathing. After which it will presumably go back to talking about its chili, which really is pretty good.