The album to listen to
"Although not every song is essential in its own right, as a whole, All At Once congeals beautifully; in the era of the single, this is a real album, touching on themes of autonomy and control both in a personal and a wider political context. You'll want to get the LP, so you have something to stare at while being lifted by 'Chamber For Sleep,' a song split into two parts simply to underline the wizardly '70s-ness of it all; or the blissful wash of guitars on 'Bird In Space'; or the righteous solo that opens album closer 'Step Outside'; or the mad dash of 'I'll Make You Sorry' as it zigzags between righteous anger and poppy tunefulness."
Read the rest of our review here.
---
The show to watch
"The early episodes of A.P. Bio contain trace elements of other treacle-cutting TV comedies of recent vintage—Vice Principals, Community, Bad Teacher, Teachers, and, naturally, Always Sunny—but the series also emerges with a remarkably self-assured vision. Like Jack and the honors students he consistently and thoroughly refuses to teach, A.P. Bio is set apart by confidence: In the way it plows through classroom cliché, sticks each character with a signature look, and paints its Midwestern setting in rich jewel tones."
Read the rest of our review here.
---
The movie to watch
"[Alex] Garland, the novelist-turned-filmmaker who wrote and directed Ex Machina and also penned the screenplays for Danny Boyle's 28 Days Later and Sunshine, tends to split the difference between cerebral and visceral, between a 'hard' sci-fi of ideas and a slam-bang sci-fi of quickening pulses… But in the ominous, derivative, sporadically frightening Annihilation, the brainy and brawny halves of his regular genre equation have been woven so tightly together that there's no clean way to separate them. He's made a '50s-shlock, forbidden-planet monster movie in the key of Solaris."
Read the rest of our review here.
G/O Media may get a commission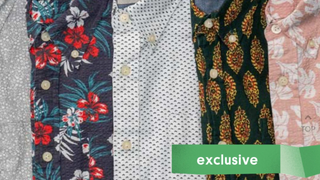 Grab three styles!
JACHS NY Summer Pack
---
The book to read
"Over a series of short, quietly powerful novels, [Ben] Dolnick has emerged as an author of compulsive readability and real insights. He has a gift for metaphor, a way of expressing complex emotions or relationships with a pithy comparison that's easy to understand but genuinely illuminating, and at the same time isn't a cliché and never feels cutesy. In The Ghost Notebooks, Nick quits his job to follow his fiancée in her new role overseeing a remote museum. It's a house dedicated to a philosopher who was obsessed with contacting his dead son, and which was the site of a murder some years before. Soon, there are bumps in the night."
Read the rest of our review here.
---
The podcast to listen to
This Is Love, "The Run"
Brought to you by the makers of the spectacular podcast Criminal, This Is Love possesses the same structure as its predecessor, with interviews and host Phoebe Judge's narration backed by music to envelop listeners. The notable difference is tonal: This Is Love is a warmer podcast, a manifestation of Judge's self-professed love of Valentine's Day ('Valentine' also happens to be her middle name) and an attempt to investigate 'life's most persistent mystery' through 'stories of sacrifice, obsession, and the ways in which we bet everything on each other.'"
Read about the rest of the week's best podcasts here.