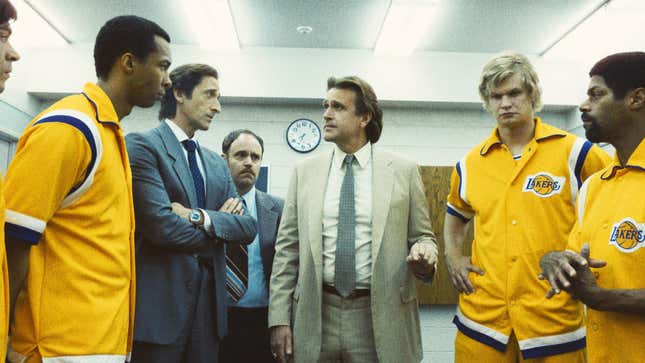 It's the 1981 pre-season, and folks at the Forum are handing out the Sports Illustrated "Pro Basketball Issue," with Larry Bird on it, not the Laker guys despite having landed a substantial feature in the mag. "I thought we were the cover," says Molly Gordon's fictional Forum office employee as she sees it in print for the first time. This pretty much encapsulates every storyline of this episode: Everyone thinks they're "the cover," in some way, and they're shocked to learn the reality of the actual position they occupy in their respective hierarchies. Naturally, some "them or me" stuff happens. And this Winning Time outing does such a good job with all of it—plus, it's pretty funny, which is what some of us have been waiting to see from this cast all along.

Michael Urie on Harrison Ford, "Shrinking," and a possible "Ugly Betty" reunion
It's one thing that has been somewhat confounding about this show up to this point: how many funny people they've cast who are given so few opportunities to showcase their range. (I mean, I get it; it's a sports drama.) But this episode manages to land both the emotional and comedic beats, and it all feels organic and also like a nice reward for sticking with the serious tone of the first few episodes of this season (and all of last season). As fans of comedic dramas like Mad Men or Yellowjackets know very well, sometimes it takes a laugh to make a gut punch land a little harder—or to help us recover from one. It works, Winning Time! Do it more. Also, if anyone had any doubts about Jason Segel playing Lakers head coach Paul Westhead in this thing, I hope this episode has put that to rest. His storyline in particular demanded a comedic take, and he delivers.
Now back to the hierarchy stuff: Let's start with that Sports Illustrated feature. Paul Westhead reads it aloud following an exhibition game between the Lakers and the Celtics. (The Lakers won, having exhausted their starters by playing them big minutes, while the Celtics played their bench according to custom; Westhead is already on a high.) "What are Norm Nixon, Kareem Abdul-Jabbar, Jamaal Wilkes, and Magic Johnson doing in a classroom with Laker Coach Paul Westhead? Hitting the blackboards." Oh the glee on his little face. What's more, the team is photographed in a musty classroom setting complete with a globe, the head coach affecting a professorial stance. Westhead's ego throbs, and he dances like a fool at a club later.
Meanwhile, the players trash talk him, bristling at this framing of Westhead as some basketball scholar as well as a Shakespearean one. To them, because of the rigidity Westhead's System demands, he's pretty much just the "go to your spot" guy (which they show him saying, over and over, in a quick montage). West says the article is a "nice way to tell the whole world our coach is a douchebag," (just as Westhead emerges from his office). Now the team is fully aware of how Westhead has publicly positioned himself, the image he endorses, and they all hate it. This dude is making a million dollars to do this. Nobody thinks it's cool.
And later, Westhead gets an even bigger shock to the system. He meets with former mentor Jack McKinney (the guy who fell off his bike, hit his head, and couldn't coach the Lakers anymore) at Westhead's favorite burger spot Hamburger Hamlet, all excited, only to be told that McKinney plans to "expose" the flaws of the system in the coming Lakers/Pacers matchup. Remember how McKinney was revealed to have won Coach of the Year the previous season, and the Pacers weren't even on the Lakers' level? Yeah, the Lakers win against them, but they go into double overtime. And McKinney laughs it up with all the Laker players on the court as Westhead bitterly looks on. There you have it, dude: the pecking order. You're low on it, Westhead.
At the same time, Red Auerbach has told the press about Magic's fancy contract—$25 million for 25 years—and his teammates don't like that either. It sets Magic up to work for the Lakers organization in some capacity even beyond his days as a player. The guys see him as "part owner" now, Jerry Buss's bestie. TV fuzz shifts us to different coverage of other players' reactions to the big reveal, during which Kareem Abdul Jabbar admits that this news has him feeling like the Lakers organization has a "favorite child," and that he has been thinking about a trade to New York, "where they appreciate quality basketball." Magic breaks the fourth wall, saying, "Fuck 'em. They don't like it? Fuck 'em." This is his tone in phone conversations with Cookie throughout the episode, too. (It pays off well in its last moments.)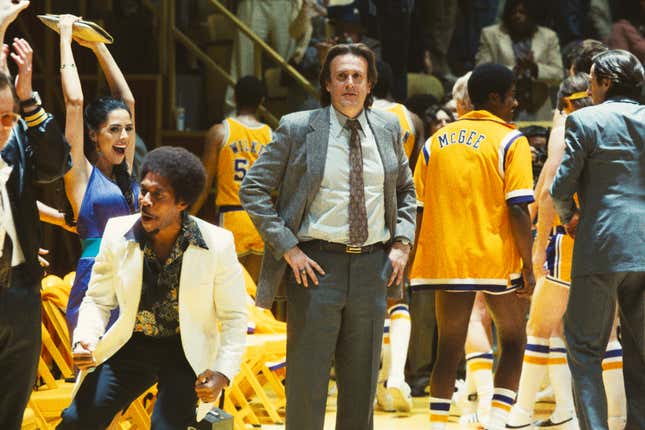 In the realm of favorite child stuff, as Honey has moved into the family mansion and Buss tells Jeanie of his plans to propose, she sees she has further competition for her dad's affection (though Honey does try to assure her otherwise). We see Jeanie, nightie-clad, scowling from the hallway, looking at once like a little kid and a ghost—and probably feeling like a little of both—as Buss and Honey share a sweet moment on the front stoop. (Honey gets cut off mid-word; clearly the camera is Team Jeanie.) We see her mean-mugging the happy couple as they dance, hornily, during a club scene. She casts her eyes downward and pouts at the ring she has chosen for her dad to give to her future stepmom. The tension is bubbling here, but it doesn't boil over—yet.
As for the sports stuff, we do get some ultimatums handed over. When Westhead tells Buss he can't coach Magic, Buss tells Westhead that he'll have to find employment elsewhere if he can't hand him another championship. When Westhead proves himself truly incapable of coaching Magic at a game against Salt Lake City, even as Pat Riley has brought the star back into the fold with a successful sidebar chat and Magic seems to be genuinely trying his best, Magic delivers a heartfelt locker-room speech to the press that ends with a public request to be traded. (Contrast this to KAJ's earlier assertion that as long as he's under contract for the year, he'll stay a Laker.) Stylistically, this speech Magic gives is really well done; Quincy Isaiah delivers a stunning performance here. As reporters surround him, we see four of their mics in closeup, tiled onscreen. The music cuts. The walls are cold and white behind him. His whole tone has changed as Magic monologues "I love my teammates. I love everybody. But I ain't happy." As history tells us, there are big shakeups ahead.
Stray observations
"Dyan! Heaven Can Wait, but I can't!" Buss goes around before a home game, buddying up to all the famous court-side celebrities, and it's kinda neat. I picked up on actress Dyan Cannon, record and film producer Lou Adler, and—of course—Jack Nicholson. ( I had honestly been kind of waiting for him to show up.)
Pissed at Westhead, Magic gets off the bus to "stew." Westhead yells for Cooper, who ends up being right behind him: "Oh. You're right there." It's a classic gag, and they land it well.
McKinney and Westhead meet up at a burger joint called Hamburger Hamlet, and that's the perfect metaphor for Westhead himself: He sees himself as Hamlet Hamlet, but he's not even the "Whopper, Whopper, Whopper, Whopper/ Junior, Double, Triple Whopper" Hamlet. He's Hamburger Hamlet. Probably doesn't even come with a side of fries.
Speaking of Hamburger Hamlet, one of the episode's best comedic moments happens at that place. As McKinney has just told Westhead what he intends to do during the Pacers/Lakers matchup, the camera rests on the latter's crestfallen face as the former prattles on about chicken wings: "Hot wings we call 'roosters…' you wanna split some chicken wings with me?" The juxtaposition is just great.
The scenes where Westhead is dancing around—clubbin'—harken back to Segel's Freaks And Geeks character Nick's sad disco days. That was a welcome sight.
When cornered by reporters after the Salt Lake City game, Westead gives us the ridiculous, faux profound line "the almond tree bears its fruit in silence," and apparently this really is, as he says in the episode, "a Westhead original."