This episode is transparently, cynically manipulative, and I resent how efficiently it worked on me, from the tense race scene to the cozy proposal to the puppy kisses. With talk of putting down roots, pulling up sticks, mending fences, and breaking barriers, the story's all over the place, and I don't mean just geographically. But let's start there.
Still incensed at her unceremonious ouster from the hospital committee, Violet Crawley plans to protect her family and herself from her temper by taking a trip to the South of France. "While angry, I say things some people find hard to forgive," she confides in Isobel, and viewers could be excused for thinking, "… really? Only when you're angry?"
But her visit to Miss Cruikshank (Phoebe Sparrow), Lord Merton's future daughter-in-law, shows how much more cutting the Dowager Countess' tongue can be. With uncompromising candor, Violet unveils the motives for Miss Cruikshank's recent overtures to Isobel. "You want a free nurse to take a troublesome old man off your hands" is her most pertinent remark to Larry Grey's fiancée, but it's nowhere near the most impertinent.
G/O Media may get a commission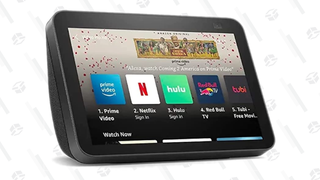 While Violet readies to (in Denker's words) "up sticks" for France, Thomas Barrow's trying to put down roots. Still unable to find another post, Barrow faces not only unemployment, but the loss of his home and the closest thing he has to a community. Mrs. Hughes promises "there are friends out there waiting for you," but Barrow can't even connect with people he's lived alongside for decades. He's on the fringes, watching his colleagues' fellowship from a distance, sometimes from another room, sometimes from just inches away.
The servants' picnic features an eloquent piece of blocking. Barrow, arriving uninvited but welcome, sits just outside their merry circle. When Andy stumbles over Daisy's exam question, Barrow reaches over to take the paper, inserting himself into the group, only to be edged out again. Soon, Mr. Dawes and Andy are the center of attention as the schoolmaster replaces Barrow's lessons with his own, shutting down his one avenue to friendship. In the moment when the selfless gesture that should earn him goodwill is revealed, Barrow is more alone, not less.
The "picnic" provided by the Crawleys at Brooklands is posher than the "oil-stained sandwich and a bottle of pop" Henry and his crew are accustomed to. (Is the best part of reviewing Downton Abbey brushing up on the difference between a salver, a stemmed compote, and an epergne? Sometimes it is.) That contrast—and the way they discuss it, with Henry's chortles and Mary's chilly self-congratulation on having "brought an improvement"—points out what an unlikely pair they are, even without his dangerous career coming between them. When Anna reminds her opposites attract, Mary asks, "But do they live happily ever after?"
The Brooklands racing sequence is too much the centerpiece of the episode to end without disaster, but even before its extent (and expense) became obvious, the chaffing between Henry and Charlie Rogers (Sebastian Dunn) made me yelp, "Oh, no! Charlie's going to die!"
This is the seventh of an eight-episode final season, with the Christmas special to follow, meaning Julian Fellowes doesn't have long to engineer the last bits of drama, and any possible reconciliation between Mary and Edith. A fiery death—but not of anyone too close to home—is a lazy, dramatically explosive pretext to spark it. In the seconds after the crash, Edith steps up for Mary, demanding information on her behalf, and Mary clutches her sister's hands when she hears it's Charlie, not Henry, caught in the burning wreckage.
Hearing third-hand that Mary's broken it off, Bates says, "I shouldn't have thought it was the right night to make that decision." Tom's right that Mary's afraid of grief and pain, and he's right that risking heartache is part and parcel of living life. But neither knows Henry forced her hand. Mary might have waited to break his heart, or even had second thoughts, if he hadn't pushed her decision on this terrible night.
Edith takes some time to decide on Bertie's proposal, but what is there to think about? Has she ever been so comfortable, so completely at ease, with anyone else? They're madly in love, he respects and admires her, and he's happy to have Marigold live with them. Does Edith, like Mary, feel a responsibility to the estate to marry wealth?
Bertie's puzzlement over Marigold seems unrealistic. My family's ward whom I love more than anyone and who must live with me always is a pretty transparent arrangement. But in the universe of Downton Abbey, where Mary watched Edith disappear to the Continent and come back with a child but still couldn't add up two and two, we can't expect more of Bertie.
"Love isn't finite," Mrs. Patmore tells Daisy with a characteristic mixture of affection and exasperation, and Daisy's doubt is both sad and touching, illuminating her jealousy. Long estranged from her own parents, her late husband's father is the only family she has. If she can trust that love multiplies as it's shared, Daisy could find herself with a father figure and a surrogate mother. But she'll have to grow up and mend some fences.
"Mending fences isn't easy," Isobel says, and Violet agrees, but someone should have taught Mary. When Edith tries to explain Bertie making the long trip to London at Henry's invitation, Mary parries, "Isn't it enough that it's a chance to see you?" After a lifetime of backbiting, Edith hears not the implicit compliment but a slap, and she slaps back. Speak with a sharp tongue for years, and everything you say sounds like a jab. Worse, you may forget how to speak any other way.
Well, that was a downer, but like Downton Abbey, I'm not above ending on gratuitous puppy kisses. PUPPY KISSES!
Stray observations
"Your self-knowledge is an example to us all." I can never decide whether Isobel's responses to Violet are the driest, most scorching burns possible or the purest form of acceptance. Or both.

Mrs. Hughes sticking Mr. Carson with the cooking, calmly issuing orders while he sweats and panics, makes a fun piece of domestic comedy that's at odds with the high drama of Henry and Mary's heartache. Real life is full of these dissonances, but constructed narratives need to manage tonal shifts more skillfully.
Who is Cassandra Jones? It's too late to introduce new characters, surely, so who's pitching a pseudonymous agony-aunt column? I'm aching to find out, but if you tell me, I'll smack you one.
"My digestive system has packed up completely." Golly, Mary!
Who's spying on Mrs. Patmore's bed and breakfast? Health inspector? Competitor? Someone more sinister?

If Edith's editor isn't being set up as Tom's new love interest, I'll eat one of Violet's hats.