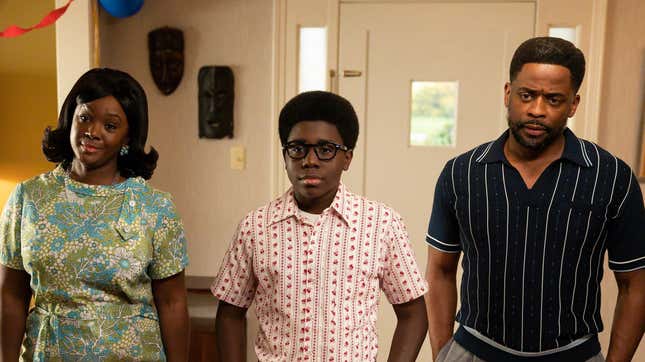 There are a lot of things you can be wistfully nostalgic for is in this complicated, mixed-up world of ours—but the Friday Night TV Murder Pile probably isn't one of them. Not even if you're The Wonder Years, which has, tonight, found itself chucked unceremoniously onto The Pile, i.e., that span of hours on a Friday evening when the TV networks get rid of all the shows that don't merit any kind of extended, Don Cheadle-narrated farewell tour, and instead just get, well, dumped.
Dulé Hill on "The Wonder Years," "The West Wing," and a new "Psych" movie
An updated revival version of the beloved '80s and '90s series (which ran for six seasons on ABC), the new Wonder Years didn't last nearly as long: Just two seasons, numbering 32 episodes total, with the last few arriving in August of this year. The show starred Dulé Hill, Elisha "EJ" Williams, Saycon Sengbloh, Laura Kariuki, Amari O'Neil, Julian Lerner, and Milan Ray, and featured Cheadle as the adult version of Williams' character, narrating the show's story of a middle-class Black family living in Montgomery, Alabama in the late 1960s.
Created by Saladin K. Patterson, the series had a mixed critical reception in its early going; writing for us in 2021, Stephen Robinson noted that the show matched neither the cinematic sweep, or the poignant and complex portrait of suburban life, of the original series. Despite getting a series renewal, the show was brought back for a significantly shorter second season earlier this year—just 10 episodes, versus an initial order of 22—that lost about a third of its average viewers overall. Which brings us, of course, to The Pile: True to form, the show has been dispensed with on a Friday night with no public press comments from ABC, 20th Century Television, or executive producers Lee Daniels and Fred Savage.