"I started out in a green house with a red door in a small town, where mysteries abounded." With this opening line, Kate Mulgrew instantly sets herself apart from the typical celebrity autobiography, which often offer mere backstage gossip and perhaps failed romantic tales from a life lived among the stars. But Mulgrew named her memoir Born With Teeth for a reason: She was indeed graced with a few at birth ("Two pearls on top and two, nonpareil, on the bottom. Shakespeare, my mother said, would have a field day."), which superstition tells us means that the baby will grow up to be a fierce individual. This fable is certainly true in Mulgrew's case.
It seems unfair that such a talented actress is also such a talented writer. Most famous as the first female commander of a Star Trek ship (Voyager), she started her lengthy career as outspoken heroine Mary Ryan in the breakthrough soap opera Ryan's Hope in the '70s. She then became the first and only Mrs. Columbo, while appearing in some TV movies and miniseries on her way to outer space. Today she still captivates as Red, the incarcerated Russian head of a women's prison kitchen in the hit Netflix series Orange Is The New Black.
But Mulgrew's back story is almost as fascinating as the ones she brings to life on the screen. Her "mother had danced with Jack Kennedy at the Inaugural Ball and, despite her advanced pregnancy, the president had pulled her close and, smiling, whispered in her ear, 'You missed your chance, Jik.'" Mulgrew had her own large, Irish family, raised in the green house on Iowa. One evening her father "opened the front door at seven p.m. one Friday night to find all four of us children stark naked and screaming with delight as we jumped, one by one, down the laundry chute, bottoms splintered and foreheads bruised as we crash-landed onto an ever-growing pile of dirty clothes."
She left her chaotic homestead as a teenager to study acting in New York with Stella Adler. Despite her turns on the small screen, Mulgrew spent beatific warm New England days in summer stock, and traveled to Europe for other stage parts. Throughout her personal volume she examines what it was like to be a feminist and a strong-headed, stubborn woman in a field where those traits were undervalued.
G/O Media may get a commission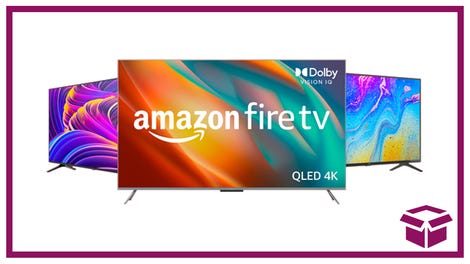 Ooh. stunning.
New Amazon Fire TVs
Her fascinating career could alone fill a book, but Mulgrew also discusses her marriage, her divorce, various romances (an affair with a bullfighter is tossed off as an aside), her sons, and most affecting of all, her decision to give up her daughter for adoption when she got pregnant at 22. Mulgrew spends much of the following years searching for her lost daughter, and again, is able to describe this anguish in nearly poetic terms. Throughout, she uses words like "chiaroscuro" to describe relationship aspects like the nuances in her parents' marriage.
As Mulgrew fights for parts and wonders why so much attention was paid to the hairstyle of her Star Trek captain and not any other, she also captures the challenges of being a single mother during the seven years she was on the Star Trek set. (An incident when her boys act out in protest at a Star Trek premiere is particularly horrifying, but resonating.) Despite these struggles, Mulgrew ends her story happily and abruptly, right before her second husband and before Orange Is The New Black. Her unspoken moral here speaks to how to have an amazing life through copious amounts of self-confidence, tied to a refusal to sell yourself short. The open-ended ending leaves the reader hoping that Mulgrew has enough life experience in her later decades to add a second volume to her lyrical autobiography.