The mystery surrounding the final fate of the human race has been one of the big questions of Adventure Time for its entire run, and it is finally resolved in Islands, a new eight-part miniseries that takes Finn (Jeremy Shada), Jake (John DiMaggio), BMO (Niki Yang), and Susan Strong (Jackie Buscarino) on a thrilling maritime voyage. Written and storyboarded by a team of Adventure Time regulars, Islands represents another major step forward for a cartoon that never stops evolving, with a story that is both intensely emotional and extremely relevant to the United States' current socio-political climate.
The first half of the miniseries follows a familiar Adventure Time structure, with self-contained stories that take the characters to strange fantasy locales. After the first chapter sends the quartet on their way, the second episode has them meeting a sea dragon named Whipple (Josh Fadem), a very annoying creature fixated on telling people about all of his ideas for books and screenplays that he hasn't written yet. It's a plot that is reminiscent of early Adventure Time episodes, taking a mythological idea (sea dragons being responsible for weather) and putting an irreverent modern spin on it. When the group is separated, there's a series of episodes exploring their individual experiences on separate islands, and once they're reunited, the plot becomes more ambitious in its thematic content and character development.
Adventure Time creator Pendleton Ward made his return to writing and storyboarding the series after nearly three years away with last week's "High Strangeness," and he also performs those duties on one of the most intriguing episodes of Islands: the VR-centric "Imaginary Resources." Exploring a society that has become completely entrenched in virtual reality, this episode speaks to humanity's growing reliance on technology and the urge to escape a troubling reality by venturing into a virtual world. The technology is literally called "Better Reality," with the tagline, "Where reality doesn't stink." The virtual world is a spotlight for this series' design sensibility at its weirdest—it's clear that character and prop designer Michael DeForge plays a huge part in the look of the virtual avatars—and the episode successfully blends cynical commentary with humor and spectacle to deliver a remarkably well-rounded narrative.
The back half of Islands delves into the history of established characters like Dr. Gross (Lennon Parham) and Martin (Stephen Root), Finn's father, showing new sides of these figures that have previously been cast in more malevolent roles. Parham once again gets the opportunity to sing a song that wraps a troubling message in a bubbly melody (much like her "Evolution" song in "Preboot"), and Root brings softness to this past version of Martin that is a stark contrast to the character's despicable, selfish nature. Islands does fantastic work fleshing out supporting characters, and Susan Strong also gains considerable depth in this story as she uncovers her past and the people she left behind.
G/O Media may get a commission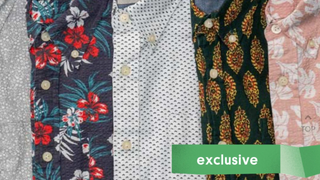 Grab three styles!
JACHS NY Summer Pack
Sharon Horgan does particularly excellent work as the new character Minerva, a scientist with a tragic past that informs the complex motivations for her restrictive actions. There's incredible warmth and compassion in Horgan's performance, which makes her a compelling almost-antagonist in the final episodes. Minerva is far from a villain, but her decisions threaten the status quo of this series, placing her in opposition with the characters even though her reasons are totally understandable. She wants nothing more than to help, but one person's idea of what is beneficial may clash with what others believe is best for them, and her arc requires her to realize this truth and open herself up to new options for the betterment of her people.
Islands can be seen as a summary of Adventure Time's growth over seven seasons, beginning with smaller, sillier tales that build to something much deeper. It's hard to talk about the second half without spoiling major developments, but it goes to some very surprising places as it explores a stagnant culture dominated by fear and divided along strict social lines. The miniseries ultimately asks some big questions about the sacrifices people are willing to make in order to achieve a utopian society: Is safety worth the loss of freedom? What role does danger play in creating a richer, more satisfying life? Islands answers these questions by looking back at everything Adventure Time has accomplished over the years, making it a powerful thesis statement cementing the show's overall message that adventure is at the core of personal discovery and fulfillment.