Tom Hanks is, arguably, the biggest movie star in the world. His films have grossed hundreds of millions of dollars and won him two Oscars and four Golden Globes. He also recently nabbed a Presidential Medal Of Freedom from President Obama just for being a stand-up guy.
Why, then, would Tom Hanks take precious time out of his rich-guy Hollywood schedule to host a public radio show? Probably because that show, Wait Wait… Don't Tell Me! isn't just a public radio show—it's the public radio show. Now in its 20th season, Wait Wait is NPR's flagship product, drawing almost four million listeners weekly when it's broadcast on more than 700 member stations. (The podcast version is also downloaded more than 700,000 times a week.)
A wry, slightly self-satisfied game show, Wait Wait… Don't Tell Me is normally hosted by Peter Sagal. Each week, Sagal and announcer-scorekeeper Bill Kurtis are joined by a panel of Wait Wait-caliber wits—mostly authors, podcasters, and mild comedians—for a quiz inspired by local news. With Sagal out on vacation for last week's Wait Wait, the show reached out to Hanks. Hanks said yes, and the result was an episode that taped this past Thursday in Chicago and was attended by this reporter.
Wait Wait's Executive Producer Mike Danforth said the Hanks' offer came because he knew Hanks was a fan. "He's been on the show in the past," said Danforth, noting that "one of [the show's] old producers has a sort of relationship with him or a member of his family." Danforth said getting Hanks was surprisingly simple: "I texted a friend and said, 'Hey, do you think Tom Hanks would ever host a show?' and it was maybe two hours later when I got an email from him."
G/O Media may get a commission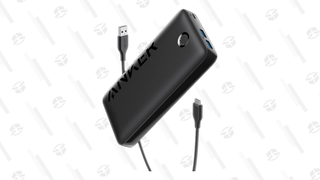 20% Off
Anker 335 Power Bank
Hanks hosting wasn't just a half-assed "show up two hours before the show" effort, either. He spent about three days in Wait Wait's Chicago office—which Hanks described on stage Thursday as "not as glam as one would have thought," what with its "sad folding table" and scant office supplies—to whip up jokes about why Republicans are supposedly more attractive than Democrats and a Jimmy John's in Florida that got in hot water when two of its employees used bread dough as a jump rope before baking and serving it to customers. According to Danforth, the move to bring Hanks fully into the fold was made because Wait Wait "has a routine, and for better or worse, it works."
That's not to say the show didn't try to incorporate Hanks' particular set of skills. In a new game the show called "The Role Of A Lifetime," Hanks channeled his Oscar-winning acting chops to play "a failing pile of garbage," prompting the panelists to ask questions to try and figure out what he was. The results fell a little flat, though it was interesting to see how quickly Hanks could think on his feet.
If nothing else, that was the takeaway from Thursday's taping, which clocked in at about three hours long and was subsequently edited down into the one-hour show Wait Wait listeners heard over the weekend. Hanks, who at one point called himself "a middle-aged charm monster," is sharp, smart, and surprisingly dirty. (When asked early on how often he gets to perform live, Hanks responded, "Quite frankly, about twice a week at home.") He spent a good portion of both the actual show and the in-between segments making fun of himself and the Wait Wait gang, even calling the audience "the happiest crowd of ugly Democrats I've ever seen." He had an especially good rapport with panelist Paula Poundstone, who spent most of the episode either marveling that "Woody from Toy Story" was standing 5 feet from her or trying to get Hanks to be her plus-one for her upcoming 40th high school reunion.
Hanks, it turns out, isn't just a showman when the camera (or the microphone) is on. Between takes, he'd sing songs about the show's technical manager, Lorna White, and fought a lengthy period of giggles when he found out he accidentally said "fartaceuticals" instead of "pharmaceuticals" during the show's lightning-fast quiz round. When asked to test his mic, he quickly and clearly did enunciation drills to the phrase "Peter Sagal is a sucker," and tried in vain, both on air and off, to get anything fun out of call-in guest Simone Biles, who didn't seem to get any of the panel's jokes.
That charming conviviality even extended into the post-show Q&A, something that was surprisingly helped by the 450-person audience's mostly cogent and interesting questions. What really stuck, though, was Hanks' response to the final question of the night, asked by a middle-aged man sitting smack in the middle of the room: "What do you see the next four years looking like?" The audience sat in pin-drop silence as Hanks, who played up his reassuring role as America's dad on Saturday Night Live last fall, called on both his life and role as a lay-historian to once again reassure the very clearly Trump-uneasy audience. "We're going to be all right," Hanks said, "but we're not going to be all right overnight." He emphasized the importance of holding our politicians accountable and contributing day by day to the "multitude of drops" needed to make up a powerful, all-consuming ocean of good deeds and good people, an idea he said he took away from the Cloud Atlas script.
Hanks also harkened back to what he remembers from the Vietnam War era, which he said "was the shittiest time imaginable." Citing the era's racial strife, lying politicians, and family dinners that could turn into fistfights on a nightly basis, Hanks said we should reference those years to demonstrate that just because something is terrible doesn't mean we can't get through it. It was warmly reassuring and sweetly smart, and—paired with his hard-working, freely given Wait Wait performance—confirmed that Tom Hanks is exactly the guy we all want him to be.