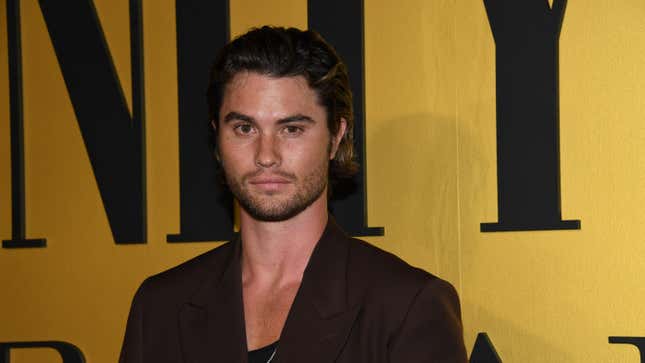 There's just something special about a somewhat-douchey, mostly-lovable Netflix boy with a one-syllable name and that hairdo, isn't there? Actor Chase Stokes certainly gets it, as he initially tried to play one of them (Stranger Things' Steve Harrington) and actually does play another (teen treasure-hunter John B. on Outer Banks).
Stokes recently revealed that while he is clearly quite adept at knowing which roles play to his, er, considerable aesthetic strengths, the actual audition doesn't always go as smoothly.
"I actually read for Steve Harrington and I forgot all the lines and absolutely effed up. I drove eight hours from Atlanta back to Orlando regretting every moment of my life on that!" he said, per Yahoo! Life.
While the part of Steve would eventually go to Joe Keery (towards whom Stokes harbors zero resentment, calling him "an absolute legend, who is so good as Steve Harrington"), the Duffer brothers clearly saw something in Stokes, who went on to appear as a character named Reed in a season 1 episode of the show. While the part was small, the actor still credits it as the kickstart to his career. "I'm just thankful for the Duffer brothers for giving me an opportunity to, like, do my job," he said. "I mean if it weren't for them, I wouldn't be here."
But while the Duffer brothers may have gotten him off the ground, it was a casting director named Lisa Fincannon that really gave him the kick he needed to become the floppy-haired Netflix boy he was always destined to be. In a recent New York Times interview, Stokes revealed that he actually turned down multiple audition offers for Outer Banks, initially seeing it as a Goonies remake and "not wanting to besmirch a classic."
Facing an eviction notice and dwindling funds, however, he began to reconsider. "I got a call from Lisa Fincannon, a wonderful casting director, and she said, 'You need to read for this,'" he said. He went on to describe a call he received from his agent a few days later:
"You're getting on a plane tonight. Here's 14 pages of dialogue. Here's the first four episodes. You're going to be on the very last row of a plane in the middle seat on a red eye, and you're going to land in Charleston. The audition is right when you get off the plane." And I did it, and the rest is history.
Outer Banks season 3 is now streaming on Netflix.