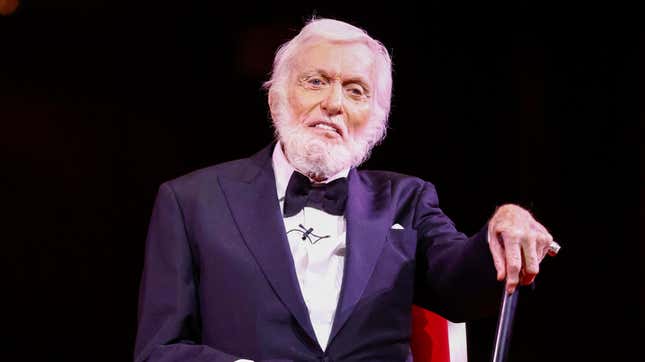 Dick Van Dyke, the 97-year-old actor known for Mary Poppins, is dealing with "minor injuries" after getting into a car crash in Malibu, reports CNN.
Judy Garland's previously missing Wizard of Oz dress to be auctioned off
The accident was confirmed by a spokesman of the Los Angeles County Sheriff's department to CNN. The outlet reported that officers showed up to the scene of the crash on the morning of March 15, where they found Dyke's silver Lexus LS 500 crashed into a gate.
According to TMZ (who first reported the accident), The Dyke Van Dyke Show star managed to leave the scene with only minor injuries to his nose and mouth, including possibly having "suffered a concussion." While no official reason has been given for the Tony Award winner's accident, TMZ's sources said that the actor's reason given to police was the onslaught of record rain falling in Los Angeles, which caused his car to slide on the roads and hit the gate.
Having been an entertainer since the 1940s, Dyke would become most well-known for starring in the iconic sitcom The Dick Van Dyke Show and in Walt Disney's Mary Poppins, in which he played continuously cheery chimney sweep Bert. Along with his roles in films such as Chitty Chitty Bang Bang and Bye Bye Birdie, the Golden Globe winner has also made appearances in shows like Columbo and The Carol Burnett Show.
Recently, Dyke made his return to the small screen as the oldest contestant ever in fever-dream singing contest The Masked Singer. Dressed up as "The Gnome" in an intricate full-body suit, the living legend sang Frank Sinatra's "When You're Smiling," before revealing himself to be The Dick Van Dyke and singing "Supercalifragilisticexpialidocious" after he was unceremoniously eliminated from the show.