1. Doctor Druid
Is Hollywood ready for an openly pagan superhero? Probably not. Which is a bit of a shame; while never an A-list Avenger, Doctor Druid had a long and respectable run in various comics titles, dating back to some Jack Kirby- and Steve Ditko-drawn stories that predated the first issue of The Fantastic Four. The mysterious, occult-fueled adventurer filled a Doctor Strange-shaped void in the team during his '80s tenure. That said, Druid is just a little too odd of a hero to cut it nowadays, a reminder of a weirder, funkier superhero era. Unless Marvel was thinking of recasting J.K. Simmons as an Avenger, it's hard to picture Doctor Druid finding a place in the sexy, big-screen team.
2. D-Man
A pro-wrestler turned superhero turned schizophrenic hobo, D-Man is one of the biggest jokes in superhero comics. His story is as uninspired as his costume, which looks like a grade-schooler decided to draw his dad in a hybrid Daredevil/Wolverine suit. An attempt by Marvel to cash in on the pro-wrestling craze of the '80s, D-Man fought alongside Captain America for way too long, and briefly joined a ragtag Avengers team for a single mission that ended with him presumed dead. He resurfaced with more than a couple of screws loose, appearing as a medieval serf during Kurt Busiek and George Perez's Avengers, and receiving a notable spotlight during that one storyline where Wolverine yells about how the government raped his brain. Most recently, D-Man joined up with Wonder Man's Revengers, but it doesn't matter if he's a hero or villain—D-Man is never getting off the comic-book page.
G/O Media may get a commission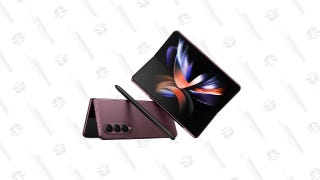 Save Up to $300
Galaxy Z Fold4
3. Swordsman
It's not unusual for a former foe of The Avengers to join its ranks. After all, the original lineup of the heralded superteam came together to battle fellow founding member the Hulk. (Granted, he was possessed by the arch-trickster Loki at the time.) Few, though, have been as morally mercurial as Swordsman. A master with the blade—who also helped instruct the young Clint Barton before he would become the Avenger known as Hawkeye—Jacques Duquesne first fought and then joined The Avengers, beginning a long history of inevitable betrayals and redemptions. Because he specializes in using gimmick-enhanced swords, Swordsman would be pretty redundant on a big-screen team with Hawkeye, whose bow and arrow covers The Avengers' apparent need for tricked-up antiquated weapons. Plus, Tony Stark is already on the team, and there's only room on the roster for one dapper mustache.
4. Black Knight
If there's barely a place in The Avengers for Swordsman, there's even less of a place for Black Knight. Like Swordsman, Black Knight—a quasi-reincarnation of an ancient warrior dating back to King Arthur's time and the nephew of another, villainous version of the Black Knight—can swing a mean blade. And that's about it, apart from his flying horse. Sure, he's been given various, vague mystical abilities to help spice up his otherwise dull, prefabricated character, and his alter ego, Dane Whitman, is a scientist of some competence. Bottom line, though, is the fact that Black Knight—as able and noble as he has proven himself over the years—is one of the least-imaginative characters to ever be called Avenger.
5. Jack Of Hearts
The biggest problem with Jack Of Hearts is the whole card motif. Yes, his name is Jack Hart, but since when do superheroes create personae around their birth names instead of their power sets? The son of a scientist and an alien, Hart was exposed to an experimental energy source called "zero fluid" as a child, gaining the power to fly as well as shoot concussive blasts. Originally a villain, Jack apprenticed under Iron Man and became a full-fledged hero, joining The Avengers after being drafted during the Kang War. Current DC heavy-hitter Geoff Johns tried to flesh out Jack's character and justify his presence on the team during his short time writing the title, presumably ending Jack's story by having him explode in space with a child abductor. That is, until a few issues later, when Brian Michael Bendis would bring Jack back to Earth for the explosive start of "Avengers: Disassembled." He's a character so lame he got killed twice in one year.
6. Stingray
Walter Newell is Earth's mightiest oceanographer: part Namor, part Iron Man, and nowhere near as cool as either. A government employee, Newell initially donned his Stingray armor to capture Atlantean Prince Namor, whom the government believed to be responsible for water shortages around the planet. After letting Namor go, Stingray became a regular member of Sub-Mariner's cast, but he's never been more than a supporting player. Newell joined The Avengers in the early '90s largely so that they could use his Hydro-Base, which they end up destroying in the process. He's never been able to sustain a regular series and doesn't have enough personality to justify his presence on a superhero team, but Stingray would be right at home in a supporting role in a Namor film. Atlantis would need a S.H.I.E.L.D. liaison, and Newell is the costume-clad oceanographer for the job.
7. Mantis
When it comes to convoluted backstories, few can match Mantis, a cosmic character who has appeared in three different comic-book universes. One of the darling heroes of creator Steve Englehart, Mantis is the Celestial Madonna, tasked with giving birth to the Celestial Messiah, mostly because she's a superhero created in the cosmic-story-crazy '70s. With connections to Kree aliens and supervillain team Zodiac, which she battled alongside The Avengers, Mantis falls into a similar camp (emphasis on the camp) as Spider-Woman when it comes to her superheroine origin. After leaving Marvel, Englehart carried Mantis with him to DC and Eclipse Comics under different names, showing the different stages of her pregnancy at three different comic companies. She's recently experienced a resurgence as part of Marvel's Guardians Of The Galaxy, a team that has been optioned for a future film, but if Mantis makes a big-screen debut, she will certainly be stripped of all the celestial dogma.
8. The Forgotten One
Thor proved that epic Kirby mythology can translate to the screen, but Marvel probably isn't putting an Eternals movie into development any time soon. A race of immortals created by cosmic beings, the Eternals have been mistaken as gods in the past, and The Forgotten One was confused for Hercules and Samson in ancient times. He joined The Avengers under the name Gilgamesh as part of a roster that included Mr. Fantastic and Invisible Woman, helping to reform the team after the "Inferno" crossover. The typical strongman, Gilgamesh is redundant in a group that already includes Thor, and his silly visual, a bull-helmet and short tunic, doesn't help. He recently returned to comics with a sleek, updated look, but Marvel hasn't had much success integrating any of the Eternals into its current line.
9. Two-Gun Kid
Before becoming an occasional, unofficial, ad hoc member of The Avengers, the pistol-slinging Western hero Two-Gun Kid had a long career that predated the team—and Marvel Comics itself. But the Kid's current iteration, Matt Hawk (and later, Matt Liebowicz), got retconned into the Marvel Universe, where, after some time-traveling brought him into the 1970s, he brought his admittedly colorful cowboy swagger to memorable team-ups with The Avengers. He's an entertaining character on the page, but not one likely to make the leap to the big screen—even if Cowboys And Aliens hadn't suggested viewers don't want their sci-fi and their Westerns mixed together. After all, it might be a little hard to explain to the average, contemporary moviegoer why The Lone Ranger has suddenly popped up in an Avengers film.
10. Lionheart
There was a time in the early '00s when Chuck Austen was given whatever book he wanted to write. He would take on a property like X-Men, Avengers, or Superman, turn in timely but lousy scripts, and then leave a mess for whatever new writer had to pick up the pieces. Lionheart was Austen's attempt to give the Marvel Universe a new Captain Britain in the form of a single mother whose husband left her because he was wracked with guilt over not stopping her rape. During an attack on London by the Wrecking Crew, Kelsey Leigh sacrificed herself to save Captain America and Wasp, and her heroic deed gained her a second chance on Earth as England's defender. The Avengers took Kelsey's children into protective custody after witnessing her violent transformation, and she joined the team to be close to them. Her bleak story was quickly pushed to the side after Austen left the title, making way for Bendis' even more bleak "Avengers: Disassembled." Lionheart has made few appearances since.
11. Starfox
Like his mythological namesake, Eros of The Eternals—also known as Starfox of The Avengers—is quite the ladies' man. In fact, the extraterrestrial's telltale superpower is his ability to psychically arouse anyone standing nearby, which might be a bit awkward to render in a Hollywood movie. That power has also gotten him into trouble, including sordid allegations of sexual assault that cast a shadow over his fling with his fellow Avenger She-Hulk. Beyond that, Starfox's complicated backstory might require too much compression before he'd be suitable for membership in the big-screen team. His terrible, way-too-on-the-nose name doesn't help.
12. Firebird
You can't light a match in the Marvel Universe without finding a pyrokinetic character. Sadly, Firebird has never been given much of a chance to distinguish herself from all the others. Bonita Juarez gained her fire-based superpowers—which operate more or less like those of The Human Torch, Firestar, Sunfire, Nova, etc.—following exposure to radiation. (What else?) She managed to make it into The Avengers lineup after being long-overlooked, but The Avengers creative teams didn't feel much more enthused about the character than The Avengers themselves during her stint as a member of the West Coast Avengers in the '80s. As for her potential membership in a Hollywood-backed Avengers: There's a chance that literalizing the stereotype of a fiery Latina might not fly that well.
13. U.S. Agent
The troubled, perennially tragic character U.S. Agent would be a perfect fit for a gritty Avengers film, except for one small problem: He's just too much like Captain America. Originally conceived as a replacement for Cap when Steve Rogers briefly retired, U.S. Agent got put through the wringer many times. Many of his stories have reflected the clash of political ideologies and factions in contemporary America, which made for some compelling comics. When it comes to making a great popcorn movie, however, having two heroes on the same team who look so similar might be a little distracting. Then again, considering Spider-Man fought Venom and Iron Man fought Iron Monger on the big screen, U.S. Agent might make for a better villain in a Captain America sequel than an Avenger.
14. Thunderstrike
For the same reason U.S. Agent wouldn't work well on the same Avengers roster as Captain America, so would Thor and Thunderstrike make for inappropriate big-screen teammates. Only in the latter pair's case, things get even trickier, since, for a while, Thunderstrike's alter ego Eric Masterson was Thor. But after trading in Thor's mighty hammer Mjolnir for the enchanted mace named Thunderstrike, he took on his new weapon's name, modified his costume a bit (mostly by adding a ponytail), and embarked on his own heroic career. The appearance of Thunderstrike in an Avengers movie would only serve to complicate the continuity that Marvel has built up between the various entities in its film franchise—and the source material is already complicated enough as it is.
15. Echo
Raised by the man who killed her father, Maya Lopez grew up believing that Daredevil was the man responsible for his death. After learning Wilson Fisk's true involvement in her father's murder, Lopez became a vigilante whose main accomplishment was going on a spirit quest with Wolverine. Though deaf, Echo can replicate any movement perfectly, a skill that came in handy when she took on the role of Ronin in Brian Michael Bendis' New Avengers. As the book became a crossover launchpad, Echo began to drift into the background, with Clint Barton taking on the role of Ronin as Echo bided her time in limbo. She would later return as a supporting character in Bendis' Moon Knight, and subsequently killed as her time as an Avenger was all but forgotten by the rest of the team.
16. Ant-Man (Eric O'Grady)
Originally billed as "The Irredeemable Ant-Man," Eric O'Grady was a grade-A asshole S.H.I.E.L.D. agent who stole prototype Ant-Man armor off his dead best friend. He then seduced the deceased's girlfriend, got her pregnant, and abandoned her so he could live a life of spying on undressed women. O'Grady makes previous Ant-Man Henry Pym, who developed a split personality and hit his wife, look like a totem of heroism. O'Grady would eventually serve time with The Avengers' Initiative and Thunderbolts before being invited by Captain America to join a covert team in Secret Avengers, where he's begun his road to redemption fighting alongside Beast, Black Widow, and Valkyrie. Marvel has a couple more Ant-Men to get to before O'Grady—Edgar Wright was attached to an Ant-Man film once upon a time—making this morally bankrupt "hero" an unlikely candidate to transition from comics to cinema.
17. Rage
If there's a lazier origin story than exposure to toxic waste, The Avengers have never known it. And yet, that's pretty much Rage's story in a nutshell. The only twist is, Elvin Haliday's powers—an equally generic mix of strength, durability, and the sudden urge to join a superteam—have given the streetwise teenager the body of a buff, bulked-out adult. (His age is what ultimately keeps him from full membership in The Avengers.) But really, the most notable thing about Rage is the fact that his homemade costume looks more like that of a WWE wrestler than a superhero. As for Rage's chances of making it into an Avengers movie: Does Marvel really want to encourage the youth of America to seek out and play in toxic waste?
18.+ Great Lakes Avengers
Many Avengers fans have a soft spot in their hearts for the Milwaukee-based Great Lakes Avengers, and for good reason. The underdog group—whose farm-team status is built into its name—is made up of a pantheon of self-deprecatingly goofy heroes, including Flatman, Doorman, Big Bertha, Mr. Immortal, and Dinah Soar. The GLA's breakout star, though, is cult favorite Squirrel Girl, a quirky, surprisingly enduring character who's recently taken on the role of nanny to the daughter of Avengers Luke Cage and Jessica Jones in the comics pages. Squirrel Girl's goofy charm might actually bring a bit of levity—beyond Tony Stark's wisecracks—to an Avengers movie. That said, fans shouldn't hold their breath.