ABC heads into the 2013-14 season in the very strange position of having a bunch of shows that work kind of well—particularly once DVR viewing is factored in—but still probably ending up as the last place network (unless The Voice finale, which should lift NBC over ABC in all measures, tanks). Yes, ABC can talk about how it beats NBC (and sometimes Fox) if you remove sports from the equation, but nobody's removing sports from the equation, because sports are one of the few reliable ratings generators in this day and age. Last spring, the network made what seemed like a smart move in shifting Revenge to Sundays in the Desperate Housewives slot. It worked for a week or two, but the show's second season was so flawed that viewers left in droves for the scads of interesting other shows on the night. Later in the summer, the network moved Suburgatory after Modern Family, which seemed like another smart move, only for it to actually hurt Suburgatory in the ratings. Combine all of this with the collapse of Dancing With The Stars, and you have a recipe for where ABC is right now.
What seems more likely than ever is that there is an ABC audience, and it's remarkably hard for the network to break out of that box without some sort of big, event programming. All is not gloom and doom, however. The Middle and Modern Family are reliable players, and Scandal has grown into a legitimate sensation this year. (Better still for ABC in that regard, it's from Shonda Rhimes, who has some experience with maintaining sensations, as opposed to Revenge's Mike Kelley.) And if there's a new show that people are going to immediately sample, it's probably Marvel's Agents Of S.H.I.E.L.D. ABC better hope people like what they see, because this schedule falls apart if S.H.I.E.L.D. is a flop. But unlike all three other networks, ABC doesn't have a lot of options. It's boxed in, which requires precision. And programming Tuesdays with four new shows and no returning ones.
Let's break it down.
Mondays
8 p.m.: Dancing With The Stars
10 p.m.: Castle
Dancing With The Stars completely collapsed this season, and ABC has returned the favor by shrinking the show to one night per week. In terms of a solution, this isn't a bad one, and with the right cast, the series could stabilize. (Its current numbers, while not great, are probably good enough for ABC to stick with them for a few years on a tough night.) Still, DWTS used to keep ABC alive—in very similar fashion to how The Voice raises all boats at NBC now—and it now simply doesn't. It's been a remarkably swift fall for the show, too. As recently as 2010 was the Bristol Palin season, one of the highest rated ever. At 10, Castle held up far better than DWTS, so it will probably run in this timeslot as long as ABC needs it to or as long as Nathan Fillion and Stana Katic want to keep making it.
Tuesdays
8:00 p.m.: MARVEL'S AGENTS OF S.H.I.E.L.D.
9 p.m.: THE GOLDBERGS
9:30 p.m.: TROPHY WIFE
10 p.m.: LUCKY 7
Look: Even if you accept that Agents Of S.H.I.E.L.D. (and will anyone object to me not having to type all those fucking periods every time I have to type the title, even though, yes, it's an acronym?) is going to draw a big number of lookie-loos for its first couple of weeks (and I do), programming a full night of new programming is rarely a great idea. But as mentioned, ABC doesn't have a lot of other options, particularly after this year's ridiculous schedule of DWTS results into two young-skewing comedies into… God, what was even on at 10 before Body Of Proof was there? Oh, right. Private Practice! Jesus. Who came up with that schedule?
G/O Media may get a commission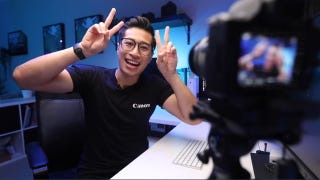 Up to 33% off
Canon Camera National Promotion
Webcam kits, lenses, & more
Since many of us adopted working from home, we've become accustomed to the crappy video quality output of our laptops' built-in webcams. Present yourself professionally with the help of a professional quality camera. Dress to impress now means set dressing and picture definition. Canon has made it easy to take your EOS camera and convert it to a webcam with the help of a variety of kits.
Anyway. ABC so effectively salted the Tuesday earth that it now has to come up with a full night of new programming. Fortunately, the network has some experience with this, as it launched five new shows on one night in 2009 and made three of them—The Middle, Modern Family, and Cougar Town—stick for at least a little while. (It would later sacrifice Cougar Town on the Tuesday night altar.) But that was a very different schedule and a different time. ABC could parcel out its assets perfectly by using a still-monstrous DWTS to do an hour-long special that led into Modern Family's impeccable pilot and a Cougar Town that actually slightly built on that Modern Family lead-in. The 2009 success—which still led to the death of two shows—was a perfect storm of smart scheduling moves, and it is unlikely to be repeated.
Still, S.H.I.E.L.D. is going to draw some sort of audience and probably a more male one, which ABC has had trouble with. The network is being smart by leading into what it apparently thinks is its best comedy pilot (it's getting a cutdown instead of a trailer at the upfront, which means ABC will show full scenes in context, usually a vote of confidence). It's also being smart by targeting the family comedy audience, which might be watching S.H.I.E.L.D. and probably won't be watching New Girl. Will it work? God only knows, but Tuesdays are the weakest night of the week. If ABC can turn S.H.I.E.L.D. and The Goldbergs into a thing, it would be a couple of great building blocks.
It's just hard to imagine anybody sticking around for the full night. Trophy Wife seems like just enough of a jarring break from Goldbergs that it's tempting to expect the kind of disparity that hurt Suburgatory post-Modern Family, while Lucky 7 is apparently pretty great but also very off-brand for the network, in that it's not a glossy soap but, rather, a somewhat realistic drama about working-class lottery winners. (If there's a show on any schedule this year that has "critical success but terrible ratings" written all over it, look no further, though this is, again, sight unseen.)
Of course, ABC is taking on the NCIS juggernaut with its biggest potential asset. That's a risky move. Even 10 years ago, it would have been incredibly smart, but the rules have shifted, and shows like NCIS can run for decades at roughly the same level of viewership, because the sorts of viewers who could shift said shows' fortunes by tuning in or out based on current storylines have largely shifted to DVR viewership. Tuesday's a substantial risk, and it will probably fail, but ABC doesn't have a lot of other options.
Wednesdays
8 p.m.: The Middle
8:30 p.m.: BACK IN THE GAME
9 p.m.: Modern Family
9:30 p.m.: SUPER FUN NIGHT
10 p.m.: Nashville
What in ABC's research indicates that what viewers really want after Modern Family is a show about twentysomethings having some laughs? In his conference call with reporters, ABC president Paul Lee (whose British cadence will get stuck in your head once you've heard him speak) said that he hated to cancel Happy Endings—which was apparently his favorite show on the network to hear him go on about it, so you'd think he would have realized it would die on Tuesdays at 9, but love makes you do the wacky—but he thought Super Fun Night (starring Rebel Wilson, seen as a star in the making) and the upcoming Mixology were "broader." Which is probably true but is only true of the pilot. All comedies are going to get more specific and honed-in as they go, and the Modern Family audience just isn't going to stick around for whatever's on afterward. We may eat our words at some point, but Super Fun Night strikes us as a potential early surprise cancellation. It might even take down the "by the skin of its teeth" Nashville with it.
At 8, The Middle will do what The Middle does, and then James Caan and Maggie Lawson will coach baseball. If that doesn't work—and there's every reason to expect it won't—well, ABC has Suburgatory, which worked so well in its first season in that slot, just waiting in the wings.
Thursdays
8 p.m.:  ONCE UPON A TIME IN WONDERLAND
9 p.m.: Grey's Anatomy
10 p.m.: Scandal
Not yet ready to perform the inevitable swap where Scandal inherits the 9 p.m. hour, while Grey's rides out the end of its run at 10, ABC leaves the two put, which is a smart call. It's worked like gangbusters this spring, once again resurrecting Grey's, which has had more lives than Beric Dondarrion at this point. To lead into the Shonda Rhimes twofer is the Once Upon A Time spinoff, which was specifically developed as a way to keep Once Upon A Time from having to take a ratings damaging hiatus but apparently impressed somebody enough to attempt to shore up a traditionally troubled slot in the network's lineup. (The last show to work there? Ugly Betty.) It might work. It's smarter than Last Resort, at least, which is probably kicking itself for not debuting this season, when it could have piggybacked off of the Marvel show. (I am done with all those periods!)
Fridays
8 p.m.: Last Man Standing
8:30 p.m.: The Neighbors
9 p.m.: Shark Tank
10 p.m.: 20/20
Last Man Standing turned into a quiet success story on this night last season, and here's hoping The Neighbors will continue its late-season renaissance and get weirder and weirder now that fewer eyes will be on it. This isn't a particularly cohesive hour of television—it has shades of the proposed Whitney/Community hour from last year's initial NBC fall schedule—but ABC doesn't have a ton of other options. Plus, Shark Tank continues to be the night's number one show, so sandwiching the aliens between two successful shows might lead to it pulling a strong enough number that Lee's long-expressed dream of resurrecting TGIF could become a reality. At 10, 20/20 still exists. You're probably glad to know that, huh?
Saturdays
8 p.m.: Saturday Night College Football
This does better than you probably think it does, since you probably never think about it.
Sundays
7 p.m.: America's Funniest Home Videos
8 p.m.: Once Upon A Time
9 p.m.: Revenge
10 p.m.: BETRAYAL
Here's where ABC has chosen to make a strategic retreat. Once Upon A Time looked like it might have solidified into the network's top drama last fall, but the spring has been incredibly devastating to it, and it's lost a large portion of its audience. Now, it's a family show, and family shows have trouble in the spring because their prime audience is out doing family things like going to the park and taking road trips and pretending to love each other, so fall could see a rise for the show. It's Revenge that's really in trouble, since it seems likely the show's core audience can't be tempted to re-sample the show with all of the other drama options on this night. Still, if the show can stabilize, it might be just good enough for ABC to not have to worry about this night until fall 2015 or so. Betrayal seems like a good fit after Revenge in that it is also a one-word-titled soap with a name that's fun to imagine the protagonist yelling.
ABC, unlike NBC and Fox, didn't bother announcing a midseason schedule, instead leaving a bunch of utility players—including five new shows and Suburgatory—on the shelf for when various pieces here inevitably fail. That's a smart move, like most of the moves on this schedule, but ABC may be in a place where all the smart moves in the world can't save it, simply because it's systematically being forced back to the bottom of the network pile precisely at a time when that's a really awful position to be in. ABC has a lot of pieces that work, and it has a corporate parent that can feed it even more if need be, but sooner or later, it's going to have to find a wild, home-run success, and this schedule just doesn't seem like it contains it.
Tomorrow: CBS sends everybody else scuttling back under the rock from whence they came.