It's a question that comes up every time a Mad Max or a Pixar creation crashes the Palais, and every time one doesn't: Do Hollywood blockbusters really belong at Cannes? To see one at the festival, an event theoretically devoted to provocation and innovation and basically any kind of world cinema not processed for mass consumption, can feel like smuggling a Big Mac into a 12-course feast. You should just save your appetite for the real food, right? There are times, of course, when some heavily caloric junk can really hit the spot, even (or perhaps especially) at the cinematic equivalent of the fanciest restaurant in town.

This point isn't lost on Disney, which had to know the secret benefit of screening its troubled new trip to the galaxy far, far away at the festival far, far away. Any critic reviewing the movie from Cannes might be more susceptible, after a few days of punishing art movies, to something purely, theoretically fun—and perhaps also charmed by the glitzy, special-event spectacle the studio arranged in honor of the screening, including a late-night fireworks show set to the rousing strains of John Williams' iconic score and an army of Stormtroopers storming the red carpet (a repeat of a stunt Lucasfilm pulled in 2005, with the Cannes premiere of Revenge Of The Sith). After a week of dutifully eating my vegetables—and with the bad taste of the Lars von Trier movie still lingering in my mouth—I couldn't say no to the guaranteed palate cleanser of a new Star Wars movie, even with my brain telling my appetite that I wouldn't have to wait long to order it once I got back to the States.

If only the flavor were a little stronger. At the risk of contradicting our official, very good full review by Star Wars superfan Jesse Hassenger, I'll confess that Solo: A Star Wars Story (Grade: C+) struck me as intellectual property unconvincingly arranged into the shape of a movie. Laying out a post-prequels origin story for Harrison Ford's cocksure smuggler, it may be the only official Star Wars feature that seems concerned exclusively with delivering a no-frills good time. Unfortunately, the film's idea of a good time includes neither dynamite banter nor particularly memorable action scenes. Does it count as a compliment to Ron Howard's reliable journeyman craftsmanship to say that Solo looks like it directed itself, with few telltale signs of its production woes? Or does that just confirm reports that Disney basically entrusts the big special-effects work—the dogfight set pieces—to a department rather than whoever gets the byline?

A heist movie largely indifferent to the mechanics of its heist(s), Solo has things about it to recommend, like Donald Glover's Billy Dee Williams impersonation, Phoebe Waller-Bridge's amusingly woke droid companion (Lando: "Can I get you anything?" Droid: "Equal rights?"), and cinematographer Bradford Young's almost perversely dim lighting scheme, which suggests Han and company are pulling their big score during a very long solar eclipse. But the story, credited to Lawrence and Jonathan Kasdan, often amounts to little more than pertinent bits of backstory from Han's Wikipedia page strung together. This is basically the anti-Last Jedi, so concerned is it with playing to canon, but even the most purist fans might discover something deflating about the way Solo condenses just about everything we've heard about Han's past into a relatively short period of time. Doesn't that just make the franchise universe seem smaller? And can these interpretations of lore possibly live up to what fans have conjured in their own minds? As for Alden Ehrenreich, he's serviceably swaggering as the young Han, though the fact that I spent a lot of the movie studying his performance for hints of Fordisms—and signs of the supposed struggles he had getting into character—doesn't exactly count as proof I had been transported out of my own head for a couple hours and change.

G/O Media may get a commission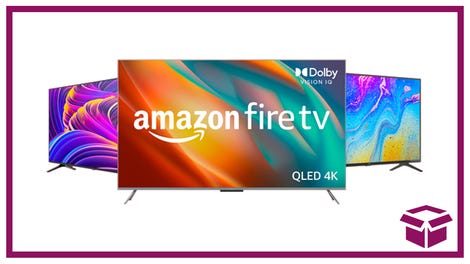 Ooh. stunning.
New Amazon Fire TVs
After Solo, I was ready to put the popcorn down and get some real nourishment again. Not long after, I found it in what now looks, in my final fews days here at Cannes, like the late-breaking movie of the festival. South Korean director Lee Chang-dong's Burning (Grade: A-) offers the opposite of instant gratification, creating a slow dramatic simmer that intensifies gradually over two-and-a-half perfectly measured hours, until it reaches a shocking and powerful crescendo. (That one character's cat is named Boil is telling. So, as it turns out, is the fact that it remains largely unseen.) Based on a short story by Norwegian Wood author Haruki Murakami, the film begins with the unexpected reunion between two cash-strapped twentysomethings who grew up in the same small village near the North Korean border. Jong-soo (Yoo Ah-in), a deliveryman and aspiring writer living on his family farm while his father faces a criminal trial, and Haemi (Jun Jong-seo), a narrator model and aspiring actress living in Seoul, fall into an undefined romance. Then Haemi embarks on a trip to Africa, leaving Jong-soo to look after her cat. When she returns a few weeks later, it's with someone new: Ben (Steven Yeun), young and wealthy, who approaches his exceptionally charmed life with amused nonchalance. ("The Great Gatsby," Jong-soo nicknames him out of earshot.)

You could call the dynamic that develops a kind of love triangle, but that wouldn't do justice to the turns Burning gradually takes. Lee, who made prickly and acclaimed character studies like Poetry and Secret Sunshine before taking an eight-year hiatus, specializes in stories that unfold carefully over extended running times, with multiple subplots and through sometimes invisible psychological shifts. Burning, which disrupts its almost procedural progression of events with ecstatic bursts of style (like a topless, stoned dance to Miles Davis in the dusk light), eventually introduces an element of mystery that should not be disclosed here. Refusing to hold our hand, Lee lets the meaning of certain discoveries and conversations and decisions reveal themselves over time, masterfully linking our dawning awareness with Jong-soo's. The larger subject here is hierarchies of class and privilege; Burning makes social status the elephant in every room, coloring the relationship among his three characters through a pronounced power imbalance. This conflict plays across three perfectly judged performances, including an arrogantly, chillingly relaxed turn from Yeun that should help any Walking Dead fans still bummed about Glen's role in the series get over their melancholy right quick.
Burning comes together harshly, beautifully, unforgettably. It's the kind of movie whose trajectory is largely unpredictable, even as it moves toward an outcome that feels, if only in retrospect, truly inevitable. I'll be haunted by it long after the festival ends. Dogman (Grade: B-), from Italian director Matteo Garrone, feels inevitable in a less satisfying way. Last in Cannes with his strange fairy-tale omnibus Tale Of Tales, Garrone returns to the criminal milieu of his earlier Gomorrah, but condenses the perspective to a single relationship, unbalanced as the one in Burning: the "friendship," to put it very euphemistically, between kindly dog groomer Marcello (Marcello Fonte) and brutish ex-boxer Simone (Edoardo Pesce), who terrorizes the whole neighborhood with his thieving and fighting and bullying, to the point where the other business owners are ready to consider just having him killed. But Marcello, compassionate softie that he is, can't bring himself to agree. Handsomely filmed and filed to a sharp point of narrative simplicity, Dogman can't conceive of a surprising direction for this story of misplaced, almost canine-like loyalty; watching it, you realize that there's really only a couple ways it could end. Still, the lead performance, from the mostly unknown Fonte, is a small symphony of crumbling ingratiation: the portrait of a good man trying to cling to his principles in the face of stubborn, selfish immorality.

Tomorrow: I close Cannes with thoughts on the new film from Nadine Labaki (Where Do We Go Now?) and a queer giallo whatsit. Plus, inevitably wrong predictions for the competition prizes, and the films and performances I'd choose if I had a vote.